All (e)Poster presentations will be made available as of Friday, June 10, 2022 (09:00 CEST) and will be accessible for on-demand viewing until Monday, August 15, 2022 on the Congress platform.
Abstract: P1487
Type: Poster presentation
Session title: Sickle cell disease
Background
Sickle cell disease (SCD) has a substantial emotional and physical burden on patients. There is currently limited research on the impacts of SCD on patient quality of life (QOL). Recently, research into treatment options to improve QOL for these patients has increased. To complement this drive to improve patient QOL, there needs to be a more detailed understanding of what it means to live with SCD in different communities, especially considering the health inequalities faced by different groups around the world. In addition to surveying patients and caregivers, viewpoints from healthcare professionals (HCPs) should also be considered, as the perspectives of HCPs may impact or reflect patient QOL. 
Aims
To understand the perspectives of HCPs on the patient burden of SCD, the impacts of SCD on patient QOL, and the needs of patients with SCD.
Methods
The SHAPE survey is a multinational study composed of quantitative online surveys of patients, their caregivers, and HCPs. The surveys require participants to answer a range of closed-ended questions about their circumstances and experiences in order to build a robust and reliable dataset, on which descriptive statistics were performed. HCPs were included if they had at least 10 patients with SCD under their care and had been practicing for 3 to 35 years. Informed consent was obtained from all participants, and all identifiable information was kept private and secure. The study protocol was reviewed and approved by an independent institutional review board.
Results
Interviewed HCPs (n=219) were composed of 48% hematologists, 37% hematologist-oncologists, 11% pediatric hematologists, 1% pediatricians, 1% internists, and <1% general or family practitioners. Participating HCPs were from the US (23%), Germany (15%), Brazil (14%), France (14%), UK (14%), Canada (7%), Saudi Arabia (7%), and United Arab Emirates (7%). The mean (range) number of patients under their care was 32 (16-65). Most HCPs (82%) agreed that SCD causes financial difficulties for patients, and many (73%) agreed with the statement that "patients of lower socioeconomic status are more difficult to treat" (Figure). Nearly 1 in 3 HCPs (31%) found it challenging to understand their patients' needs, with more than 2 in 5 (43%) citing difficulties due to having different ethnic backgrounds from their patients. Most HCPs (78%) felt confident in their knowledge of the long-term effects of SCD, but 83% wanted more support in educating their patients on this topic. Almost two-thirds (59%) of HCPs believed that end-organ damage is unavoidable and that SCD greatly impacts patients' long-term health prospects (64% for patients <18 years; 60% for patients ≥18 years) and their ability to attend and succeed at work or school (53% for <18 years; 49% for ≥18 years).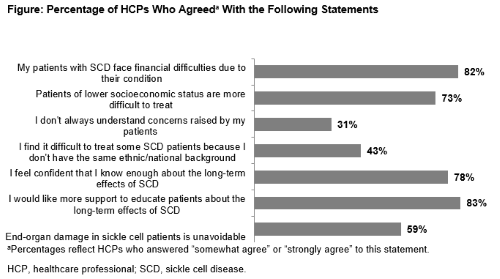 Conclusion
Almost one-third of HCPs found it challenging to understand their patients' needs. Based on these findings, additional support for HCPs in their communication with and education of their patients could result in more effective SCD treatment. HCPs also noted an unmet need for treatments that fully address end-organ damage in SCD. These findings highlight the complex environment that HCPs face when treating patients with SCD, including differences in socioeconomic status and ethnic background, the need for education, and a lack of resources. The patients and caregivers portion of the SHAPE survey will complement the data presented here by providing additional perspectives on the burden of SCD.
Keyword(s): Health care, Population, Quality of life, Sickle cell