All Oral presentations will be presented between Friday, June 10 and Sunday, June 12 and will be accessible for on-demand viewing from Monday, June 20 until Monday, August 15, 2022 on the Congress platform.
Abstract: S268
Type: Oral Presentation
Session title: Sickle cell disease: Novel biomarkers and therapies
Background
Sickle cell disease (SCD) is caused by polymerization of sickle hemoglobin (HbS). Voxelotor is a first-in-class HbS polymerization inhibitor approved by the United States Food and Drug Administration for the treatment of SCD in adult and pediatric patients aged ≥4 years, and by the European Medicines Agency for the treatment of hemolytic anemia due to SCD in adult and pediatric patients aged ≥12 years as monotherapy or in combination with hydroxycarbamide. GBT021601 is a next-generation HbS polymerization inhibitor with improved pharmacokinetic (PK) properties that stabilizes Hb in the oxygenated state, thus inhibiting polymerization. GBT021601 has the potential to achieve higher Hb occupancies at lower doses than voxelotor, potentially reducing treatment burden and improving clinical outcomes for patients with SCD.
Aims
To explore the safety, tolerability, PK, and pharmacodynamics of GBT021601 in healthy volunteers and patients with SCD.
Methods
Two studies are in progress: (1) GBT021601-011: a phase 1, randomized, double-blind, placebo-controlled, parallel-group study of single ascending doses (SADs) and multiple ascending doses (MADs) of GBT021601 in healthy volunteers aged 18 to 55 years; and (2) GBT021601-012: a phase 1, single-arm, intrapatient, single-dose and MAD study in patients with SCD (homozygous HbS) aged 18 to 60 years. In the GBT021601-011 SAD phase, participants (n=8) were randomized 6:2 to receive a single oral dose of GBT021601 (50 to 2200 mg) or placebo. In the GBT021601-011 MAD phase, participants (n=10) were randomized 7:3 to 14 days of GBT021601 (3 days of loading doses followed by 11 days of once-daily maintenance doses) or placebo. Data from the 50 mg MAD cohort are reported in this analysis. In the GBT021601-012 study, patients with SCD (N=6) received a single 100 mg dose of GBT021601, followed by an 8-week washout, then 2 continuous MADs: once-daily maintenance doses of 50 mg (5 weeks) then 100 mg (3 weeks). Each MAD phase participant received 2 days of loading doses.
Results
In the GBT021601-011 50 mg MAD cohort, blinded safety data demonstrated that GBT021601 was well tolerated. Adverse events (AEs) were predominantly grade 1 and not related to treatment. Drowsiness, headache, and constipation were the most frequent AEs. Mean (SD) Hb occupancy of GBT021601, determined via PK analysis, was 25.8% (3.9%). In GBT021601-012, patients with SCD completed treatment with no AEs leading to study discontinuation. Three vaso-occlusive crises (grades 2 and 3) occurred in 2 patients and were deemed unrelated to GBT021601. After dosing for 8 weeks, the mean (SD) Hb occupancy achieved was 32.6% (9.4%), and the mean (SD) increase in Hb was 2.3 (0.9) g/dL. Markers of hemolysis decreased, with a mean (SD) change in absolute reticulocytes of –37.4% (17.3%), reticulocyte percentage of –54.0% (11.3%), indirect bilirubin of –6.6% (119.3%), and lactate dehydrogenase of –33.1% (15.4%). The terminal elimination half-life of GBT021601 from blood averaged about 10 days. Ektacytometry scans demonstrated improvements in red blood cell (RBC) health, and blood smears showed increased counts of RBCs with improved morphology (Figure); no changes in erythropoietin levels were observed.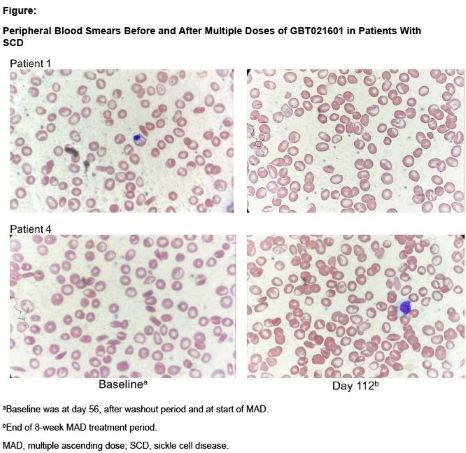 Conclusion
Multiple daily doses of GBT021601 were well tolerated in both studies. In patients with SCD, the GBT021601 100 mg maintenance dose led to a mean Hb occupancy >30%, increased Hb, reduced markers of hemolysis, and improved RBC health. These data highlight the potential of GBT021601 and support its further development.
Keyword(s): Clinical data, Hemoglobin, Sickle cell disease, Therapy