The Late-Breaking Oral Session will be held on Saturday, June 12, 2021 (16:00 - 17:30 CEST) and will be accessible for on-demand viewing until August 15, 2021 on the Virtual Congress platform.
Abstract: LB1902
Type: Oral Presentation
Session title: Late-Breaking Oral Session
Background
Ibrutinib and venetoclax have complementary mechanisms of action. With ibrutinib inhibiting CLL proliferation and mobilizing cells from protective lymphoid niches and venetoclax efficiently killing circulating CLL cells, I+V may allow for an all-oral, fixed-duration (FD) treatment. GLOW is the first randomized study of first-line FD I+V in CLL/small lymphocytic lymphoma (SLL).

Aims
To evaluate efficacy and safety of FD I+V vs Clb+O in previously untreated CLL/SLL.

Methods
GLOW (NCT03462719) enrolled patients (pts) aged ≥65 years or 18-64 years with cumulative illness rating scale (CIRS) score >6 or creatinine clearance <70 mL/min. Pts with del(17p) or known TP53 mutations were excluded. Pts were randomized 1:1, stratified by IGHV mutation and del(11q) status, to I+V (3 cycles ibrutinib 420 mg/d, followed by 12 cycles I+V with venetoclax ramp-up to 400 mg/d) or 6 cycles of standard dose Clb+O (1 cycle is 28 d). Primary endpoint was progression-free survival (PFS) assessed by independent review committee (IRC). Secondary endpoints included undetectable minimal residual disease (uMRD) in bone marrow (BM) via next-generation sequencing (cut-off 10-4) and complete response (CR) rate.

Results
106 pts were randomized to I+V and 105 to Clb+O. Median age was 71.0 years (34.1% ≥75 years); 57.8% were male. More I+V pts had CIRS >6 vs Clb+O (69.8% vs 58.1%; median score, 9 vs 8) and more Clb+O pts had elevated lactate dehydrogenase (48.6% vs 33.0%). Treatment arms were otherwise balanced. With median follow-up of 27.7 months (mo), IRC-assessed PFS for I+V was superior to Clb+O (hazard ratio [HR] 0.216 [95% confidence interval (CI), 0.131-0.357]; p < 0.0001) (Figure 1). Median PFS was not reached for I+V and 21.0 (95% CI, 16.6-24.7) mo for Clb+O. PFS improvement with I+V vs Clb+O was consistent across predefined subgroups, including CIRS >6 (HR 0.248) and age ≥65 (HR 0.234). PFS by investigator (INV) was similar to IRC. At 3 mo after end of treatment (EOT+3), rate of uMRD was significantly higher for I+V vs Clb+O in BM (51.9% vs 17.1%; p < 0.0001) and peripheral blood (PB; 54.7% vs 39.0%; p = 0.0259). With I+V, 84.5% (49/58) of pts maintained PB uMRD from EOT+3 to the assessment 12 mo post-EOT. CR rate (including CRi) was significantly higher for I+V vs Clb+O by IRC (38.7% vs 11.4%; p < 0.0001) and INV (45.3% vs 13.3%; p < 0.0001). Time to subsequent therapy was longer for I+V (HR 0.143, 95% CI 0.05-0.41). Median treatment duration (range) was 13.8 (0.7-19.5) mo for I+V and 5.1 (1.8-7.9) mo for Clb+O. After ibrutinib lead-in, 84.6% of pts with high tumor lysis syndrome (TLS) risk by tumor burden shifted to medium/low risk. Most common grade ≥3 treatment-emergent adverse events (AE) were neutropenia/neutrophil count decreased (34.9%), diarrhea (10.4%), and hypertension (7.5%) for I+V, and neutropenia/neutrophil count decreased (49.5%), thrombocytopenia (20.0%), and pneumonia and TLS (5.7% each) for Clb+O. Grade 5 AEs occurred in 7 pts on I+V and 2 pts on Clb+O. At time of analysis, overall survival was immature, with 11 deaths in the I+V arm and 12 in the Clb+O arm (HR 1.048).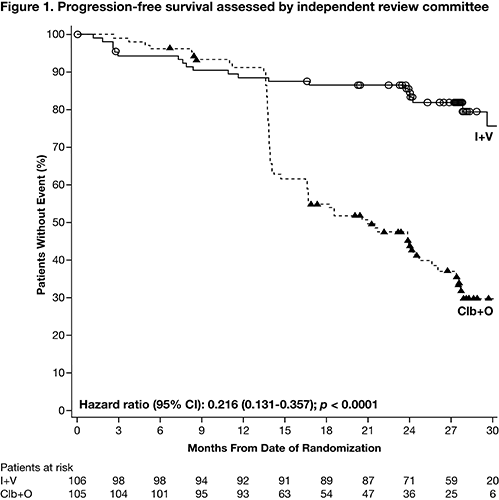 Conclusion
All-oral, once-daily, FD I+V demonstrated superior PFS vs Clb+O as first-line treatment for CLL, independent of CIRS score and other covariates. I+V significantly improved depth and duration of remission, and thus extended time to next treatment. uMRD with I+V was largely maintained 1 year after EOT. The safety profile for I+V was consistent with treatment in an elderly comorbid population. These first randomized data demonstrate the positive clinical profile of FD I+V in older pts.

Keyword(s): Chronic lymphocytic leukemia, ibrutinib, Minimal residual disease (MRD), Phase III