All e-poster presentations will be made available as of Friday, June 11, 2021 (09:00 CEST) and will be accessible for on-demand viewing until August 15, 2021 on the Virtual Congress platform.
Abstract: EP941
Type: E-Poster Presentation
Session title: Myeloma and other monoclonal gammopathies - Biology & Translational Research
Background

Natural Killer (NK) cells are cytotoxic lymphocytes with an innate ability to recognize and destroy malignantly transformed cells. Using an array of activating and inhibitory receptors, cells are screened by NK cells and a net stimulus determines whether the target cell is released or destroyed. CD96 (TACTILE) is an inhibitory receptor expressed by NK cells, and ligand binding studies have shown that CD96 competes with the co-activating receptor DNAM-1 (CD226) for the shared ligand CD155. Blocking CD96 using a monoclonal antibody can reduce metastasis of solid tumours in mouse models. However in human NK cells conflicting data has shown CD96 to be both an activating and inhibitory receptor. Here, we identify CD96 as a human NK cell inhibitory receptor in Multiple Myeloma (MM), with CRISPR/Cas9-mediated KO of CD96 enhancing NK cell cytotoxicity and cytokine release. We conducted these experiments in parallel with CRISPR/Cas9-mediated KO of TIGIT in NK cells, as TIGIT has been documented as an inhibitory receptor, also binding CD155.
Aims

Using CRISPR/Cas9, target and knockout CD96 and TIGIT in expanded primary NK cells (epNK) and study the effect of KO on NK cell cytotoxicity and cytokine release when co-cultured with CD155positive MM cell lines JJN3 and U266
Methods
NK cells were isolated from fresh blood supplied by consenting healthy donors and expanded using NK Macs Medium. NK cells were incubated with either a multi-guide sgRNA-Cas9 complex (KO) or electroporation buffer (Mock) and electroporated using the MaxCyte GT. NK cells were cultured to allow for complete KO. Mock and KO NK cells were co-cultured with JJN3 or U266 MM cell lines at several E:T ratios. MM cell death was measured using the ZOMBIE fixable viability dye. 4x105 Mock and KO NK cells were cultured at a 1:1 E:T ratio with JJN3 and U266 MM cell lines. The supernatant was used to test for the presence of TNF-α and IFN-γ using specific ELISA kits.
Results

Expression of CD155 was observed on a panel of MM cell lines. CD96 and TIGIT expression was observed on epNK cells (CD96:95%±1.45, TIGIT:27.55%±2.8 ). JJN3 were classed as CD155high and U266 as CD155low. Using CRISPR/Cas9, over 90% and 75% KO was observed for CD96 and TIGIT (p<0.0001). Enhancements in cytotoxicity were observed by CD96 and TIGIT KO NK cells, compared to Mock controls. Particularly, the strongest enhancements were against the CD155high JJN3 MM cells (Fig.1). While TIGIT KO did not enhance secretion of TNF-α, CD96 KO resulted in a strong increase in TNF-α secretion when CD96 KO NK cells were co-cultured with U266 (p=0.0011), no observable change was observed with JJN3. TIGIT KO NK cells secreted significantly more IFN-γ when co-cultured with JJN3 (ns) and U266 (p=0.0094), while CD96 KO NK cells secreted more IFN-γ than when co-cultured with both JJN3 (ns) and U266 (p=0.0012). NK cells isolated from MM patient bone marrow aspirates were observed to have higher proportion of CD96 positive cells (45.8%±2.75) than NK cells from healthy peripheral blood (24%.16±3.1, p=0.0043).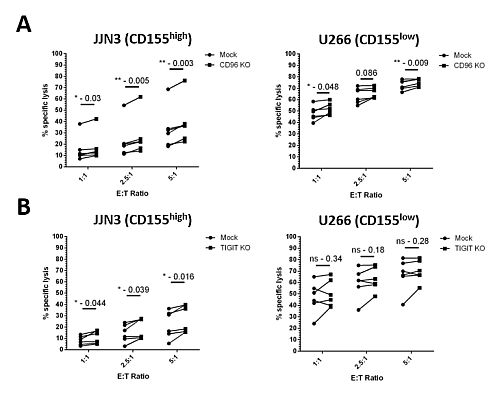 Conclusion

This study identifies CD96 conclusively as an inhibitory receptor on human NK cells, regulating cytotoxicity and cytokine release which are enhanced upon KO using CRISPR/Cas9. Elevated CD96 expression on NK cells from MM patient bone marrow aspirates suggests that the tumour microenvironment may exaggerate the CD96/CD155 axis to promote immune-evasion of NK cells. In carrying out this research, we also present efficient genetic manipulation of NK cells to eliminate inhibitory receptor expression as a promising approach for personalised cancer treatments.
Keyword(s): Cytotoxicity, Inhibitor, Myeloma, NK cell