All e-poster presentations will be made available as of Friday, June 11, 2021 (09:00 CEST) and will be accessible for on-demand viewing until August 15, 2021 on the Virtual Congress platform.
Abstract: EP918
Type: E-Poster Presentation
Session title: Myelodysplastic syndromes - Clinical
Background
Idiopathic cytopenia of undetermined significance (ICUS) is characterized by a persistent and clinically significant cytopenias which does not meet the diagnostic criteria for myelodysplastic syndrome (MDS). In some patients with ICUS, disease evolution to MDS or acute myeloid leukemia after variable periods of time was observed in several studies. However, the incidence and predictive factors of progression as well as management guidelines for ICUS patients are not well established. 
Aims
We aimed to identify the clinical and genetic characteristics of ICUS in comparison with lower-risk MDS for understanding the pathophysiologic features and providing guidance for treating physicians.
Methods
We performed targeted deep sequencing including 61 myeloid neoplasm-related genes with a MiSeqDx sequencer (Illumina) using bone marrow (BM) samples obtained from the patients with ICUS (n=139) and MDS (n=226) between May 2009 and December 2019. The cut-off level of variant allele frequency (VAF) was set to 2.0% of mutant allele reads. Cloncal cytopenia of undetermined significance (CCUS) was defined as ICUS with ≥ 2% VAF of mutations and lower-risk MDS was defined as MDS with revised international prognostic scoring system ≤3.5.
Results
When we compared the overall survival (OS) of the patients according to the disease subtypes, OS of CCUS (77.0% at 5-year) was significantly better than that of higher-risk MDS (41.0%, P<.001) and worse than non-clonal ICUS (94.1%, P=.050), but it was similar to the OS of lower-risk MDS (67.9%, P=.363). Next, we compared the clinical and mutational features between CCUS (n=78) and lower-risk MDS (n=99). As shown in Table, there was no significant difference of patient characteristics between two groups except for higher hemoglobin level (10.5 vs. 9.0 g/dL, P=.008) in CCUS than lower-risk MDS, and the rate of red blood cell transfusion dependency was not different (P=.738). The median number of mutated genes of CCUS and lower-risk MDS were 1 (range, 0-4) and 1 (range, 0-6) (P=.651), and the median mutation numbers were 1 (range, 0-5) in CCUS and 2 (range, 0-7) in lower-risk MDS, respectively (P=.711). The mutational profiles of 61 genes were also similar between CCUS and lower-risk MDS except for SF3B1 (2.6% in CCUS and 18.2% in lower-risk MDS; P=.001) and STAT3 (5.1% in CCUS and 0% in lower-risk MDS; P=.023). Overall, 11 of 78 CCUS and 24 of 99 MDS died, and the causes of death were not different between two groups (P=.861).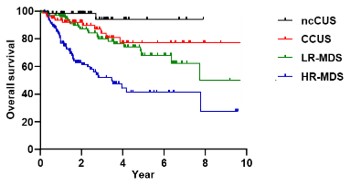 Conclusion
In our study, CCUS and lower-risk MDS showed similar OS which was significantly better than higher-risk MDS and worse than non-clonal ICUS. The clinical and mutational characteristics were also similar except for the degree of anemia and the SF3B1 and STAT3 mutation. Our findings suggest that the patients with CCUS may be regarded and treated as the lower-risk MDS despite a lack of significant dysplasia or MDS-associated definitive chromosomal abnormality.
Keyword(s): Genetic, Myelodysplasia