All e-poster presentations will be made available as of Friday, June 11, 2021 (09:00 CEST) and will be accessible for on-demand viewing until August 15, 2021 on the Virtual Congress platform.
Abstract: EP873
Type: E-Poster Presentation
Session title: Lymphoma Biology & Translational Research
Background
Waldenström's macroglobulinemia (WM) is an incurable low-grade B-cell Non-Hodgkin lymphoma characterized by bone marrow infiltration with lymphoplasmacytic cells, and presence of an IgM M-protein. WM resembles chronic lymphocytic leukemia (CLL) with regard to biologic and clinical characteristics. The emergence of novel autologous T-cell directed therapies has prompted deeper understanding of the immune microenvironment. In CLL, extensive abnormalities in T-cell subset distribution and function have been described. These alterations may contribute to disappointing responses to T-cell directed immunotherapies. Novel autologous T-cell directed immunotherapy may improve the outlook for WM patients. However, studies evaluating T-cell functionality in WM are lacking.
Aims
We performed a systematic evaluation of peripheral blood (PB) T-cell subset composition and function in the of WM patients.
Methods
PB samples were collected from treatment-naive, relapsed and symptomatic WM patients, HCs and treatment-naïve CLL patients. Lymphocyte phenotyping was performed and differences in functionality were assessed by determining the potential of T-cells to degranulate and produce cytokines upon stimulation for 4h with phorbol myristate acetate/ionomycin. Furthermore, cytotoxic potential of the T-cells was assessed via engagement of blinatumomab (CD3xCD19 bi-specific T-cell engager), that re-directs T-cells via CD3 to kill CD19+ tumor cells. Correlations between percentages of the various T-cell subsets, cytokine production, cytotoxic capacity and various markers of disease activity were performed for treatment-naïve WM and pretreated WM separately.
Results
A total of 16 treatment-naïve WM patients, 10 pretreated symptomatic WM patients, 21 age-matched HCs and 17 treatment-naïve CLL patients were included in this study. In WM patients, the following cell types had counts similar to HCs: T-cells (relative), CD4+ T-cells (relative), absolute CD4+ and CD8+ T-cells, Tfh cells, Treg cells, and Vδ1/ Vδ2 T-cells (relative). This is in contrast to CLL patients, in which T-cell numbers (relative) were decreased, absolute CD4+ and CD8+ T-cells were increased compared to HCs, Tfh, Treg, and Vδ1 T-cell numbers were increased as expected. CD4+ and CD8+ T-cell differentiation was also normal in WM as opposed to CLL in which a known skewing towards terminal differentiation in the CD8+ T-cell population was observed. No difference in Vδ2 T-cell count was observed between all three groups (Figure 1). No significant differences were found in cytokine production and degranulation between CD4+ and CD8+ T-cells from WM patients in comparison with HCs, in contrast to CLL in which decreased amounts of TNF-α and increased expression of CD107a were found. The cytotoxic potential of WM-derived T-cells was intact and similar to HC-derived cells, while CLL-derived T-cells have an impaired cytotoxic response to blinatumomab.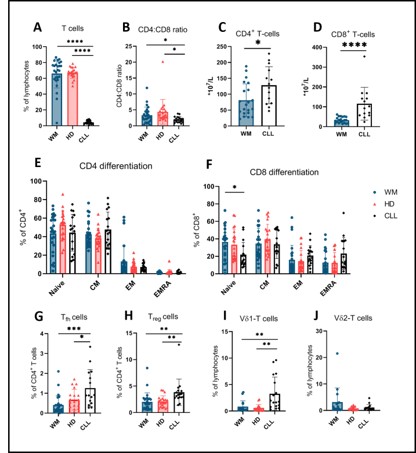 Conclusion
These data represent the first systematic evaluation of the T-cell compartment in WM patients. The qualitative and quantitative changes in the immune system seen in CLL are not found in WM; T-cell numbers, distribution and functionality seem mostly preserved even in pretreated patients with a high disease burden. These findings are encouraging for the application of T-cell targeted immune therapies in WM, especially for the management of relapsed/refractory WM.
Keyword(s): Autologous bone marrow transplant, Chronic lymphocytic leukemia, T-ALL, Waldenstrom's macroglobulinemia