All e-poster presentations will be made available as of Friday, June 11, 2021 (09:00 CEST) and will be accessible for on-demand viewing until August 15, 2021 on the Virtual Congress platform.
Abstract: EP783
Type: E-Poster Presentation
Session title: Indolent and mantle-cell non-Hodgkin lymphoma - Clinical
Background
BCR signaling mediated through Bruton's tyrosine kinase (BTK) plays a critical role in the development and maintenance of marginal zone lymphoma (MZL). BTK inhibitors have established activity in relapsed/refractory (R/R) MZL with the phase 2 study of ibrutinib demonstrating an objective response rate (ORR) of 48% (Noy et al. Blood. 2017;129:2224-2232).

Zanubrutinib is a potent and highly specific next-generation BTK inhibitor designed with greater selectivity for BTK vs TEC- and EGFR-family kinases, which are thought to be related to off-target toxicities. Therapeutic activity of zanubrutinib was established in an early-phase study (BGB-3111-AU-003) of 20 patients (pts) with R/R MZL demonstrating an ORR of 80%, with a complete response (CR) rate of 15%, and partial response (PR) rate of 65% (Tedeschi et al. EHA 2020, abstract 2804).
Aims
To present initial efficacy and safety results in pts with R/R MZL enrolled in MAGNOLIA (BGB-3111-214).
Methods
MAGNOLIA is a phase 2, multicenter, single-arm study of adults with R/R MZL who had received ≥1 line of therapy including ≥1 CD20-directed regimen. All were treated with zanubrutinib 160 mg twice daily until disease progression or unacceptable toxicity. Use of long-term antiplatelet and anticoagulation agents was permitted. The primary end point was ORR determined by an independent review committee in accordance with the Lugano classification. Secondary end points include ORR by investigator assessment, duration of response (DOR), progression-free survival (PFS), and safety.
Results
As of January 11, 2021, 68 pts were enrolled and treated. Median age was 70 years (range, 37-95), with 28% aged ≥75 years. Subtypes included extranodal (mucosa-associated lymphoid tissue; 38%), nodal (38%), splenic (18%), and indeterminate (6%) MZL. Median number of prior therapies was 2 (range, 1-6) and 32% of pts had disease that was refractory to last therapy.

Median duration of drug exposure was 59.1 weeks (range, 3.7-84.1). Sixty-six pts were evaluable for efficacy. At a median study follow-up of 15.5 months (range, 1.6-21.7), investigator-assessed ORR (CR + PR) was 74% (CR 24%, PR 50%, stable disease 17%). Responses were observed in all subtypes, with an ORR of 68%, 84%, 75%, and 50% in extranodal, nodal, splenic, and indeterminate subtypes, respectively. CR rate was 36% for extranodal MZL, 20% for nodal, 8% for splenic, and 25% for indeterminate subtype. Median DOR and PFS were not reached; 15-month PFS was 68% and 12-month DOR was 81%. IRC review is ongoing.
Twenty-eight (41%) pts discontinued treatment: 20 due to disease progression, 1 withdrew consent, 3 required prohibited medications, 4 due to adverse events (AEs; 2 due to COVID-19 pneumonia, 1 due to pyrexia attributed to disease transformation, and 1 due to myocardial infarction [MI]). The most common (≥10%) treatment-emergent AEs reported were diarrhea (22%), bruising (21%), constipation (15%), pyrexia (13%), abdominal pain (12%), upper respiratory tract infection (12%), back pain (10%), and nausea (10%). Most AEs were grade 1 or 2. Neutropenia was the most common grade ≥3 AE (10%). Two pts died from COVID-19 pneumonia and 1 pt with pre-existing coronary artery disease died from MI. No fatal AEs were considered related to zanubrutinib. All-grade AEs of interest included neutropenia (13%), thrombocytopenia (13%), atrial fibrillation/flutter (3%), and hypertension (3%). No major/serious hemorrhage was reported. No AEs led to dose reductions.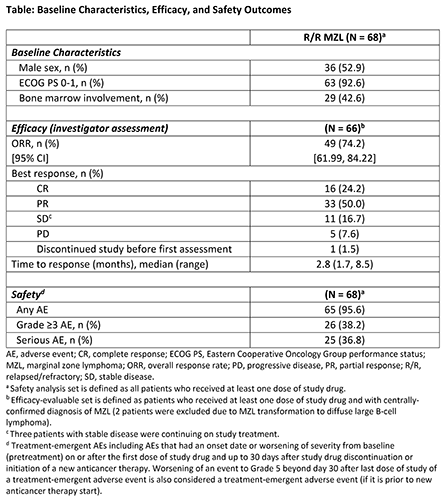 Conclusion
Zanubrutinib demonstrated high response rates and durable disease control with a favorable safety profile in pts with R/R MZL.
Keyword(s): Kinase inhibitor, Lymphoma, Marginal zone