All e-poster presentations will be made available as of Friday, June 11, 2021 (09:00 CEST) and will be accessible for on-demand viewing until August 15, 2021 on the Virtual Congress platform.
Abstract: EP782
Type: E-Poster Presentation
Session title: Indolent and mantle-cell non-Hodgkin lymphoma - Clinical
Background
Ibrutinib is a once-daily Bruton's tyrosine kinase inhibitor approved as either a single agent or in combination with rituximab (R) for treatment of patients (pts) with WM across all lines of therapy. In the primary analysis of the phase 3 iNNOVATETM study (NCT02165397; median follow-up 26.5 mo), IR demonstrated superior progression-free survival (PFS) vs placebo plus R in pts with WM.
Aims
We present results from the final analysis of the randomized arms of iNNOVATE.
Methods
Pts with confirmed symptomatic WM were randomized (75 pts per arm) to once-daily ibrutinib 420 mg or placebo plus R (375 mg/m2/wk IV at weeks 1–4 and 17–20). Pts could receive first-line treatment or be previously treated; pts with prior R therapy had to have achieved at least a minor response (MR) to their last R-based regimen. Endpoints included PFS and response rates per Independent Review Committee, overall survival (OS), hemoglobin (Hgb) improvement, time to next treatment (TTNT), and safety. Change in serum IgM was also assessed.
Results
Pt characteristics were well balanced between arms. After a median follow-up of 50 mo (range 0.5+ to 63), median PFS had not been reached (NR; 95% CI 57.7 mo to not estimable) with IR vs 20.3 mo (95% CI 13.0−27.6) with R (hazard ratio [HR] 0.25 [0.15−0.42]; P<0.0001) (Figure); 54-mo PFS rates were 68% vs 25%. PFS benefit with IR vs R was independent of prior treatment status (HR [95% CI]: first-line, 0.32 [0.14−0.70]; previously treated, 0.22 [0.11−0.43]) or genotype (HR [95% CI]: MYD88L265P/CXCR4WT, 0.18 [0.08−0.43]; MYD88L265P/CXCR4WHIM, 0.27 [0.12−0.62]; MYD88WT/CXCR4WT, 0.29 [0.07−1.19]). Improved PFS with IR was observed across prespecified subgroups, including age, serum IgM, Hgb, IPSSWM, and MYD88 mutation status. Major response rates (≥partial response) with IR increased and were sustained over time, reaching 76% vs 31% with R (P<0.0001); overall response rates (≥MR) were 92% vs 44% (P<0.0001). A greater proportion of pts achieved sustained Hgb improvement with IR vs R (77% vs 43%; P<0.0001). IgM decreased rapidly during the first year; maximum change was −33.5 g/L with IR (56 mo) vs −26.9 g/L with R (57 mo). Median OS was NR in either arm; 54-mo OS rates were 86% with IR vs 84% with R. Median TTNT was NR with IR and 18 mo with R; 87% of pts receiving IR and 29% receiving R had not received subsequent treatment at 54 mo. Thirty-five pts (47%) on R crossed over to single-agent ibrutinib after disease progression. The safety profile of IR was consistent with previous reports. The prevalence of grade ≥3 AEs of clinical interest with IR generally decreased over time. Of 12 pts with grade 3−4 atrial fibrillation, 9 (75%) remained on treatment; no other ibrutinib discontinuations due to common (≥10%) grade 3−4 AEs occurred. 88% of AEs that led to an ibrutinib dose reduction resolved following dose reduction. After study closure, 68 pts (45%) remained on treatment (32 in an extension study; 36 in a commercial setting).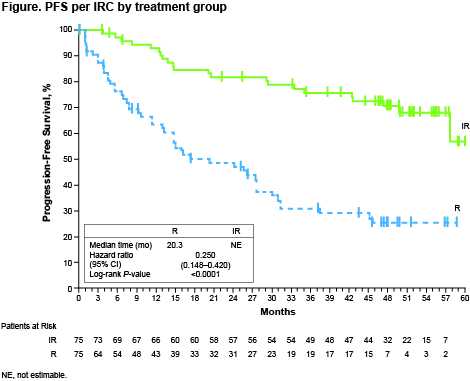 Conclusion
With up to 5 years of follow-up, IR showed ongoing superiority across clinical outcomes in pts with WM regardless of genotype, prior treatment, and key pt characteristics. Similar patterns of response with IR were observed in pts receiving first-line treatment and in previously treated pts. No new safety signals were observed; IR maintained a manageable safety profile after an additional 24 months of follow-up.
Keyword(s): Ibrutinib, Phase III, Rituximab, Waldenstrom's macroglobulinemia