All e-poster presentations will be made available as of Friday, June 11, 2021 (09:00 CEST) and will be accessible for on-demand viewing until August 15, 2021 on the Virtual Congress platform.
Abstract: EP739
Type: E-Poster Presentation
Session title: Gene therapy, cellular immunotherapy and vaccination - Clinical
Background
Autologous chimeric antigen receptor (CAR) T-cells targeting B-cell maturation antigen (BCMA) have shown impressive objective response rates in patients with advanced multiple myeloma (MM).

CYAD-211 is a first-in-class, non-gene edited allogeneic anti-BCMA CAR T-cell product that uses an "all-in-one" vector approach to co-express, in addition to the CAR, a single optimized short hairpin RNA (shRNA) to down-regulate the expression of the T-cell receptor (TCR) CD3ζ sub-unit thus reducing the risk of graft-versus-host disease (GvHD). This non-gene editing technology does not permanently alter the genome integrity, therefore decreasing the potential safety risk associated with "off-target" genome modifications. Preclinical experiments demonstrated that persistence of allogeneic T-cells produced with shRNA technology is superior to cells engineered with gene-editing technologies.
Aims
The objective of the open-label Phase I IMMUNICY-1 (NCT04613557) trial is to evaluate the safety and clinical activity of a single infusion of CYAD-211 in relapsed or refractory MM patients.
Methods
A bank of clinical- grade CYAD-211 cells was generated through a single production run using a portion of a single donor apheresis. The bank generated >1010 CYAD-211 cells suitable for the entire dose escalation segment and expansion cohort of the trial.

CYAD-211 is administered after a non-myeloablative preconditioning chemotherapy consisting of cyclophosphamide (300 mg/m²/day) and fludarabine (30 mg/m²/day) for 3 days. Three CYAD-211 dose-levels (DLs; 30, 100 and 300x106 cells per infusion), are evaluated, according to a 3+3 design. The lowest DL was implemented as a safety-run for this first-in-human trial.
Patients with relapsed or refractory MM with measurable disease as per the International Myeloma Working Group (IMWG) response criteria are eligible for the trial.
Results
As of the data cutoff of February 24, 2021, enrollment in the DL1 was completed (Table). Clinical activity evaluation was performed on Day (D) 22 and D36 for the first two patients with one confirmed partial response (PR) and one stable disease (SD). No dose-limiting toxicity nor Grade ≥ 3 treatment-related adverse events (AE) were reported. No immune effector cell-associated neurotoxicity syndrome (ICANS) nor GvHD were observed. One cytokine release syndrome (CRS) grade 1 was observed in the patient presenting the PR. CYAD-211 cells were detected by PCR-based method in the peripheral blood of the PR patient.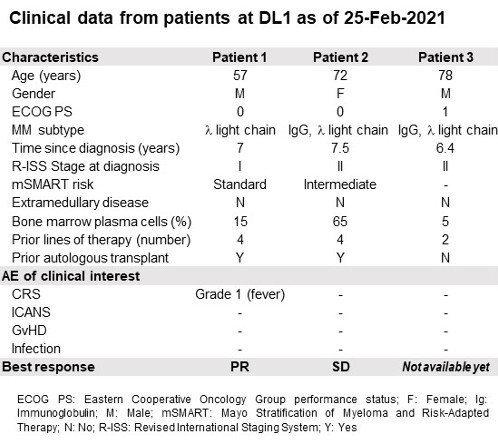 Conclusion
The IMMUNICY-1 clinical trial seeks to provide the proof-of-principle that single shRNA-mediated knockdown can generate safe and functional allogeneic CAR T-cells in humans. The observed clinical activity at such low DL of 30x106 cells is encouraging in the allogeneic setting. Clinical and cell kinetics data from the completed first DLs will be presented at the time of the congress.The early stages of this trial continue to support the development of allogeneic CAR T-cell therapy as a feasible approach that may overcome many of the hurdles associated with autologous CAR-T cells.
Keyword(s): Allogeneic, CAR-T, Multiple myeloma