All e-poster presentations will be made available as of Friday, June 11, 2021 (09:00 CEST) and will be accessible for on-demand viewing until August 15, 2021 on the Virtual Congress platform.
Abstract: EP733
Type: E-Poster Presentation
Session title: Gene therapy, cellular immunotherapy and vaccination - Clinical
Background
Elevated levels of fetal hemoglobin (HbF) are associated with improved clinical outcomes in patients (pts) with transfusion-dependent β-thalassemia (TDT). CTX001™ is a novel cell therapy that uses non-viral, ex vivo CRISPR-Cas9 gene editing in autologous hematopoietic stem and progenitor cells (HSPCs) at the erythroid enhancer region of the BCL11A gene to reduce expression of BCL11A, a repressor of γ-globin, and reactivate HbF production. Early data from pts with TDT infused with CTX001 showed increased levels of total hemoglobin (Hb), HbF, and F-cell pancellularity over time. All pts ceased packed red blood cell (pRBC) transfusions within 2 months (mo) after CTX001 infusion and remained transfusion-free through the reported period. The safety profile was generally consistent with myeloablative conditioning.
Aims
Here, we present additional patient data and follow-up (f/u) from an interim data cut on 21 January 2021. Included in the data set are all pts with TDT enrolled in the CLIMB THAL-111 trial (NCT03655678) infused with CTX001 who had ≥3 mo of f/u available at the time of analysis (N=10).
Methods
Pts (aged 12 to 35 years) with TDT receiving pRBC transfusions of ≥100 mL/kg/year or ≥10 units/year over the previous 2 years were eligible. After mobilization with G-CSF (filgrastim) and plerixafor, peripheral CD34+ HSPCs were collected by apheresis and edited using a specific single-guide RNA and Cas9 nuclease. Prior to CTX001 infusion on Day 1, pts received myeloablation with busulfan. Pts were monitored for stem cell engraftment and hematopoietic recovery, adverse events (AEs), total Hb and HbF production, percentage of F-cells, and pRBC transfusion requirements during f/u.
Results
Mean duration of f/u was 9.8 mo (range: 4.3–23.8). Four of 10 pts had genotypes associated with more severe disease: β0/β0, n=1; [IVS-I-110]/β0, n=2; and β+[IVS-I-110]/β+[IVS-I-110], n=1. At baseline, pts had mean (SD) total Hb and HbF levels of 10.6 (2.2) g/dL and 0.2 (0.2) g/dL, respectively, and had received a mean of 14.7 pRBC transfusions annually. Following CTX001 infusion, median neutrophil engraftment occurred on Day 30 (range: 19–39) and median platelet engraftment occurred on Day 38.5 (range: 29–52).

All 10 pts reported AEs; most were mild or moderate in severity and the post-CTX001 safety profile was generally consistent with busulfan myeloablation. As previously reported, 1 patient had 4 serious AEs (SAEs) that the principal investigator considered related or possibly related to CTX001: headache, hemophagocytic lymphohistiocytosis (HLH), acute respiratory distress syndrome, and idiopathic pneumonia syndrome, all in the context of HLH and all of which have resolved. No other pts had a CTX001-related SAE.
All pts demonstrated increases in total Hb and HbF (Figure), and F-cell pancellularity over time. Pts stopped pRBC transfusions within 2 mo after CTX001 infusion and were transfusion-free at the time of this analysis (up to 23.8 mo total f/u).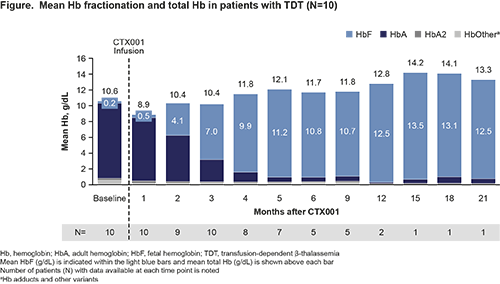 Conclusion
The updated data reported here confirm previous reports showing CTX001 infusion increases total Hb and HbF with F-cell pancellularity in pts with TDT, and demonstrate the durability of this effect for up to 23.8 mo f/u. All 10 pts were transfusion-free within 2 mo after CTX001 infusion through the time of this analysis. The safety profile of CTX001 remained generally consistent with myeloablative conditioning and autologous hematopoietic stem cell transplantation. These results strongly support continued investigation of CTX001 as a potential functional cure for pts with TDT.

Submitted on behalf of the CLIMB THAL-111 Investigators.
Keyword(s): Beta thalassemia, Hemoglobin, Stem cell gene therapy