All e-poster presentations will be made available as of Friday, June 11, 2021 (09:00 CEST) and will be accessible for on-demand viewing until August 15, 2021 on the Virtual Congress platform.
Abstract: EP648
Type: E-Poster Presentation
Session title: Chronic lymphocytic leukemia and related disorders - Clinical
Background

In clinical trials, treatment of chronic lymphocytic leukaemia (CLL) with venetoclax (Ven) has shown promising efficacy and good tolerability. However, patients treated in clinical trial often represent a selected group not representative for patients treated in daily practice. Prospective real-world data on Ven usage are limited.
Aims

We conduct a prospective non-interventional observational study assessing effectiveness, safety, and quality of life in relapsed/refractory patients (RR) treated with Ven in Austria, Germany, and Switzerland. The population enrolled is representative for patients treated with Ven according to local label. This report focuses on patients treated with Ven in combination with rituximab (R).
Methods

Adult patients with CLL requiring therapy treated with Ven+R according to local label are eligible for the study. Patients' visits are scheduled at the physician's discretion and according to clinical practice. Study documentation is possible at baseline, weekly during ramp-up, monthly until the end of 6 months and 3-monthly afterwards up to a maximum of 3 years. Response assessment according to IwCLL criteria can be documented at the end of ramp-up, after 3, 12, and 24 months.
Results

On November 15th, 2020, 87 patients receiving Ven+R were enrolled, 81 had received at least one dose of Ven (= safety population), and for 65 treatment response had been documented at least once (=effectiveness population). Median age was 73 years, 75% of patients were male, 63% had at least one comorbidity, most commonly cardiovascular (46%), 59% received comedication. Patients were pre-treated with a median of 1 (range 1-10) line of therapy, e.g. chemo-immuno-therapy (CIT; 76%) or B-cell receptor inhibitors (33%). Del(17p), TP53 mutation, and presence of unmutated IGHV had been diagnosed in 26%, 26%, and 41%, respectively (excl. missing data: 33%, 34%, 73%).
With a median observation time of 254 (range 1-667) days, 81% of patients experienced at least one AE, 46% experienced CTCAE grade 3/4 AEs, SAEs were reported in 30%. Grade 5 AEs were reported in two patients, tumour lysis syndrome (TLS) in 10 patients (12%). The median for progression-free survival (PFS) and overall survival (OS) has not been reached, the 12-month estimates were 88,1% (PFS) and 89,8% (OS). 6 cases of death were reported as not treatment related. At 12 months, an estimated 84,7% of patients remain on therapy. The reported best overall response at 12 months was 78,7% (CR+CRi 36,1%; PR: 42.6%). Remissions appeared to deepen with longer treatment duration.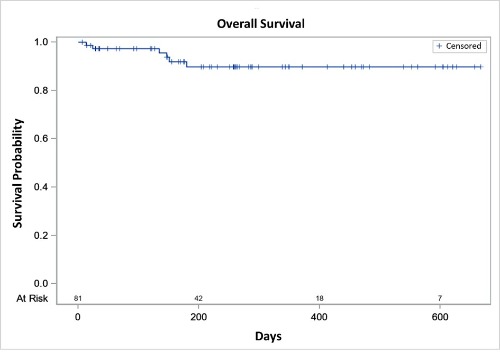 Conclusion

Under real-world conditions, Ven+R is used in elderly patients. The treatment was well tolerated. Most patients receive Ven+R in second line of therapy after initial CIT. Patients present with high-risk features, e.g. del(17p); yet, the response rate was high. Despite the advanced age of the enrolled patient population, PFS and OS estimates are like those observed in the Ven+R pivotal phase III trial MURANO.
Keyword(s): BCL2, Chronic lymphocytic leukemia, Rituximab, Safety