All e-poster presentations will be made available as of Friday, June 11, 2021 (09:00 CEST) and will be accessible for on-demand viewing until August 15, 2021 on the Virtual Congress platform.
Abstract: EP592
Type: E-Poster Presentation
Session title: Bone marrow failure syndromes incl. PNH - Clinical
Background
Eculizumab, treatment for Paroxysmal Nocturnal Hemoglobinuria (PNH) C5 inhibitors increase susceptibility to encapsulated microorganisms, (Neisseria meningitidis). The PNH National service, has 18 years of experience. The risk of N. meningitidis is mitigated by vaccination, ciprofloxacin (500 mg bd) days 1-13 we moved to vaccination day one of complement inhibitor, and prophylaxis (penicillin / erythromycin). Since a case of sepsis with penicillin-resistant meningococci, patients also have course ciprofloxacin. Education, prompt action in case of fever and a 24 hour on-call service are equally important.

Aims
Until 2010 patients were revaccinated with MenACWY 3 yearly. Bexsero (MenB vaccine) vaccination added in 2015. In collaboration with Public Health England Meningococcal Reference Unit a program was developed to monitor titers after vaccination, to revaccinate if titers below protective levels. It is technically not possible to assay for meningoccal serogroup B antibody titers when on Eculizumab therapy.
Methods
Methods: Antibody titers were assayed following vaccination. Unprotective titers led to revaccination. We evaluate practice of 9 meningococcal infections in 8 patients. Present disease characteristics, serogroup and outcome, vaccination history and antibody status.

Results: Between 2002 and 2020, 324 patients commenced complement inhibitor treatment for PNH. 801 vaccinations with MenACWY were administered: median 2 vaccinations per patient (range 1 - 10). A total of 1,671 antibody titer assessments conducted in 294 patients, median of 4 tests per patient (range 1 - 15). Every test assessed antibodies against all four serogroups.
Titers were not assessed in 9% of patients (30), due to vaccination prior to change in practice or recent commencement.
Protective response after first vaccination was observed in 170 / 294 patients (57.8%) and a partial response (3 serotypes) in 51 /294 (17.3%). Revaccination of 51 partial responders resulted an additional 21 patients with a full response. Revaccination of 73 non-responders (antibodies to 0-2 serotypes) resulted in 32 more partial / full responses. 287 of 324 patients received MenB vaccinations: median 2 vaccinations per patient (range 1 - 4). 8 of 324 (2%) median age 22.5 years developed meningococcal sepsis (see table); patient 5 had 2 episodes. 3 of 5 cases with serogroup B infection were before serogroup B vaccination. 4 episodes in 3 patients were due to Y, C, W meningococci, in one the serogroup is unknown. All except patient 1 were compliant with antibiotic prophylaxis. Patient 7 died from meningococcemia, a delay in seeking medical attention may have contributed, (a penicillin resistant strain).
Results
Discussion:

The largest experience of managing meningococcal risk in complement inhibitor for PNH. Despite proactive management we had 9 cases of meningococcal sepsis,1 fatal infection. Recently practice of prompt treatment with ciprofloxacin if pyrexic on prophylaxis will prevent cases - patient 7 with a penicillin resistant strain. 3 patients had a meningococci sepsis serogroups C, W and Y;1 patient had no titers due to recent commencement on treatment, titres of 2 suggested protective immunity.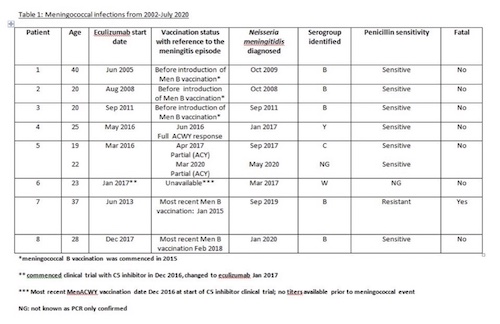 Conclusion
A full antibody response can be obtained on second vaccination in most if first one failed. If no response is achieved, then MenACWY vaccination is not likely to be successful. Current practice significantly mitigates risk of meningococcal disease; however, it is essential patients are vigilant for fever, seeking immediate medical attention stating their diagnosis of PNH on complement inhibitor therapy.


Keyword(s):