All e-poster presentations will be made available as of Friday, June 11, 2021 (09:00 CEST) and will be accessible for on-demand viewing until August 15, 2021 on the Virtual Congress platform.
Abstract: EP591
Type: E-Poster Presentation
Session title: Bone marrow failure syndromes incl. PNH - Clinical
Background

Aplastic anemia (AA) is a disease characterised by pancytopenia and it may be inherited or acquired (immune) in nature. Though the definitive treatment is allogeneic stem cell transplant, use of Anti Thymocyte Globulin (ATG), Cyclosporine (Cx) or TPO agonists as first line therapy have greatly improved the disease prognosis. Though androgenic steroids are used upfront in Inherited Bone marrow failure syndromes (IBMFS), sometimes they are also used in Acquired AA. The efficacy is lower than the first line agents (70%).
Aims

Though androgens are used commonly in patients who have failed first line therapy or as first-line in patients with logistic constraints, there is very little real-world data regarding the response outcomes with these drugs. The target of our study is to address this void.
Methods

This analysis was conducted among patients who attended NRS Medical College in West Bengal, India in the span of 1 year (1st January-31st December, 2020). Patients with AA, both Severe AA (SAA) and Non-SAA (NSAA) (according to the Camitta criteria), were considered and the patients who relapsed / did not respond to / could not be given first-line therapy, either due to logistic reasons or side effects (such as, rising creatinine or gum hypertrophy necessitating stoppage of cyclosporine), were included for the analysis (Table 1). Patients having features of IBMFS have been excluded from the analysis.
Second-line therapy was given with androgenic steroids such as, Stanozolol (St), Danazol (Da) or Oxymetholone (Ox), in addition to supportive care. The drug dosages were as follows: St 1 mg/kg/day; Da 10 mg/kg/day; Ox 2 mg/kg/day. First-line therapy comprised of ATG, Cx or Eltrombopag. 
The improvement was assessed according to criteria in published literature, as follows: a) lesser requirement of transfusions; b) increase in haemoglobin (Hb) levels; c) increase in absolute neutrophil count (ANC); d) increase in platelet count
Results

Out of a total of 388 patients with Acquired AA, 108 required second-line therapy with ≥1 androgen (Table 1). Most of the patients were aged ≥ 40 years age (61.1%) and there was a male preponderance (1.5:1). Majority of patients had SAA (75.9%).
The most common cause for starting a patient on androgens was logistic, followed by starting the drug due to no response with frontline agents. Many patients had ≥1 reason for starting androgenic steroids. The most commonly used steroid was St, followed by Da and Ox. Many patients have received more than one type of steroid at different time periods, due to reasons ranging from cost to side effects (Table 1).
Overall response (OR), which included both Complete response (CR) and Partial response (PR), was noted in 47.2% patients (Table 1). The median time of OR was 2 years.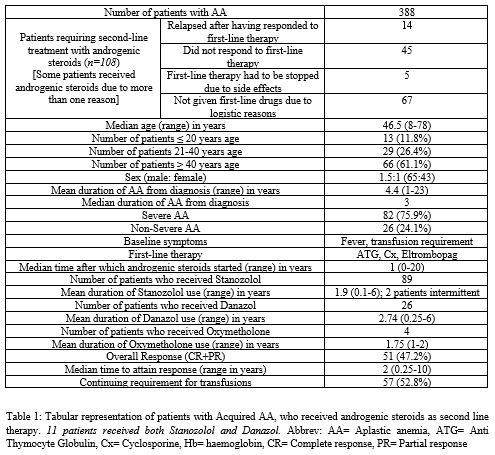 Conclusion

Androgens are not considered as first line agents in Acquired AA, however 47.2% OR was seen in patients who had taken androgens for variable time periods. In this analysis, it was seen that the time required to attain OR was quite long, median time being 2 years.
Thus, in situations where ATG/Cx/TPO agonists fail or cannot be used due to logistic reasons, androgens may be a good alternative. St or Da are the most commonly used agents and the superiority of one over the other cannot be decided. However, the choice of androgen used may depend on the expense or side effects. St is more expensive than Da and mainly used in IBMFS, while Da is preferred in male patients.
Keyword(s): Aplastic anemia