All e-poster presentations will be made available as of Friday, June 11, 2021 (09:00 CEST) and will be accessible for on-demand viewing until August 15, 2021 on the Virtual Congress platform.
Abstract: EP486
Type: E-Poster Presentation
Session title: Acute myeloid leukemia - Clinical
Background
The prognosis of relapsed or refractory acute myeloid leukemia (R/R AML) in elderly and unfit patients who fail hypomethylating agents remains very poor. Glasdegib is a novel small-molecule inhibitor of the Smoothened (SMO) receptor and its efficacy is based on downregulation of the Hedgehog signaling pathway which is involved in the resistance of AML cells. Glasdegib combined with low dose Cytarabine (LDAraC) is currently approved for newly diagnosed unfit AML patients, however data in the R/R AML setting are lacking. Here, we present data on 16 elderly and unfit R/R AML patients who had previously failed Decitabine or Azacitidine based therapies and were treated with outpatient Glasdegib + LDAraC.
Aims
The aim of our study was to evaluate the efficacy and toxicity of Glasdegib + LDAraC therapy in R/R AML patients with prior exposure to hypomethylating agents.
Methods
We retrospectively collected clinical data on AML patients who had R/R AML and failed Decitabine or Azacitidine based therapies at Vilnius University Hospital Santaros Klinikos in 2018-2020. Glasdegib was kindly provided by Pfizer via the compassionate use program and the treatment was approved by the institutional Ethics Committee. The data collection was approved by Vilnius Regional Biomedical Research Ethics Committee. The treatment cycles consisted of self-administered Cytarabine 20mg/m2 s/c Day 1-10 and Glasdegib 100mg p/o daily on outpatient basis. The cycles were repeated every 28-35 days, longer interruptions were allowed in case of toxicity or social reasons. Glasdegib was continued after Day 28 even if the start of the next cycle was postponed. Indications for stopping the treatment were progressive disease with no further clinical benefit observed, excessive toxicity or availability of alternative treatment strategies.
Results
16 patients (11 female) were enrolled. The median age was 77 (71-86) years. The median ECOG performance status was 2 (1-3). Extramedullary involvement was confirmed in 12% (2/16) of cases. 14 (88%) patients had previously received 1 treatment line, whereas 2 (12%) patients failed two therapies. All patients had previously received low intensity frontline therapies with Decitabine or Azacitidine, 4 (25%) patients had Venetoclax exposure. Adverse cytogenetics were identified in 38% (6/16) of patients. Based on the ELN2017 risk group stratification criteria, 12% (2/16), 50% (8/16) and 38% (6/16) of patients were stratified to favorable, intermediate and adverse risk groups, respectively. A median of 2 (1-17) treatment cycles were administered, 5 patients (31%) received at least 4 cycles. Responses were evaluated in 13 cases. Four patients achieved CR, one patient achieved CRp and one PR was confirmed. The composite CR+CRp rate was 39% (5/13) and the overall response rate (CR+CRp+PR) was 46% (6/13). The median response duration was 2 months (0.3-6) Stable disease was confirmed in 23% (3/13), whereas 31% (4/13) were diagnosed with progressive disease. After the median observation time of 13.2 months, the median overall survival was 6.5 months (95% CI 2.1-6.5). The most common grade III-V adverse events of Glasdegib + LDAraC were infections (57%, 9/16). Grade 3 QT prolongation was confirmed in 1 case (6%), no episodes of life-threatening arrhythmias were observed. Day 30 and day 60 mortality rates were 12% (2/16) and 19% (3/16), respectively.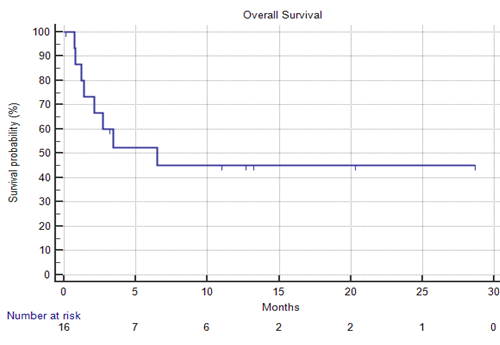 Conclusion
Glasdegib + LDAraC is a fairly safe, non-intensive outpatient regimen that may achieve disease stabilization and induce responses in elderly and unfit R/R AML patients after unsuccesful therapy with hypomethylating agents.
Keyword(s): AML, Hypomethylation, Relapsed acute myeloid leukemia