All e-poster presentations will be made available as of Friday, June 11, 2021 (09:00 CEST) and will be accessible for on-demand viewing until August 15, 2021 on the Virtual Congress platform.
Abstract: EP1224
Type: E-Poster Presentation
Session title: Stem cell transplantation - Clinical
Background
MGTA-145 (GroβT), a CXCR2 agonist, has shown promising activity for HSC mobilization with plerixafor in pre-clinical models & healthy volunteers. It has the potential to become a GCSF free regimen for reliable, same day stem cell mobilization/apheresis in preparation for transplant, with fewer side effects, better patient experience and optimal resource utilization.
Aims
 

This phase 2 single center study evaluates HSC mobilization with MGTA-145 + plerixafor and same day apheresis in patients with multiple myeloma (NCT04552743). Primary endpoint is collection of 2 x 106 CD34+ cells/kg in 2 days of mobilization/apheresis. Secondary endpoints are collection of 4 and 6 x 106 CD34+ cells/kg and engraftment after transplant.
Methods

Patients with myeloma 18-70 years of age,  within 1 year of treatment start and creatinine clearance > 30 ml/min were eligible. Patients received plerixafor 0.24 mg/kg (0.16 mg/kg if renal dysfunction) SQ, followed 2 hours later by MGTA-145 (0.03 mg/kg) IV over 3-10 minutes and apheresis within 30 minutes. Mobilization was repeated for a second day if day 1 yield was < 6 x 106 CD34+ cells/kg. This interim analysis reports on mobilization in 10 patients (of 25 planned), including safety cohort of first 6 patients completing transplant.
Results

Median age was 63 years (range: 46-68), 50% were female, 22% had ISS stage 3 & 50% had high-risk FISH. Induction therapy was VRD in 7 and daratumumab + VRD in 3 patients; median induction duration: 4 months (3-6) & median lenalidomide exposure: 6 cycles (4-6), with > VGPR in 70%.
Plerixafor 0.24 mg/kg was used in 9 patients and 0.16 mg/kg in 1 (renal dosing). Median total stem cell yield (CD34+ cells/kg x 106) was 7.1 (3-16.2), day 1 yield was 5.4 (1.1-16.2) & yield per apheresis session was 4 (1.1-16.2) (Fig). 100% patients met the primary endpoint of collecting sufficient HSCs in < 2 days of mobilization + apheresis to proceed to transplant, 90% in 1 day (2 x 106 CD34+ cells/kg). Secondary endpoints of 4 and 6 x 106  CD34+ cells/kg in < 2 days were met in 90% & 80% patients. Overall, 30% patients underwent 1 apheresis, while 70% underwent 2 sessions (if day 1 yield < 6x106 CD34+ cells/kg).
MGTA-145 was well tolerated. At least 1 adverse event (AE) was seen in 90% of patients, 20% had grade 2 AEs (anemia, hypokalemia) and 20% had grade 3 AEs (worsening of baseline grade 3 anemia; hypocalcemia); all resolved. Acute & transient bone pain was seen in 40% of patients (back-2, hip-1, sternum-1), all grade 1, all on day 1, & resolved without intervention after 6 minutes (3-10). 
All 6 patients in the safety cohort have completed transplant with melphalan 200 mg/m2. Median of 4.1 (3.4-5.6) x 106 CD34+ cells/kg were infused. All patients have engrafted timely (DiPersio Blood 2009); median time to neutrophil engraftment: 12 days (11-13) & platelet engraftment: 17 days (16-19). Apheresis graft analysis is available in these 6 patients. Grafts with MGTA-145+plerixafor showed high enrichment for CD90+CD45RA- among CD34+ cells, a CD34 subset of long term engrafting HSCs (median: 31% of CD34+ cells, 27-52), higher than seen with G-CSF (6%, Goncalves TCT 2021). 67% of grafts were minimal residual disease negative with next generation flow cytometry.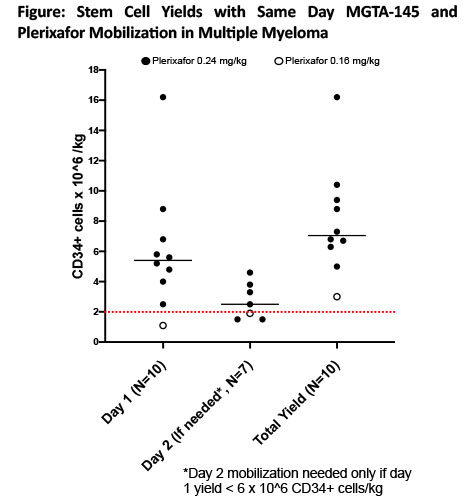 Conclusion
 

This is the first study to evaluate the novel regimen of MGTA-145 + plerixafor for same day stem cell mobilization & collection in myeloma/hematologic malignancies, with 100% efficacy in interim analysis and the first to demonstrate successful engraftment in patients with cells collected with this GCSF free regimen.
Keyword(s): Autologous hematopoietic stem cell transplantation, Multiple myeloma, Stem cell mobilization