All e-poster presentations will be made available as of Friday, June 11, 2021 (09:00 CEST) and will be accessible for on-demand viewing until August 15, 2021 on the Virtual Congress platform.
Abstract: EP1201
Type: E-Poster Presentation
Session title: Sickle cell disease
Background

Cerebrovascular complications cause significant morbidity from childhood in patients with sickle cell disease (SCD). Stroke and large vessel vasculopathy are the most severe manifestations, but silent cerebral infarcts (SCI) are more common and impact neurocognitive development and quality of life. Routine use of Magnetic Resonance Imaging/Angiography (MRI/MRA) as a screening tool since childhood is suggested in some European guidelines. Risk factors for SCIs are known, but real-world studies documenting contemporary rates of SCI and evaluating the association between hemoglobin (Hb) levels and the incidence of SCIs are limited.
Aims

To determine the incidence and evolution of SCIs in a pediatric natural history cohort in Italy and investigate the correlation between hematological variables, treatment and SCI.
Methods

A retrospective analysis was performed in a cohort of children with SCD prospectively enrolled in a natural history study from Oct 2007 to Dec 2020. The standard care includes annual TCD from age 2, MRI/MRA from 6 years old, every 2 years; Hydroxyurea (HU), Chronic Red Blood Cell Transfusion and Bone Marrow Transplantation (BMT) are prescribed according to national guidelines. Two-sample t-test and Welch t- test for unequal variances were used to compare means of Hb values and hemolysis markers in patients with and without SCIs. Cumulative incidence function (CIF) estimated incidence of SCI occurrence. Patients were censored at the moment of BMT, death or loss to follow-up.
Results

Of the 182 SCD patients identified, 110 (60%) underwent 1 evaluable MRI/MRA. 51% were male; 81% HbSS, 6% HbSβthal0, 12% HbSC, 1% HbSβthal+, 80% were from Sub-Saharian Africa, 11% from Europe, 5% from North Africa. Median age at diagnosis was 25.4 months (IQR 8.4-59.3); 48% were diagnosed before 24 months. Median follow-up time was 113.9 months (range 6.2-301.0)(IQR 79.2-153.3). Overall, 55.5% received HU, 11% chronic transfusion, 19% HU and transfusion (only 4 in combination for recurrent VOCs or switch protocol, the remaining in sequence), 14.5% received no disease modifying therapy; 17% underwent BMT. Mean age of HU start was 92 months (range 10.1-236.9). Median age at first MRI was 6.5 years (IQR 4.64-10.01). SCIs occurred in 33.6% of patients with a MRI test performed with no difference between genotypes. A SCI was detected at first MRI in 78.3% of patients, with mean lesion burden of 1550.1 mm3 (range 60.6-5916). 22/37 had follow up MRIs evaluable in this analysis; in 6 patients the lesion burden increased (mean +290 mm3): 4/6 were teenagers with poor adherence to HU treatment or behavioural risk factors (cigarette smoke), 1/6 had large vessel vasculopathy, 1/6 had epilepsy.Patients with SCIs had lower Hb (8.3 vs 9 g/dl), higher indirect bilirubin (42.8 vs 34.9 umol/L) and reticulocytes (291932 vs 249719/mm3) compared to patients without SCIs (p ≤0.0001).The overall cumulative incidence of SCIs at 5 years from SCD diagnosis was 23.4 (95%CI 15.6-23.0) [Figure 1] generally increasing over time, and the 5-year cumulative incidence was 63.4 (95%CI 43.7-77.9) among patients with no therapy administered.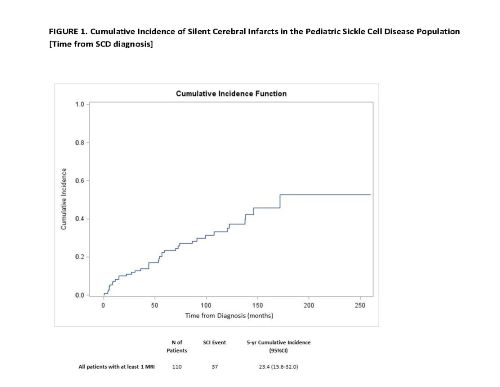 Conclusion

Our real-world analysis demonstrates that even in pediatric SCD patients who undergo regular screening and have access to treatments, SCI burden is still high, but could be stabilized with early therapy and additional interventions. Given the observed differences in markers among patients with and without SCIs, hematological or behavioral risk factors should be considered in screening programs.
Keyword(s): Hemoglobin, MRI, Sickle cell disease, Stroke