All e-poster presentations will be made available as of Friday, June 11, 2021 (09:00 CEST) and will be accessible for on-demand viewing until August 15, 2021 on the Virtual Congress platform.
Abstract: EP1193
Type: E-Poster Presentation
Session title: Quality of life, palliative care, ethics and health economics
Background
Cold agglutinin disease (CAD) is a rare, chronic type of autoimmune hemolytic anemia characterized by classical complement pathway–mediated hemolysis. Clinical manifestations may include chronic hemolytic anemia, profound fatigue, and transient agglutination-mediated circulatory symptoms. CAD (formerly primary CAD) is clinically distinct from secondary cold agglutinin syndrome, which is caused by an underlying condition (coexisting diagnosis of overt malignancy or infection). Healthcare resource utilization (HRU) for patients with CAD in Europe is unknown.
Aims
Compare overall and CAD-related HRU in patients with CAD versus matched comparators in Denmark.
Methods
Nationwide patient registries were used to identify newly diagnosed cases of CAD (International Classification of Diseases, Tenth Revision, code: D591A) in Denmark between January 1, 1999 and June 30, 2016. Each patient with CAD was matched 10:1 to a comparison patient from the general population by birth year, gender, and comorbidities. Inpatient, outpatient, and emergency room (ER) visits and transfusion use were assessed 6 months before and 12 months after the date of the first CAD diagnosis/index date. Descriptive statistics, conditional logistic regression, mixed-effect negative binomial regression, and zero-inflated binomial mixed model were used to compare HRU among patients with CAD versus matched comparators. CAD-related inpatient and outpatient visits were also assessed.
Results
A total of 104 patients with CAD and 1003 comparison cohort members were included. Women comprised over half of the cohorts (53% CAD; 52% comparator), and 60% were ≥70 years of age (59% comparator). Nearly half of the cohort had ≥2 comorbidities (45% CAD; 43% comparator). At 6 months before CAD diagnosis/index date, 31% of patients with CAD experienced an inpatient hospitalization versus 13% of matched comparators (P<0.001). Outpatient and ER visits were experienced by 80% (vs 47% comparators; P<0.001) and 19% (vs 5% comparators; P<0.001) of patients with CAD, respectively. At 12 months after CAD diagnosis/index date, 53% of patients with CAD had an inpatient hospitalization (vs 23% comparators; P<0.001), 95% had an outpatient hospitalization (vs 59% comparators; P<0.001), and 19% had an ER visit (vs 14% comparators; P=0.231). Overall, 67% of inpatient hospitalizations for patients with CAD were due to anemia and pneumonia. Patients with CAD had significantly higher mean inpatient length of stay (10.6 vs 2.7 days; P=0.001). Analyses limited to inpatient hospitalizations or outpatient clinic visits associated specifically with CAD showed similar but stronger results for patients with CAD versus matched comparators during the 12-month post-diagnosis period (Table). Transfusion use was significantly greater for patients with CAD versus comparators (43% vs 1%; P<0.0001). Up to 5 years after diagnosis, relative risk remained high for patients with CAD compared with their matched comparators for an ER visit (1.36–2.18 from Years 1 to 5), an inpatient visit (2.30–2.36 from Years 1 to 5) and an outpatient visit (1.61–1.60 from Years 1 to 5). Sensitivity analysis for patients with primary CAD (representing 82% of identified patients with CAD) showed similar findings of significantly increased overall and CAD-related HRU versus matched comparators.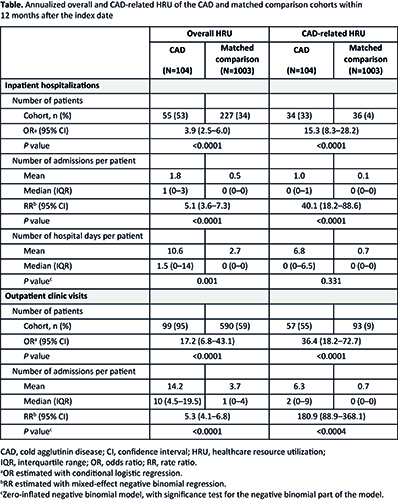 Conclusion
Patients with CAD used significantly more healthcare services than matched comparators, both before and after their diagnosis. Current management of CAD has a substantial impact on HRU, placing a burden on patients and healthcare systems.
Keyword(s): Autoimmune hemolytic anemia (AIHA), Complement