All e-poster presentations will be made available as of Friday, June 11, 2021 (09:00 CEST) and will be accessible for on-demand viewing until August 15, 2021 on the Virtual Congress platform.
Abstract: EP1162
Type: E-Poster Presentation
Session title: Quality of life, palliative care, ethics and health economics
Background
Clinical outcomes and survival rates for indolent Non-Hodgkin Lymphoma (iNHL) have greatly improved in the past two decades. It, however, does not necessarily mean that these survivors live in good health. Patients often experience relapses of their disease and need to undergo several treatment lines. They are therefore at risk for adverse physical and psychosocial effects, such as fatigue, neuropathy and anxiety. To date, most information has been obtained from clinical trials and cross-sectional studies and little is known about persistent (long-term) symptoms and problems in a population-based setting.
Aims

(1) To evaluate the course of symptoms and daily functioning among iNHL patients, up to ten years after diagnosis in a prospective observational population-based cohort, (2) to determine the number of patients with persistent fatigue, neuropathy and problems in daily functioning and (3) to identify sociodemographic, clinical and psychological factors associated with this.
Methods
Patients diagnosed with iNHL between 1999 and 2014, 18 years and older, were invited for a longitudinal population-based survey. Patients received subsequent questionnaires every six months (≤ three years after diagnosis) and once a year (> three years after diagnosis), starting from the time of enrollment until spring 2019. Data collection was done within the PROFILES registry. Sociodemographic and clinical data were obtained from the Netherlands Cancer Registry. The EORTC QLQ-C30 was used to assess daily (role) functioning and fatigue and the CLL-16 was used for neuropathy. Psychological distress was measured with the Hospital Anxiety and Depression Scale. Persistent symptoms and problems in daily functioning were defined with the thresholds for clinical importance of the QLQ-C30. Data of patients were compared to an age- and sex-matched normative population. Individual Growth Curve models with maximum likelihood estimation and Generalized Estimating Equation analysis were performed using SPSS.
Results
669 iNHL patients were included who completed on average 4 measurements. Patients had a mean age of 64.8 years at inclusion and 60% were male. Mean survival time at inclusion was 3.6 years [range 0.4-10.5 years]. Primary treatment was watchful waiting (52%), chemotherapy (29%) or radiotherapy (14%). The growth model shows that the course of symptoms and daily functioning remains stable up to 10 years after diagnosis. Respectively, 37% reported persistent fatigue, 32% persistent neuropathy and 24% persistent problems in daily functioning. This was 2-3 times higher than the normative population. Factors associated with worse persistent outcomes were: receiving chemotherapy as primary treatment, having comorbidities, lower education, not having a partner and experiencing psychological distress (all p's <0,05).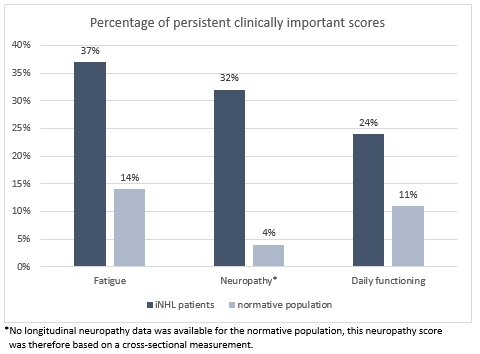 Conclusion
A quarter to one-third of iNHL patients experiences persistent fatigue, neuropathy and problems with daily functioning. To organize early detection and supportive care for those in need, further research is needed to better understand the underlying mechanisms of symptoms and daily functioning (e.g. the role of physiological and biological factors). Additionally, it will lead to better expectation management and informed decision-making for iNHL patients.
Keyword(s): Fatigue, Indolent non-Hodgkin's lymphoma, Quality of life