All e-poster presentations will be made available as of Friday, June 11, 2021 (09:00 CEST) and will be accessible for on-demand viewing until August 15, 2021 on the Virtual Congress platform.
Abstract: EP1150
Type: E-Poster Presentation
Session title: Platelet disorders
Background

American Society of Hematology 2019 guidelines for immune thrombocytopenia (ITP) recommend considering individual patient (pt) preference when selecting second-line therapy in adults with ITP. We previously reported pts' and physicians' (MDs') perspectives on ITP treatments (txs) across all countries included in the ITP World Impact Survey (I-WISh), which examined ITP's burden and impact on quality of life (QoL). A better understanding of the geographic differences in pts' and MDs' tx preferences and the effects of MD caseload may reveal areas in which additional discussion and education might be beneficial.
Aims
Using I‑WISh data, define the geographic distribution of pt and MD tx preferences and the effect of MDs' ITP caseload on their tx practices and attitudes.
Methods

I-WISh was an exploratory, cross-sectional 30-minute survey of 1507 pts with ITP and 472 ITP-treating MDs conducted in 13 countries (Dec 2017-Aug 2018). Pts were recruited via MDs and pt advocacy groups (PAGs). A steering group of expert ITP clinicians and PAG leads developed the survey. Pts' and MDs' preferences on tx modalities were evaluated through responses to specific questions. MD caseload was defined as 'low' (≤10 pts currently treated), 'medium' (11-29), or 'high' (≥30). Differences in responses between 'low' and 'high' caseload status were considered meaningful if they differed by >10 percentage points.
Results

Mean pt age was 47 years; 65% were female. MDs had a mean caseload of 34 current pts with ITP; MDs with 'low', 'moderate', and 'high' caseload status had mean caseloads of 7, 19, and 70 current pts with ITP, respectively.
Most pts (90%; n=1360/1507) had a preference for orally administered ITP txs (once [83%] or twice [7%] daily) over an injection; pt preference for oral ITP tx was >85% in countries excluding France (80%), Turkey (77%), and Germany (70%). MDs' (first-choice) preference for orally administered ITP txs (versus subcutaneous [SC] or intravenous [IV] tx) was broadly aligned with that of pts, and was selected by 77% of all MDs (n=365/472).
There were distinct geographical differences in MDs' preferred ITP txs when pursuing a tx goal of 'sustained remission': splenectomy was the preferred tx class in Canada (70%), Colombia (48%), and the USA (36%); corticosteroids (CSs) in China (56%) and India (33%); and thrombopoietin-receptor agonists (TPO-RAs) in Egypt (70%), Turkey (57%), the UK (55%), Spain (48%), Italy (43%), France (41%), Japan (39%), and Germany (27%).
For pts with persistent/chronic/recurrent ITP, MDs' first-choice preference for oral (vs SC or IV) ITP tx appeared to increase with rising caseload ('low', 'moderate', and 'high' caseload: 68%, 77%, and 87%, respectively). As MDs' caseload increased, shifts in the preferred tx class for the goal of 'sustained remission' were also seen; preference for TPO-RAs increased (19%→43%) whereas CSs decreased (38%→13%).TPO-RAs were the overall preferred tx class (Fig. 1).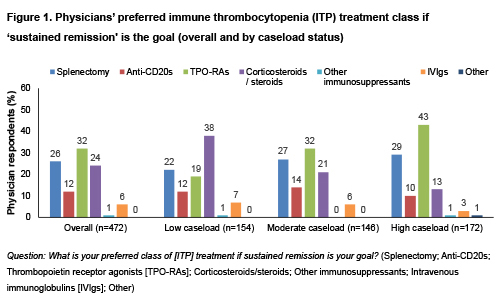 Conclusion
Both pts and MDs appeared to demonstrate a preference for oral ITP txs over an injection (SC/IV) option, with some geographic differences in preferences. There were also apparent shifts in MD tx preferences with changes in ITP caseload in approaching sustained clinical remission. An important limitation was question phraseology, which did not include factors such as substantial dietary restrictions for oral medications. Also, country sample sizes varied, and data were collected prior to the COVID-19 pandemic: tx preferences may have changed subsequently. Nonetheless, these findings warrant confirmation.
Keyword(s): Immune thrombocytopenia (ITP), Quality of life, Thrombopoietin (TPO), Treatment