All e-poster presentations will be made available as of Friday, June 11, 2021 (09:00 CEST) and will be accessible for on-demand viewing until August 15, 2021 on the Virtual Congress platform.
Abstract: EP1086
Type: E-Poster Presentation
Session title: Myeloproliferative neoplasms - Clinical
Background
For patients with essential thrombocythaemia (ET) intolerant of or resistant to hydroxyurea (HU), interferon or anagrelide, there is a need for therapies with distinct MOAs that reduce thromboses, improve the patient experience and potentially offer distinct clinical benefits.  Lysine-specific demethylase-1 (LSD1) is a histone H3K4 demethylase critical for the self-renewal potential of malignant myeloid cells and the differentiation of myeloid progenitors, e.g., LSD1 licenses progenitors to mature into megakaryocytes, a cell central to the pathogenesis of ET.  IMG-7289 (bomedemstat) is an orally active LSD1 inhibitor that reduced peripheral cell counts, splenomegaly, inflammatory cytokines, and mutant cell burdens in mouse models of MPNs (Jutzi et al. 2018).  In an ongoing study of IMG-7289 for the treatment of myelofibrosis (MF) (NCT03136185), symptoms, platelets, neutrophils, mutant allele burdens and inflammatory cytokines were favorably impacted (Pettit et al. 2020).
Aims
IMG-7289-CTP-201 is an ongoing, multi-national, open-label, 24-week Phase 2b study of bomedemstat taken once daily in patients with ET who are resistant to or intolerant of at least one standard of care treatment (NCT04254978).  Key objectives are safety and reduction in the platelet count to ≤400k/μL in the absence of thromboembolic events.  Dosing is individually tailored targeting a platelet count between 200-400k/μL.  All patients were started at a dose of 0.6mg/kg/d and titrated as needed to the target platelet count range.
Methods
At the censoring date (16 Feb 2021), 10 patients had enrolled.  All patients remain on study. The median duration of treatment is 85 days (6-141).

Median age, 66 years (55-84), 20% males. 60% were deemed resistant to or intolerant of HU (by ELN criteria), 20% to anagrelide and 10% to interferon or busulfan.  40% had received at least one additional previous treatment.  After a 14- to 28-day washout of prior ET treatment, the mean platelet and WBC counts at Day 1 were 866k/µL (477-1905) and 10.2k/µL (4.4-20.0), respectively.
Results
Of 7 patients who reached Day 71, the mean platelet count was 289k/µL (145-519k/µL), an overall -58% reduction from baseline (mean, -582k/µL).  86% achieved a platelet count of <400k/µL. (See Figure 1.) Mean WBC count at Day 71 was 7.8k/µL (6.8-9.5k/µL), a reduction of -24%.  All patients had stable haemoglobins.  At baseline, 2 patients had MPN10 TSS >10 (scale 0-100); at Week-12, both had a TSS reduction of >50% while the symptom scores of the remaining patients were stable at <5.  There was no obvious relationship among driver mutations, starting platelet counts, final optimal dose or response rates. Germline variants, individual mutational burden and changes in mutant allele frequencies will be presented. 

Eight patients have reported 67 AEs, all Grade 1/2. The most common related non-hematologic AEs were headache and diarrhoea, each reported by 2 patients with all instances Grade 1 in severity.  There have been no SAEs. There have been no safety signals, DLTs, or deaths related to drug.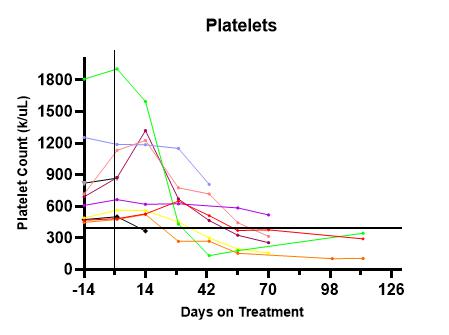 Conclusion
In this first clinical study of an LSD1 inhibitor in ET patients, IMG-7289 as monotherapy was generally well-tolerated, reduced platelets in all patients, moderated WBC counts, improved symptom scores and maintained haemoglobin levels without safety signals.  The study is active and enrolling in the US, UK, EU, Australia and New Zealand.
Keyword(s): Myeloproliferative disorder