All e-poster presentations will be made available as of Friday, June 11, 2021 (09:00 CEST) and will be accessible for on-demand viewing until August 15, 2021 on the Virtual Congress platform.
Abstract: EP1018
Type: E-Poster Presentation
Session title: Myeloma and other monoclonal gammopathies - Clinical
Background
AL amyloidosis is a rare, progressive disorder caused by misfolded immunoglobulin light chains that aggregate into amyloid fibrils which can deposit in tissues and organs, such as the heart, causing significant mortality and morbidity. Cardiomyopathy impacts prognosis, hence cardiac biomarkers are used in the Mayo staging system for AL amyloidosis (Dispenzieri et al., 2015). Median overall survival for patients with Mayo Stage II, IIIa, and IIIb is 54 months (m), 24 m, and 4 m, respectively (Dittrich et al., 2020).

Current treatment strategies do not directly target the amyloid deposited in organs. CAEL-101 is a chimeric immunoglobulin that binds specifically to misfolded light chain fibrils and is believed to facilitate removal of amyloid deposited in tissues. Results from the dose limiting toxicity period of a phase 2 study with CAEL-101 in combination with cyclophosphamide-bortezomib-dexamethasone (CyBorD) demonstrated that CAEL-101 up to 1000 mg/m2 was well tolerated and is the recommended dose for future studies (Valent et al., ASH 2020). Here we report results to date from this study.
Aims
To define the safety and tolerability of CAEL-101+CyBorD in patients with AL amyloidosis.
Methods
In this ongoing multicenter, open-label, sequential cohort, dose-selection study of CAEL-101 in AL amyloidosis patients (NCT #NCT04304144), a 3+3 dose escalation design was used to determine the recommended dose for Phase 3 studies. All patients received CAEL-101 q1wk for the first 4 infusions, after which patients receive CAEL-101 q2wk. Key inclusion criteria were adults ≥18 years old with a minimum life expectancy of 6 m, measurable hematological disease (dFLC > 5mg/dL or FLC >5mg/dL with abnormal ratio or SPEP M-spike >0.5 g/dL) and histopathological diagnosis of AL amyloidosis. Key exclusion criteria included any other amyloidosis, multiple myeloma, or supine systolic blood pressure <90 mmHg or symptomatic orthostatic hypotension. Assessments include clinical laboratory tests, echocardiograms, vital signs, physical exams and, treatment emergent adverse events (TEAEs).
Results
The 13 patients enrolled had a mean age of 65.2 years (range 47.6–79.6 years), were diagnosed with AL amyloidosis on average 29.4 m (range 2.7–163 m) prior to study enrollment, and were mostly male (76.9%) and white (84.6%). At baseline, 61.5% of patients had cardiac involvement with Mayo stage II (69.2%) and IIIa (23.1%). A majority (69.2%) had at least one prior PCD treatment; commonly reported prior treatments were bortezomib (61.5%), daratumumab (53.8%), cyclophosphamide (53.8%), melphalan (15.4%), carfilzomib (15.4%), lenalidomide (15.4%).

This study is ongoing with a current median treatment duration of 38 weeks (wk) (range 12 wk–48 wk), with most patients having had ≥20 infusions of CAEL-101. The most common TEAEs reported include diarrhea (46.2%), nausea (46.2%), rash (38.5%), and anaemia (38.5%). Using NT-proBNP and cTnT values to assess changes in Mayo staging, no patients have progressed from their baseline disease staging and none have died through a median of 38 wk of treatment.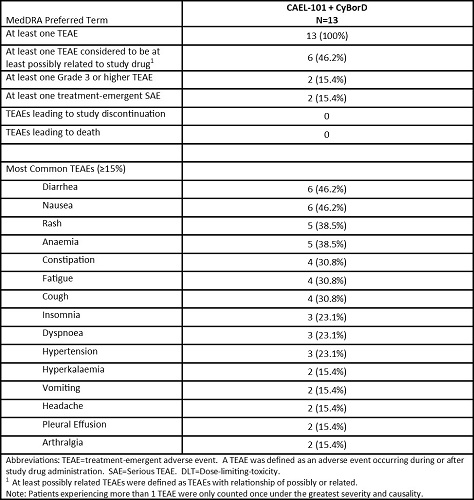 Conclusion
These data suggest that treatment with CAEL-101+CyBorD through ~8.8 m is generally well tolerated, with possible stabilization of cardiac disease as assessed by Mayo staging. Additional data from this ongoing Phase 2 study, as well as from the two currently enrolling Phase 3 studies (NCT# 04512235 and 04504825) in patients with Mayo Stage IIIa and IIIb, will further evaluate the safety and efficacy of CAEL-101 in patients with AL amyloidosis.
Keyword(s): AL amyloidosis, Phase II