All e-poster presentations will be made available as of Friday, June 11, 2021 (09:00 CEST) and will be accessible for on-demand viewing until August 15, 2021 on the Virtual Congress platform.
Abstract: EP1017
Type: E-Poster Presentation
Session title: Myeloma and other monoclonal gammopathies - Clinical
Background
Amyloid light-chain (AL) amyloidosis is a rare, potentially life-threatening disorder, caused by a plasma cell dyscrasia (PCD) that results in overproduction of immunoglobulin light chains, which misfold and aggregate to form amyloid fibrils. These deposit in tissues and/or organs, such as heart and kidneys, causing significant morbidity and mortality.

Current treatments target the underlying PCD to arrest formation of additional misfolded light chains; there are no treatments currently available that target the removal of fibrils and amyloid deposited in organs. CAEL-101, a chimeric immunoglobulin that reacts specifically with light chain fibrils but not with the native form, is believed to inhibit fibril formation and improve outcomes by facilitating removal of amyloid deposited in tissues. Results of the dose selection part (Part A) of this Phase 2 study found that CAEL-101 in combination with cyclophosphamide-bortezomib-dexamethasone (CyBorD) was safe and well tolerated in doses up to 1000 mg/m2 (Valent et al., ASH 2020).
Aims
To define the safety and tolerability through 4 weeks of treatment with CAEL-101+CyBorD (Part A) and CAEL-101+CyBorD+daratumumab (Part B) in patients with AL amyloidosis.
Methods
This ongoing multicenter, open-label, sequential cohort, dose-selection study of CAEL-101 in Mayo Stage I, Stage II and Stage IIIa AL amyloidosis patients was divided into two parts (NCT #NCT04304144). Staging was based on the European modification to the Mayo 2004 staging system (Wechalekar et al., 2013). Part A consisted of a 3+3 dose escalation design to determine the recommended dose for the Phase 3 study in combination with CyBorD. Part B studied 1000 mg/m2 CAEL-101+CyBorD+daratumumab. The study included an initial 4-week dose limiting toxicity (DLT; Part A) and safety observation (Part B) period; patients are continuing to receive CAEL-101 until end of study or discontinuation. All patients in Parts A and B received CAEL-101 q1wk for the first 4 infusions, followed by CAEL-101 q2wk. Key inclusion criteria were adults ≥18 years old with a minimum life expectancy of 6 months and histopathological diagnosis of AL amyloidosis. Key exclusion criteria included any other amyloidosis, multiple myeloma, or supine systolic blood pressure <90 mmHg or symptomatic orthostatic hypotension. Outcomes for safety and tolerability are presented through the first 4 weeks of treatment.
Results
Of the 22 patients enrolled to date, 13 received 1000 mg/m2 CAEL-101+CyBorD in Part A and 9 received 1000 mg/m2 CAEL-101+CyBorD+daratumumab in Part B. Mean age was 65.1 years (range 47.6–79.6 years); the majority were male (72.7%) and white (90.9%), with Mayo stage I (9.1%), II (68.2%), and IIIa (22.7%). 72.7% had cardiac involvement and 68.2% had at least one prior PCD treatment. During the 4-week DLT/safety observation period, the most common TEAEs were nausea (22.7%), constipation (22.7%), rash (18.2%), and fatigue (18.2%). One death occurred in the setting of septic pneumonia during this study that was not considered related to study drug.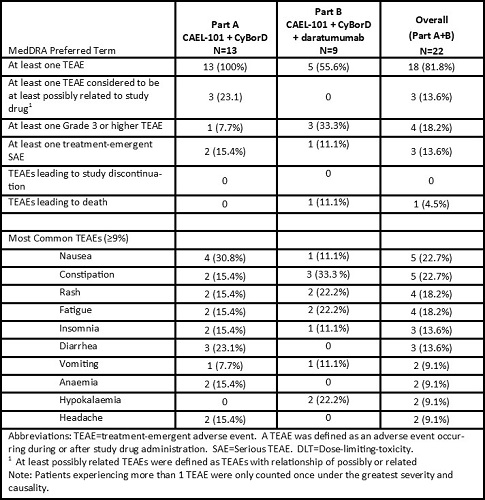 Conclusion
Safety data from this ongoing phase 2 study indicate that 1000mg/m2 of CAEL-101 in combination with CyBorD alone or CyBorD+daratumumab is well tolerated in patients with AL amyloidosis during the first 4 weeks of treatment. Two Phase 3 trials, one enrolling Mayo Stage IIIa (NCT# 04512235) and Mayo Stage IIIb patients (NCT# 04504825), have been initiated to study the safety and efficacy of 1000 mg/m2 CAEL-101.
Keyword(s): AL amyloidosis, Phase II