All Oral presentations will be made available as of Friday, June 11, 2021 (09:00 CEST) and will be accessible for on-demand viewing until August 15, 2021 on the Virtual Congress platform.
Abstract: S271
Type: Oral Presentation
Session title: Changing the scene on congenital anemias
Background
Pyruvate kinase (PK) deficiency is a rare hereditary disease caused by reduced red blood cell PK (PKR) enzyme activity leading to defective glycolysis and decreased red blood cell (RBC) lifespan, resulting in lifelong hemolytic anemia and associated comorbidities. In a natural history study, 12% of adult patients (pts) with PK deficiency were found to require regular transfusions, which have been associated with chronic complications, including iron overload and end organ damage. There are currently no approved disease-modifying drug therapies for this condition. Mitapivat (AG-348) is an investigational, first-in-class, oral, allosteric activator of PKR. In a phase (Ph.) 2 study of PK deficiency pts that were not regularly transfused, mitapivat improved hemoglobin (Hb) and hemolysis markers for up to 42 months. This current study was designed to further evaluate mitapivat in the regularly transfused PK deficiency population.
Aims
The ACTIVATE-T study (NCT03559699) evaluated the efficacy and safety of mitapivat in adult pts with PK deficiency who were regularly transfused.
Methods
ACTIVATE-T was a global, multicenter, open-label, Ph. 3 study in regularly transfused adults with PK deficiency. A 16-week (wk) dose escalation (5, 20, 50 mg twice daily) period (Part 1) was followed by a 24-wk fixed-dose period (Part 2). Key inclusion criteria: age ≥18 years (yrs), documented presence of ≥2 mutant alleles in PKLR (of which ≥1 was a missense mutation) and ≥6 transfusion episodes in the past 52 wks. Primary endpoint: reduction in transfusion burden, defined as ≥33% reduction in number of RBC units transfused during Part 2 compared with the pt's individual historical transfusion burden standardized to 24 wks. The p-value calculation was based on the binomial exact test of H0: transfusion reduction response rate ≤10% vs H1: transfusion reduction response rate >10% at a 1-sided α=0.025. Pts who discontinued the study before completing 12 wks of treatment in Part 2 were considered non-responders. Secondary endpoints included transfusion-free responders (defined as no transfusions during Part 2) and annualized RBC units transfused. 
Results
Twenty-seven pts were enrolled: mean age 36.6 yrs, 26% male, 74% white, mean baseline Hb 9.2 g/dL. Of the 27 pts treated in the study, 20 (74%) completed Part 2, 6 (22%) discontinued treatment, and 1 was lost to follow-up. Ten (37%) pts treated with mitapivat achieved a ≥33% reduction in transfusion burden (1-sided p=0.0002; Table). Mean number of RBC units transfused (annualized) was 11.38 up to the end of the study, compared with 16.63 historically; relative reduction=39%. Six (22%) pts were transfusion-free during Part 2. Treatment-emergent adverse events (TEAEs) occurred in all pts. TEAEs grade ≥3 occurred in 8 (30%) pts. The most common TEAEs (any grade) were increased alanine aminotransferase (n=10; 37%) and headache (n=10; 37%). No TEAEs led to discontinuation of treatment.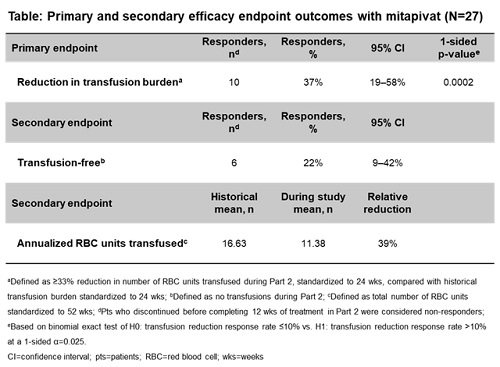 Conclusion
ACTIVATE-T is the first Ph. 3 clinical study in pts with PK deficiency who are regularly transfused. The study demonstrated a significant decrease in transfusion burden, and 22% of pts were transfusion-free. No new safety signals were identified. These results support that mitapivat, through the novel mechanism of PKR activation, provides meaningful benefit to regularly transfused pts with PK deficiency. Mitapivat has the potential to become the first disease-modifying drug therapy approved for PK deficiency.
Keyword(s): AG-348, Anemia, Pyruvate kinase deficiency, Transfusion