All Oral presentations will be made available as of Friday, June 11, 2021 (09:00 CEST) and will be accessible for on-demand viewing until August 15, 2021 on the Virtual Congress platform.
Abstract: S223
Type: Oral Presentation
Session title: Aggressive lymphoma - Combination therapies
Background
Primary central nervous system lymphoma (PCNSL) is a rare subtype of extranodal NHL with an aggressive clinical course and poor outcomes. High-dose methotrexate (HD-MTX) based regimen significantly improves the outcomes, but 10-35% patients are treatment refractory.
Aims
 In this study, we evaluated the safety, efficacy, and feasibility of lenalidomide, rituximab and HD-MTX (R2-MTX) regimen for newly diagnosed PCNSL patients.
Methods
This is a multicenter prospective phase Ib/II study(NCT04120350). Eligible patients had newly diagnosed PCNSL, age≥18 and normal end-organ function. The phase Ib study used the 3+3 dose escalation design. Lenalidomide was dosed at 15mg daily (day 1-14) (level 1), 20mg daily (day 1-14) (level 2) and 25mg daily (day 1-14) (level 3); rituximab was dosed at 375mg/m2 (d0), MTX was dosed at 3.5g/m2 (d1) (all dose levels). Every 21 days were as a course of treatment. R2-MTX regimen was given for 6 cycles, then lenalidomide ( 25mg daily, day 1-21) at 28-day cycles was given for a maximum of 2 years as maintenance. In phase I study, dose-limiting toxicity (DLT) within first 2 cycles was evaluated to determine the recommended phase II dose.
Results
17 patients were enrolled from August 2019 to December 2020: 10 patients in phase Ib (3, 4, 3 patients received LEN 15mg, 20mg and 25mg, respectively) ; and 7 patients in phase II study. No DLTs were observed in phase Ib study, and the recommended phase II dose of lenalidimide was 25mg daily. The last follow-up was January 31th 2021. 11(64.7%) pts were male and the median age was 60 (range 32-74) . 13 patients were mediate and high risk group according to IELSG score(2-5 points). Common grade ≥3 adverse events (AEs) of induction therapy were neutropenia (41.2%), infection(5.9%), anemia (5.9%), thrombocytopenia (5.9%) and acute kidney injury (5.9%) (all these AE occurred in one patient who suffered from MTX overdose); other AE (grade 1-2, > 10%) were elevated ALT(47.1%), fatigue(29.1%), nausea/vomiting (23.5%), numbness (23.5%), infection(11.8%), renal injury (11.8%) and rush (11.8%). 16 patients were evaluable for response, and the overall response rate (ORR) was 100%: 10 patients achieved complete remission, and 6 patients achieved partial remission. The median follow-up time was 13.2 (1.3-17.3)months, 4 patients relapsed and 2 patients died for disease progression, the median PFS was  13.3 month (Figure 1).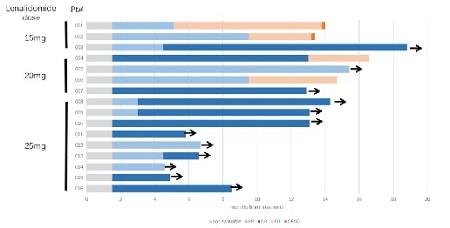 Conclusion
R2-MTX regimen is a feasible and active combination treatment for newly diagnosed PCNSL patients. It demonstrates excellent response rate, as well as with good tolerability. More clinical data will be updated from this ongoing study (NCT 04120350).
Keyword(s): CNS lymphoma, Imids, Lymphoma therapy, Methotrexate