All Oral presentations will be made available as of Friday, June 11, 2021 (09:00 CEST) and will be accessible for on-demand viewing until August 15, 2021 on the Virtual Congress platform.
Abstract: S220
Type: Oral Presentation
Session title: Aggressive lymphoma - Combination therapies
Background
Peripheral T-cell non-Hodgkin lymphoma (T-NHL) is a heterogeneous disease entity with generally a poor survival. Cyclophosphamide-doxorubicin-vincristine-prednisolone (CHOP) has been the standard of care for the majority of T-NHL subtypes for decades. Addition of etoposide to CHOP (CHOEP) and consolidation with autologous stem cell transplantation (ASCT) are offered to young patients with stage II-IV disease, although the efficacy is controversial.
Aims
This nationwide, population-based study aimed to assess the impact of etoposide and ASCT on overall survival (OS) among patients <65 years with stage II-IV disease of the predominant T-NHL subtypes anaplastic large T-cell lymphoma (ALCL), angioimmunoblastic T-cell lymphoma (AITL) and peripheral T-cell lymphoma not otherwise specified (PTCL NOS).
Methods
All patients with stage II-IV ALCL, AITL and PTCL NOS, 18-64 years old and diagnosed between 1989-2018 were identified from the Netherlands Cancer Registry (NCR), with survival follow-up through 2020. Data on primary therapeutic strategy (i.e. chemotherapy or no anti-neoplastic therapy) was available. The exact therapeutic strategy was known for patients diagnosed from 2014. Patients were categorized into two periods (1989-2008, 2009-2018) and the calendar periods were chosen based on the implementation of etoposide and ASCT (from 2009 onwards) for T-NHL in the Netherlands. Multivariable analysis of OS was performed using Cox regression.
Results

A total of 1,439 patients (median age 52 years; 62% males) were selected, including 519 ALCL, 294 AITL and 626 PTCL NOS cases. In 2009-2018, the proportion of AITL was higher as compared to 1989-2009 (27% vs. 15%, P=0.001). The proportion of patients receiving anti-neoplastic therapy was comparable for both calendar periods (88% and 91%, respectively). With similar trends for the three T-NHL subtypes, 31% of the patients received ASCT in 2009-2018 when compared to 5% of patients before 2009 (P<0.001). The median OS for the entire cohort was 22 months. As expected, five-year OS was highest for ALCL, followed by AITL and PTCL (57%, 44%, and 32%; Figure, panel A). Five-year OS increased over time with 11% (Figure, panel B) and was higher for patients who received ASCT as compared to patients without ASCT (70% vs 36%; Figure, panel C).
In 352 patients diagnosed in 2014-2018, the use of CHOEP instead of CHOP increased from 16% in 2014 to 67% in 2018. Of the patients who received CHOP or CHOEP, ASCT was applied in 26% and 51%, respectively. Five-year OS rates were 89% and 77% (P=0.248) for patients who received CHOP+ASCT and CHOEP+ASCT, respectively. For patients without ASCT, five-year OS rates were 27% and 48% (P=0.160) for patients with CHOP and CHOEP, respectively (Figure, panel D). When simultaneously adjusted for sex, age, and subtype of T-NHL in multivariable analysis, OS risk was similar between patients treated with CHOP+ASCT and patients treated with CHOEP+ASCT. However, OS risk for patients treated with CHOP or CHOEP in the absence of ASCT was lower as compared with patients treated with CHOEP+ASCT. T-NHL subtype was an independent predictor of poor prognosis.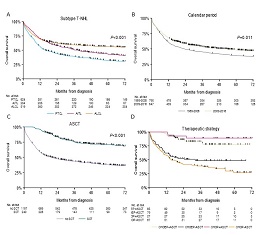 Conclusion
In this large Dutch population of young patients with advanced ALCL, AITL or PTCL NOS, the use of ASCT consolidation, regardless the addition of etoposide to CHOP, significantly improved OS and could explain the survival benefit in the last decade. This nationwide population-based study corroborates other independent studies suggesting CHO(E)P followed by ASCT as first-line therapeutic regimen for young and fit T-NHL patients.
Keyword(s): Survival, T cell lymphoma, Treatment