All Oral presentations will be made available as of Friday, June 11, 2021 (09:00 CEST) and will be accessible for on-demand viewing until August 15, 2021 on the Virtual Congress platform.
Abstract: S215
Type: Oral Presentation
Session title: Aggressive lymphoma - CAR-T & transplant
Background
Treatment of B-lineage lymphoma with B-cell depleting immunotherapy causes B-cell aplasia and impairs immune response. Case studies have reported patients treated with anti-CD20 therapy who suffered from persistent Covid-19.

Aims
We aimed to assess the incidence, risk factors and long-term outcomes of persistent Covid-19 in patients with lymphoma.
Methods
This retrospective multicentric study was conducted in 16 French hospitals. All adult patients with lymphoma who were admitted for Covid-19 in March and April 2020 were included. Persistent Covid-19 was defined as persisting severe Covid-19 symptoms requiring in-hospital stay for >30 days. Patients who re-experienced severe Covid-19 symptoms after initial improvement, requiring repeated hospitalizations for a total in-hospital length of stay >30 days were added to the persistent Covid-19 cases. 
Results
One hundred eleven patients were included. Thirty days after admission for Covid-19, 24 patients had died, 55 had been definitively discharged from hospital, 31 were still hospitalized and 1 was later rehospitalized for Covid-19 recurrence. The incidence of persistent Covid-19 was 32/111 (29%). Patients with persistent Covid-19 had a median age of 64 years (range, 43-87) and 63% were male. Twenty-two patients (69%) had at least one significant comorbidity. None of the patients with T-cell (n=8) lymphoma or classical Hodgkin's disease (n=8) experienced persistent Covid-19.
In the 32 patients with persistent Covid-19, the median time between first admission and final discharge was 58 days (range, 31-235) and the median duration of Covid-19 symptoms was 83 days (range, 32-237). Eight patients received corticosteroids and 9 convalescent plasma: all patients recovered from their symptoms, except one. Overall, 9 patients with persistent Covid-19 died (27%).
After a median follow-up of 191 days (range, 3-260), the 6-month overall survival was 69% (95% CI 60-78%) for the whole cohort. In multivariate analysis, administration of anti-CD20 monoclonal antibody within 12 months before admission to hospital for Covid-19 was both associated with decreased overall survival (HR 2.13, 95% CI 1.03-4.44, p = 0.043) and prolonged in-hospital stay (HR 1.97, 95% CI 1.24-3.13, p = 0.004). The two other significant factors associated with decreased overall survival and prolonged in-hospital stay : age ≥ 70 years and refractory or relapsed lymphoma.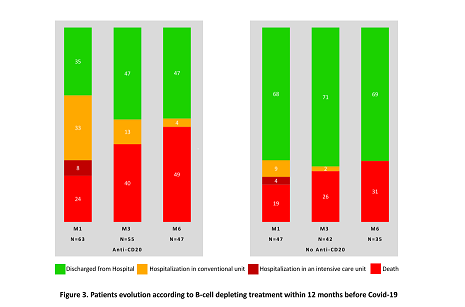 Conclusion
Patients with B-cell non-Hodgkin lymphoma hospitalized for Covid-19 have a high incidence of prolonged evolution of SARS-CoV-2 infection. Administration of anti-CD20 therapy within the last 12 months is one of the main risk factors for longer in-hospital stay and death of Covid-19. The risk of persistent Covid-19 was also higher in patients older than 70 years or with refractory or relapsed disease. These findings may contribute to guide the management of lymphoma patients during the Covid-19 pandemic.
Keyword(s): Clinical outcome, COVID-19, Lymphoma