All Oral presentations will be made available as of Friday, June 11, 2021 (09:00 CEST) and will be accessible for on-demand viewing until August 15, 2021 on the Virtual Congress platform.
Abstract: S208
Type: Oral Presentation
Session title: Hodgkin lymphoma - Clinical
Background
About 20% of patients with classical Hodgkin lymphoma (cHL) relapse or are primary refractory to first-line treatment and require second-line therapy followed by autologous stem cell transplant. There is no one standard second-line therapy and it is possible that not all patients require such an aggressive approach to achieve cure. An individualized risk-stratified salvage treatment approach could lead to better disease control in high-risk patients and less toxicity in low-risk patients. Quantitative analysis of baseline 18F-FDG-PET-CT scans could provide a comprehensible risk-assessment complementary to clinical risk-factors.
Aims
The aim of this study was to predict the 3-year time to progression (TTP) in relapsed/refractory (r/r) cHL patients using clinical and PET-CT parameters.
Methods
We analysed baseline 18F-FDG-PET-CT scans from r/r cHL patients treated within three clinical trials with ICE, ICE and brentuximab vedotin (BV) or DHAP and BV. For the clinical risk model we used the following parameters: primary refractory vs relapse, age, Ann Arbor stage and B-symptoms. Metabolic tumor volume (MTV) was calculated using semi-automatic segmentation method with a fixed threshold of standard uptake value (SUV) ≥4.0. Radiomics features were extracted in compliance with the Image Biomarker Standardization Initiative. We developed a predictive model using logistic regression and backward selection on robust radiomics features, e.g. SUVpeak (highest 1mL region FDG uptake) and several novel dispersity features, representing dissemination and differences in volume and SUV of lesions within a patient. Patients who died without progression were censored at time of death. The model was trained on patients treated with BV + chemotherapy. Model performance was assessed by calculating the area under the curve (AUC) of the receiver operating characteristics curve and cross-validation (CV) of 5 folds with 2000 repeats. Results were validated in an independent cohort of patients treated with chemotherapy only. High-risk groups were defined based on the prevalence of events in the training cohort (22/110; 20%).
Results
We included 174 r/r cHL patients; n=110 in the training set (BV-DHAP and BV-ICE cohort) and n=64 in the validation set (ICE cohort). The clinical model resulted in an AUC of 0.81 on the training set (tAUC), CV-AUC of 0.76 and AUC of 0.74 on the validation set (vAUC).

Radiomics analysis resulted in a selection of 6 PET features: MTV and 5 dispersity features. The radiomics model showed a tAUC of 0.73, CV-AUC of 0.63 and vAUC of 0.70. Combining clinical and radiomics parameters yielded a tAUC of 0.90, CV-AUC of 0.79 and vAUC of 0.77.

In the training set, patients in the high-risk group (n=22) had a 3-year TTP of 38% vs 90% for patients in the low-risk group (n=88)(p<0.0001)(Figure 1A). In the validation set, patients in the high-risk group (n=13) had a 3-year TTP of 39% vs 80% for patients in the low risk group (n=51)(p=0.0011)(Figure 1B). In Figure 1C we included an example of PET-CT scans of two patients with stage IV disease and a high and low prediction score.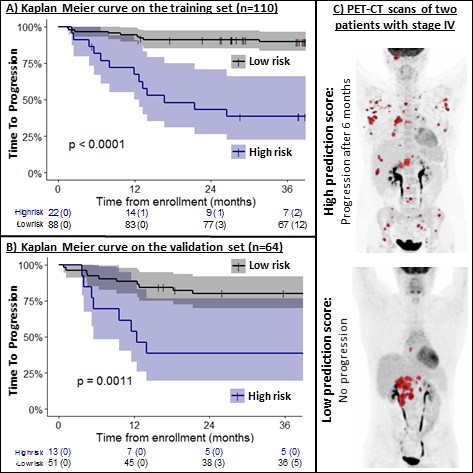 Conclusion
This is the first radiomics analysis in a large cohort of r/r cHL patients. Combining radiomics and clinical features results in a strong prediction model for 3-year TTP with a tAUC of 0.90, CV-AUC of 0.79 and a vAUC of 0.77 in an independent validation cohort. The model uses robust PET features that adress inter-lesional heterogeneity in distance, metabolic volume and SUV. Therefore, this model is suitable for application in clinical trials and could guide risk-stratified treatment in r/r cHL.
Keyword(s): Hodgkin's lymphoma, PET, Prediction, Relapse