All Oral presentations will be made available as of Friday, June 11, 2021 (09:00 CEST) and will be accessible for on-demand viewing until August 15, 2021 on the Virtual Congress platform.
Abstract: S204
Type: Oral Presentation
Session title: Novel therapies and targets in MPN
Background
Myelofibrosis (MF) is associated with splenomegaly, cytopenias, constitutional symptoms, and bone marrow fibrosis, with limited therapeutic options. Jaktinib, a novel, small-molecule inhibitor of JAK, is currently being studied in MF patients (pts). We present preliminary data from ZGJAK002, a Phase 2 open-label and multi-center study, evaluating two different regimens of Jaktinib in patients with MF.
Aims
To investigate the efficacy and safety of Jaktinib in MF pts.
Methods
Eligibility: MF pts included primary per WHO criteria (2016) or post-essential thrombocythemia / polycythemia vera MF according to IWG-MRT criteria; DIPSS-PLUS ≥int-2 (int-1 with symptomatic splenomegaly or hepatomegaly, require a treatment). By 1:1 ratio, 104 pts from 21 centers were randomized to Jaktinib 100mg BID or 200mg QD, administrated orally. The primary endpoint: the proportion of pts with spleen volume reduction from baseline ≥35% (SVR35) at week 24 (W24), assessed by Independent Review Committee based on MRI/CT images. Secondary endpoints: at W24 compared to baseline, the proportion of pts with ≥50% reduction on MPN-SAF TSS, improvements in RBC transfusion and hemoglobin (Hgb), etc.
Results
As of 30, Nov, 2020, 104 pts completed treatments of 24 weeks and planned visits. Baseline characteristics were generally balanced and shown in Table 1.
At W24, the SVR35 were 51.9% (27/52) in the 100mg BID and 30.8% (16/52) in the 200mg QD (
P
=0.0459), the median duration of response has not reached yet for the 100mg BID and 47.9 weeks for the 200mg QD. The proportion of pts achieved ≥50% improvement in TSS at W24 from baseline for BID and QD arms were 57.7% (30/52) and 53.8% (28/52), respectively. The mean percent of TSS change from baseline was -53.03 and -35.87, respectively. Approximately 1/3 (16/49) of combined pts had Hgb elevated ≥20g/L from baseline's ≤100g/L. 
The most common Grade ≥3 hematological TEAEs were anemia (100mg BID 
21.2%, 200mg QD 26.9%), thrombocytopenia (13.5%, 11.5%), and neutropenia (3.8%, 11.5%) . Most common non-hematological TEAEs were upper respiratory tract infection (26.9%, 28.8%), elevated creatinine (21.3%, 30.8%) and elevated bilirubin (20.5%, 13.5%) predominantly grade 1 or 2. A total of 51 (49.0%) pts had ≥1 dose reduction/interruption, mostly due to thrombocytopenia (30.8%), anemia (22.1%), and neutropenia (8.7%).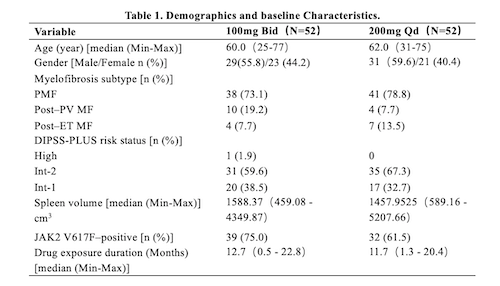 Conclusion
Jaktinib is generally well-tolerated and safe in MF pts. Reductions in spleen volume and constitutional symptom burden, and improvements in RBC transfusion dependency and Hgb levels were observed. The rate of spleen volume reduction was higher in the 100mg BID arm than the 200mg QD arm.
Keyword(s): Janus Kinase inhibitor, Myelofibrosis