All Oral presentations will be made available as of Friday, June 11, 2021 (09:00 CEST) and will be accessible for on-demand viewing until August 15, 2021 on the Virtual Congress platform.
Abstract: S201
Type: Oral Presentation
Session title: Novel therapies and targets in MPN
Background

Systemic mastocytosis (SM) is a rare, clonal, hematologic neoplasm which is driven by the KIT D816V mutation in ~95% of cases. Treatment outcomes remain poor for patients (pts) with advanced systemic mastocytosis (AdvSM), which includes aggressive SM (ASM), SM with an associated hematologic neoplasm (SM-AHN), and mast cell leukemia (MCL). In the Phase 1 EXPLORER study (NCT02561988), avapritinib, a potent KIT D816V inhibitor, induced rapid, durable responses which deepened over time in pts with AdvSM regardless of prior therapy or subtype.
Aims

PATHFINDER (NCT03580655) is a pivotal open-label, single-arm Phase 2 study evaluating avapritinib in pts with AdvSM.
Methods

Pts aged ≥18 years with centrally confirmed diagnosis of an AdvSM subtype. Primary endpoint was overall response rate (ORR) by modified International Working Group-Myeloproliferative Neoplasms Research and Treatment and European Competence Network on Mastocytosis (mIWG-MRT-ECNM) criteria. This pre-specified interim analysis (null hypothesis ORR 28% based on midostaurin) included 32 ORR-evaluable pts. Mean baseline change in AdvSM-Symptom Assessment Form Total Symptom Score (TSS) and safety were secondary endpoints. All pts gave informed consent.
Results

As of June 23, 2020, 62 pts with AdvSM received avapritinib primarily at 200 mg orally once daily (QD); 52/62 (84%) pts remained on treatment. Median age was 69 years (range 31–88), 45% were female, 31% had ECOG PS 2–3, and 68% had prior systemic therapy (55% with midostaurin). The primary endpoint was met with an ORR of 75% (95% CI 57–89) in 32 ORR-evaluable pts as per the pre-specified interim analysis (P=1.6x10-9; median follow-up 10.4 months) (Table). Complete remission with full or partial hematologic recovery occurred in 6 (19%) pts. Median time to response was 2 (range 0.3–12) months; responses deepened over time. Median overall survival (OS) in the ORR-evaluable population was not reached; estimated 12-month OS was 87%. In the safety population (N=62), there were ≥50% reductions from baseline for serum tryptase (87%; n=54), marrow mast cells (71%; n=44), and KIT D816V variant allele fraction (53%; n=33). Mean TSS at baseline (n=56) was 18.3; fatigue, spots, itching, flushing, and abdominal pain were the most severe symptoms; TSS improved rapidly and was sustained through cycle 11 with mean 36% improvement (P<0.001), corresponding to a mean decrease of 9.8 points from baseline (n=22). Common (≥25%) adverse events (AEs; any grade, Grade ≥3) were peripheral (50%, 3%) and periorbital (35%, 3%) edema, thrombocytopenia (32%, 8%), and anemia (29%, 16%). Overall, 3 (5%) pts discontinued due to a treatment-related AE and 3 (5%) pts discontinued due to disease progression, including 1 pt with transformation to acute myeloid leukemia. There were 3 (5%) deaths, all considered unrelated to treatment. Seven (11%) pts had cognitive AEs (all Grade 1–2). Grade 4 subdural hematoma occurred in 1 (2%) pt with severe thrombocytopenia (platelets <50×109/L) at baseline and prior to the event. Subsequent pts with pre-treatment severe thrombocytopenia were excluded, platelet monitoring increased, and dose interruption for severe thrombocytopenia recommended.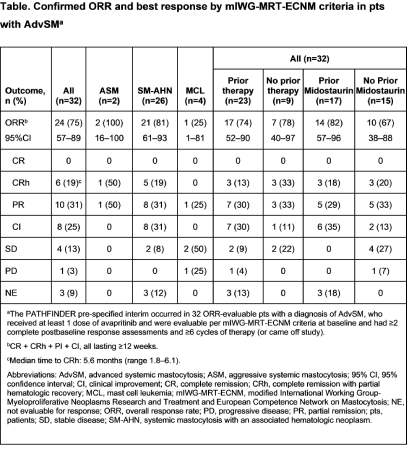 Conclusion

The PATHFINDER registrational study interim analysis showed avapritinib 200 mg QD starting dose induced rapid, durable responses which deepened over treatment regardless of AdvSM subtype or prior therapy and improved symptoms in pts with AdvSM. Avapritinib was generally well tolerated with few pts discontinuing treatment due to AEs.
Keyword(s): Kit, Phase II, Systemic mastocytosis, Tyrosine kinase inhibitor