All Oral presentations will be made available as of Friday, June 11, 2021 (09:00 CEST) and will be accessible for on-demand viewing until August 15, 2021 on the Virtual Congress platform.
Abstract: S174
Type: Oral Presentation
Session title: New directions in aplastic anemia and PNH
Background
Pegcetacoplan (PEG), a PEGylated peptide targeting proximal complement protein C3, can control both intravascular and extravascular hemolysis. In the PEGASUS trial (NCT03500549), a phase 3, randomized, open-label, active-comparator controlled study, PEG was shown to be superior to eculizumab (ECU) after 16 weeks in improving hemoglobin levels (Hb) and clinical outcomes in patients with paroxysmal nocturnal hemoglobinuria (PNH) (Hillmen P et al, EHA 2020).
Aims
We report on the efficacy and safety of PEG through 48 weeks of treatment.
Methods
This study is a continuation of the PEGASUS trial. Eighty patients ≥18 years with PNH, and Hb levels <10.5 g/dL despite stable ECU treatment for ≥3 months, were enrolled. Patients completed a 4-week run-in period with both ECU and PEG before 1:1 randomization to PEG (n=41; 1080 mg subcutaneously twice weekly) or ECU monotherapy (n=39; continued dosing regimen). The primary endpoint was the change from baseline (CFB) in Hb levels to Week 16. After the randomized control period (RCP), patients could continue to an open-label period (OLP), which included a 4-week run-in period for ECU patients (ECU-to-PEG), followed by PEG monotherapy (same dosage as in RCP) for all patients for a 48-week total study period. Key secondary endpoints included blood transfusion avoidance, CFB in absolute reticulocyte count (ARC), CFB in lactate dehydrogenase (LDH), CFB in Functional Assessment of Chronic Illness Therapy (FACIT)-Fatigue score, and adverse events (AEs).
Results
Three patients discontinued PEG during the 16-Week RCP due to hemolysis; the remaining 77 patients entered the OLP. PEG demonstrated superiority to ECU with a mean Hb level improvement of 2.7 g/dL at Week 16, which was sustained throughout the OLP in all patients receiving PEG monotherapy. ECU-to-PEG patients demonstrated Hb improvement with mean Hb levels of 11.6 g/dL at Week 48 (CFB: 2.9 g/dL), while PEG-to-PEG patients maintained high Hb levels through the OLP with a mean Hb level of 11.3 g/dL at Week 48 (CFB: 2.6 g/dL) (Figure A).

Seventy-three percent of PEG-to-PEG patients remained transfusion free for the 48-week study, and 72% of the ECU-to-PEG patients were transfusion free during the OLP through Week 48. Improvements in ARC (PEG-to-PEG: 80.0×109 cells/L; ECU-to-PEG: 94.0×109 cells/L), LDH (PEG-to-PEG: 222.7U/L; ECU-to-PEG: 224.1 U/L), and FACIT-fatigue score (PEG-to-PEG: 40.6; ECU-to-PEG: 42.5) were also observed at Week 48 (Figure B).
The most common AEs by physician-reported preferred term throughout the study for all patients who received PEG were injection site reactions (36%), hemolysis (24%), and diarrhea (21%). Of all study patients, 30% experienced serious AEs with 6% possibly related to PEG. No cases of meningitis were reported. One death was reported due to COVID-19, unrelated to study treatment. Six patients discontinued due to hemolytic events: 5 classified by the treating physician as "hemolysis" and 1 as "hemolytic anemia." Overall, 12 patients (15%) discontinued PEG: 3 in RCP, 8 in OLP due to TEAEs (6 in ECU-to-PEG, 2 in PEG-to-PEG), and one during follow-up; one patient withdrew due to physician decision.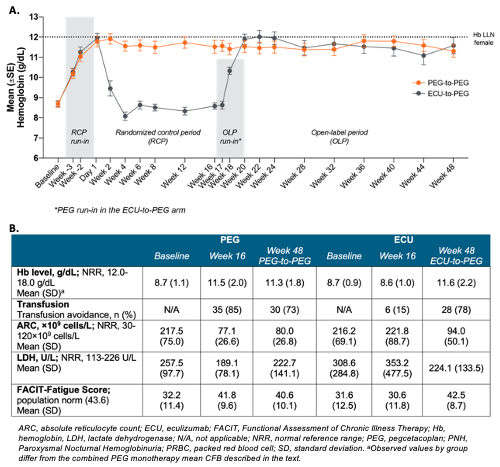 Conclusion
Adult patients with PNH with suboptimal response on prior ECU treatment received PEG in this continuation of the PEGASUS trial and experienced durable treatment effect in all efficacy parameters at Week 48. The safety profile of PEG was consistent with previously reported data. The results suggest that PEG represents a new effective therapeutic option for patients with PNH.
Keyword(s): Clinical trial, Hemolysis, Hemolytic anemia, Paroxysmal nocturnal hemoglobinuria (PNH)