All Oral presentations will be made available as of Friday, June 11, 2021 (09:00 CEST) and will be accessible for on-demand viewing until August 15, 2021 on the Virtual Congress platform.
Abstract: S173
Type: Oral Presentation
Session title: New directions in aplastic anemia and PNH
Background
Paroxysmal nocturnal hemoglobinuria (PNH) is a severe hematological disease caused by an acquired PIGA mutation in hematopoietic stem cells, leading to loss of regulatory proteins affecting the complement alternative pathway, of which factor B is an essential component. The only regulatory approved treatment for hemolytic PNH is based on antibodies targeting complement component 5 (C5), controlling intravascular hemolysis, reducing thromboembolic events, and eventually improving long-term survival. However, 20-50% of patients remain transfusion-dependent due to persistent extravascular hemolysis, and an additional 20-40% exhibit varying degrees of residual anemia. Iptacopan (LNP023) is a new, oral, selective and potent first-in-class factor B inhibitor, designed to block both intra- and extravascular hemolysis. 
Aims
The trial presented here investigates the effect of first-line iptacopan monotherapy on intra- and extravascular hemolysis, the extent of red blood cell (RBC) C3 opsonization, and changes in hemoglobin levels in anti-C5 naive PNH patients with active hemolysis.
Methods
CLNP023X2204 (NCT03896152) is a multi-national, randomized Phase 2 efficacy, safety, pharmacokinetics/-dynamics study assessing four iptacopan doses in two separate cohorts with two treatment periods each in treatment-naive adult PNH patients with active hemolysis. The primary objective is to assess the effect of iptacopan on the reduction of PNH-associated hemolysis. Additional objectives include assessing the effect on hemoglobin levels, the dose-response effect, and the effect on markers associated with a risk of thrombosis.
Results
A total of N=13 patients (ages 20-62; n=7 female) were randomized to either Cohort 1 (iptacopan 25-to-100 mg dose increase at Week 4; N=7) or Cohort 2 (50-to-200 mg; N=6). Median (range) lab values at baseline were: Hb 86.5 (68-107) g/L, reticulocytes 209 (30-352) x10E9/L, LDH 1686 (1008-3761) U/L, bilirubin 27.0 (20.0-51.0) umol/L; haptoglobin was below lower limit of detection for all patients. The primary endpoint of lowering LDH by at least 60% was reached for all patients. Mean LDH levels declined by 79.7 and 86.2% in Cohort 1 and by 89.7 and 85.9% in Cohort 2 at weeks 4 and 12, respectively [Figure 1]. Importantly, all patients remained transfusion-free up until week 12, with the exception of one patient who received a single RBC transfusion on study day 3; Hb levels spontaneously increased by a mean of 23.4 and 37.1 g/L at week 12 in Cohorts 1 and 2, respectively [Figure 1]; and no thromboembolic events were reported. In addition, reticulocyte counts decreased by a mean of 93.0 and 84.9 x10E9/L, and bilirubin decreased by a mean of 21.6 and 23.2 umol/L in Cohorts 1 and 2, respectively. Iptacopan was well tolerated (n=1 discontinued from the trial at Day 2 due to headache); no fatal events and no serious adverse events were reported during the 12-week treatment period.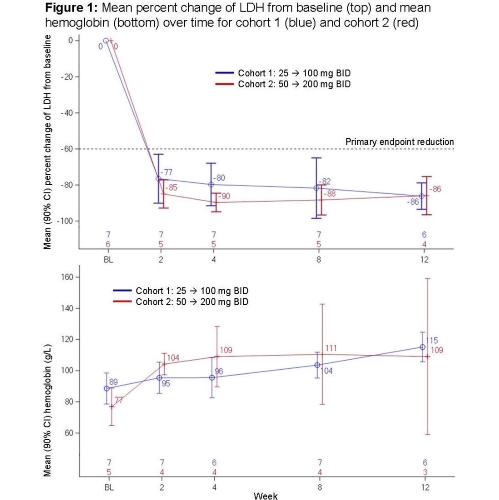 Conclusion
Iptacopan is a new, well-tolerated oral factor B inhibitor that blocks both intra- and extravascular hemolysis in patients with hemolytic PNH. 12-week study results demonstrate that, in anti-C5 naive patients with active hemolysis, iptacopan therapy ≥50 mg BID results in normalization of various hemolytic markers and resolution of anemia. Maximal effects on various efficacy parameters were obtained at 200 mg BID. These results demonstrate that proximal inhibition of the complement cascade parallel and further improve the hematological benefit seen with anti-C5 therapies, with iptacopan eventually offering an alternative first-line therapy for patients with PNH.
Keyword(s): Complement, Paroxysmal nocturnal hemoglobinuria (PNH)