All Oral presentations will be made available as of Friday, June 11, 2021 (09:00 CEST) and will be accessible for on-demand viewing until August 15, 2021 on the Virtual Congress platform.
Abstract: S166
Type: Oral Presentation
Session title: Novel targets in MDS
Background
Pevonedistat (PEVO), a first-in-class small-molecule inhibitor of the neural-precursor-cell-expressed developmentally down-regulated protein 8 activating enzyme, disrupts proteasomal degradation of selected proteins, leading to cancer cell death. In P-2001 (NCT02610777), overall response rate (ORR) among response-evaluable patients (pts) was 70.9% with PEVO + azacitidine (AZA) vs 60.4% with AZA alone.1 Among pts with higher risk myelodysplastic syndromes (MDS), event-free survival (EFS; defined as time to transformation to acute myeloid leukemia [AML] or death, whichever occurred first) was longer, time to transformation was delayed, CR rate nearly doubled, and median duration of response was almost tripled with PEVO+AZA vs AZA.1,2 Among pts with low-blast (LB)-AML, OS was numerically longer with PEVO+AZA vs AZA.1 A highly-sensitive duplex sequencing method was developed to detect low variant allelic fraction (VAF <0.01%) of residual somatic mutation load after treatment and the emergence of new clones as a way to augment clinical observations at a molecular level.
Aims
Based on the clinical findings in P-2001, we hypothesized that PEVO+AZA would induce deeper and more persistent molecular responses than AZA alone. To test this hypothesis, we conducted a prespecified comparative analysis in which the abundance of mutant allele burden in each study arm was measured over time using ultra-sensitive duplex sequencing.
Methods
In all, 96 bone marrow aspiration samples (55 higher-risk MDS; 15 higher-risk chronic myelomonocytic leukemia [CMML]; 26 LB-AML) were collected at screening and subjected to DNAseq. A custom TruSeq Hybrid Capture panel, incorporating 123 myeloid genes, was utilized to characterize the mutation profile of the baseline samples. Fifty eight longitudinal samples (33 higher-risk MDS; 7 higher-risk CMML; 18 LB-AML) collected at selected timepoints (Day 22 of Cycle [C] 2, C4, and C7, and at relapse) underwent duplex sequencing of a 54-myeloid gene targeted panel to ensure variant bases were identified with support from both DNA strands and to allow for ultra-deep sequencing coverage. Mutations identified at baseline were followed longitudinally to evaluate patterns of clearance over time.
Results
In accordance with the clinical efficacy observed in P-2001, the Figure below shows significantly less expansion of treatment-emergent mutations (defined as either newly detected or significantly increased VAF after treatment) in the PEVO+AZA arm compared with the AZA alone arm (29.3% vs 49.6%, respectively; p=0.002), particularly in genes associated with disease progression and leukemic transformation (including Ras-mitogen-activated protein [MAP] kinase signaling and myeloid transcription factors). This is consistent with the significantly larger percentage of mutations with low VAF (<0.01%) in PEVO+AZA vs AZA alone arms (34% vs 21%, respectively; p=0.03).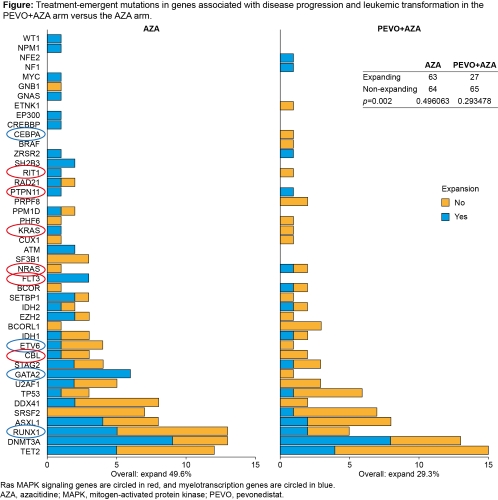 Conclusion
These data suggest that the combination of PEVO+AZA reduces mutation burden and the likelihood of treatment-emergent resistance or progression mutations vs AZA, thereby maintaining response for a longer period. The combination of PEVO+AZA may be beneficial in higher-risk MDS and LB-AML, and potentially as a maintenance treatment in AML. This will be further assessed in the ongoing randomized Phase 3 trial (NCT03268954). 

1. Sekeres MA, et al. Leukemia 2021. https://doi.org/10.1038/s41375-021-01125-4.
2. Sekeres MA, et al. The 62nd Annual Meeting and Exposition of the American Society of Hematology; Dec 5–8, 2020. Abstract 653.
Keyword(s): Acute myeloid leukemia, MDS