All Oral presentations will be made available as of Friday, June 11, 2021 (09:00 CEST) and will be accessible for on-demand viewing until August 15, 2021 on the Virtual Congress platform.
Abstract: S149
Type: Oral Presentation
Session title: Clinical trials with targeted therapies in CLL
Background
Fixed duration treatment of chronic lymphocytic leukemia (CLL) patients with venetoclax (V) combined with anti-CD20 antibody both in 1st-line (12 cycles) and relapsed / refractory (RR) (24 cycles) results in high rates of undetectable minimal residual disease (uMRD) and prolonged PFS. The benefit of consolidation treatment in 1st-line patients after Obinutuzumab (O)-V is currently unknown. 
Aims
Primary endpoint analysis of a phase 2 randomized trial in 1st-line FCR unfit CLL patients treated with standard O-V, randomized to standard or MRD-based addition of V for 12 cycles.
Methods

FCR-unfit treatment naïve CLL patients with treatment indication according to IWCLL were eligble. Treatment consisted of 4 treatment phases: two cycles of O; 6 cycles of O+V (IND-1); 6 cycles V (IND-2); and a 1:1 randomization phase: maintenance with 12 cycles of V irrespective of MRD (arm A) or MRD guided V maintenance (treatment limited to patients with no uMRD after IND-2 with 12 cycles of V, arm B). MRD was centrally assessed by flow cytometry in bone marrow (BM) after 12 and 24 cycles and in blood (PB) at screening, cycle 6 and 12 and every 3 months thereafter until month 27. Complex genotype (CG), ≥ 3 CNV, was assessed by CGH-array. The primary endpoint was uMRD (<1:10.000 leukocytes by flowcytometry) in BM and no progression after a maximum of 24 cycles of V.
Results
In total, 70 patients were enrolled, of whom 3 were post-hoc excluded because of not fulfilling the diagnosis of CLL. Baseline characteristics were 70% male, median age 71 years (range 57-89 years), 49% unmutated IgVH, 13% del 17p/TP53 and 22% CG. The primary endpoint was reached in 53% and 57% of patients in arm A and arm B, respectively, therefore both arms reached the pre-set requirements. In PB, uMRD and no progression was established in 59% and 57% of patients, respectively. After 2 cycles of O ORR was 43% which improved to 94% (31% CR) after IND-2 (no PD). At the primary endpoint ORR was 88% (16 CR, 3 PD) in arm A versus 97% (19 CR, 1 PD) in arm B. Grade 2, 3, 4 and 5 AE were established 14, 35, 17, 1 times before randomization; 14, 6, 2, 0 times in arm A and 7, 4, 0, 0 in arm B, mainly hematological and infections. Two cycles of O reduced the TLS risk from 28 and 60% to 1 and 15% (high and medium TLS risk, respectively). O was stopped in 4 patients during IND-1 because of mainly hematologic toxicity and 4 patients stopped V, while 22 patients received G-CSF and 17 patients rasburicase. During IND-2 1 patient stopped V, while 14 patients received G-CSF. Five patients were not randomized due to death (1), refusal to continue (1) and excessive toxicity (3). Finally 62 patients underwent randomization, 32 to fixed V and 30 to MRD-guided V treatment (of whom only 2 patients received V due to no uMRD). uMRD in BM was found in 79% after IND-2; and at primary endpoint in arm A 59% and 57% in arm B. uMRD in PB was found in 88% after IND-2, and at primary endpoint 72% and 57% in arm A and arm B, respectively (Figure 1). Estimated overal survival at 48 months was 94%. MRD positive disease was not found more frequently in patients with high-risk baseline characteristics (unmutated IGVH, del17p/TP53mut, CG).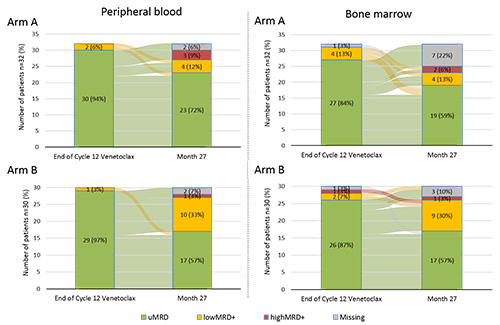 Conclusion
In this phase 2 study we confirm that treatment with O-V is well tolerated in FCR-unfit patients and both fixed duration V and MRD-guided V consolidation resulted in > 50% of patients with uMRD and without progression after a maximum of 24 cycles of V, which warrants further study of MRD-guided or fixed consolidation treatment after O-V induction.
Keyword(s): Chronic lymphocytic leukemia, Consolidation, Minimal residual disease (MRD), Targeted therapy