All Oral presentations will be made available as of Friday, June 11, 2021 (09:00 CEST) and will be accessible for on-demand viewing until August 15, 2021 on the Virtual Congress platform.
Abstract: S146
Type: Oral Presentation
Session title: Clinical trials with targeted therapies in CLL
Background

The CLL14 study showed significant improvement of progression-free survival (PFS) with venetoclax-obinutuzumab (Ven-Obi) as compared to chlorambucil-obinutuzumab (Clb-Obi) in patients (pts) with previously untreated chronic lymphocytic leukemia (CLL) and coexisting conditions. High rates of undetectable minimal residual disease (uMRD) have been observed after one year fixed-duration treatment with Ven-Obi, suggesting deep remissions and feasibility of the fixed-duration concept with targeted agents for CLL.
Aims

The aim of this report is to provide updated efficacy and safety data from the ongoing follow-up of the CLL14 study with now all pts being off study treatment for at least 3 years.
Methods

Pts with previously untreated CLL and coexisting conditions were randomized 1:1 to receive 12 cycles of venetoclax with 6 cycles of obinutuzumab or 12 cycles of chlorambucil with 6 cycles of obinutuzumab. Primary endpoint was investigator-assessed PFS. Key secondary endpoints were safety, response rates, rates of minimal residual disease (MRD)(measured every 3-6 months up to 5 years after last patient enrolment) and overall survival. Follow-up is ongoing, but all pts are off study treatment. This trial was registered with ClinicalTrials.gov, number NCT02242942.
Results

Of the 432 enrolled pts, 216 were randomly assigned to receive Ven-Obi and 216 to receive Clb-Obi. After a median follow-up of 52.4 months (interquartile range 49.5-56.2), PFS continued to be superior for Ven-Obi as compared to Clb-Obi (median not reached (nr) vs. 36.4 months; hazard ratio [HR] 0.33 [95% CI 0.25-0.45], p<0.0001)(Fig A). At 4 years after randomization, the estimated PFS rate was 74.0% in the Ven-Obi arm and 35.4% in the Clb-Obi arm. This improvement was observed across all clinical and biological risk groups, including pts with TP53 mutation/deletion (4-year PFS 53.0% vs 20.8%) and unmutated IGHV status (4-year PFS 68.0% vs 19.8%)(Fig B,C). Overall, 35 disease progressions in the Ven-Obi arm have been observed, compared to 122 in the Clb-Obi arm. Time to next treatment was significantly longer in the Ven-Obi arm (4-year TTNT 81.1% vs 59.9%; HR 0.46, 95% CI [0.32-0.65], p<0.0001)(Fig D). The majority of pts received and responded to BTK inhibitor monotherapy as a second-line treatment after progressive disease in both arms (57.1% in Ven-Obi arm, 55.6% in Clb-Obi arm).
Assessment of MRD by next-generation sequencing in peripheral blood 30 months after the end of treatment (EoT) showed that 26.9% of pts in the Ven-Obi arm still had uMRD (<10-4), 21.8% had low (L)-MRD (≥ 10-4 and < 10-2) and 13.4% high (H)-MRD (≥ 10-2), compared to 3.2% uMRD, 8.8%% L-MRD, 28.2% H-MRD in the Clb-Obi arm.
No difference in overall survival has been observed between the Ven-Obi and Clb-Obi arm; at 4 years 85.4% pts were alive in the Ven-Obi arm and 83.1% in the Clb-Obi arm (HR 0.85 [0.54-1.35], p=0.49)(Fig E). Second primary malignancies were reported in 40 (18.9%) pts in the Ven-Obi arm and 30 (14.0%) in the Clb-Obi arm. No new safety signals were observed.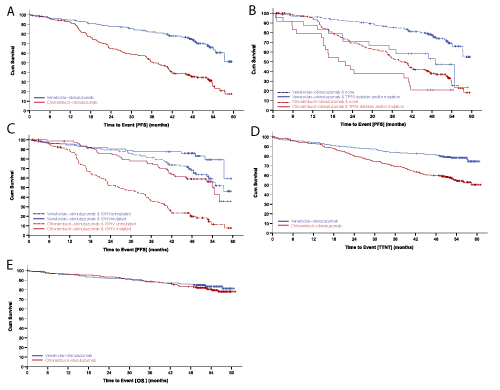 Conclusion

The four-year follow-up confirms the superior efficacy with longer PFS and deep remissions after fixed-duration Ven-Obi compared to Clb-Obi. The majority of pts remains without relapse three years after completing Ven-Obi treatment. Although adverse features such as TP53 mutation/deletion were not fully mitigated, fixed-duration Ven-Obi continues to be an effective treatment for all pts with CLL and with coexisting conditions.
Keyword(s): BCL2, CD20, Chronic lymphocytic leukemia, Elderly