All Oral presentations will be made available as of Friday, June 11, 2021 (09:00 CEST) and will be accessible for on-demand viewing until August 15, 2021 on the Virtual Congress platform.
Abstract: S145
Type: Oral Presentation
Session title: Clinical trials with targeted therapies in CLL
Background
The Bruton tyrosine kinase (BTK) inhibitor acalabrutinib is more selective than ibrutinib, which may improve tolerability. 
Aims
We conducted an open-label, randomized, noninferiority, phase 3 trial to compare acalabrutinib and ibrutinib in patients with previously treated chronic lymphocytic leukemia (CLL).
Methods
Patients with previously treated CLL who had del(17p) or del(11q) by central lab were randomized to receive acalabrutinib 100 mg orally twice daily or ibrutinib 420 mg orally once daily until progression or unacceptable toxicity. Randomization was stratified by del(17p) status, Eastern Cooperative Oncology Group performance status (2 vs ≤1), and number of prior therapies (1–3 vs ≥4). The primary endpoint was progression-free survival as assessed by independent review committee; secondary endpoints of all grade atrial fibrillation, grade ≥3 infection, Richter transformation, and overall survival were assessed in hierarchical order. Informed consent was obtained from all patients prior to trial enrollment.
Results
A total of 533 patients (acalabrutinib, n=268; ibrutinib, n=265) were randomized. Patients had a median age of 66 years and had received a median of 2 prior therapies; 45.2% of patients had del(17p), and 64.2% had del(11q). At a median follow-up of 40.9 months (range, 0.0–59.1), acalabrutinib demonstrated noninferiority to ibrutinib, with a median progression-free survival of 38.4 months in both arms (hazard ratio [HR], 1.00; 95% CI, 0.79–1.27). Acalabrutinib was statistically superior to ibrutinib in the incidence of all-grade atrial fibrillation (9.4% vs 16.0%; P=0.023). Among the other secondary endpoints, incidences of grade ≥3 infection (acalabrutinib: 30.8%, ibrutinib: 30.0%) and Richter transformation (acalabrutinib: 3.8%, ibrutinib: 4.9%) were comparable between the treatment arms. Median overall survival was not reached in either arm (HR, 0.82; 95% CI, 0.59–1.15), with 63 (23.5%) deaths in the acalabrutinib arm and 73 (27.5%) in the ibrutinib arm. Among any-grade adverse events occurring in ≥20% of patients in either arm, acalabrutinib was associated with a lower incidence of hypertension (9.4%, 23.2%), arthralgia (15.8%, 22.8%), and diarrhea (34.6%, 46.0%) but a higher incidence of headache (34.6%, 20.2%) and cough (28.9%, 21.3%). Adverse events led to treatment discontinuation in 14.7% of acalabrutinib-treated patients compared with 21.3% of ibrutinib-treated patients. Among any-grade events of clinical interest, cardiac events, hypertension, and bleeding events were less frequent with acalabrutinib (Table).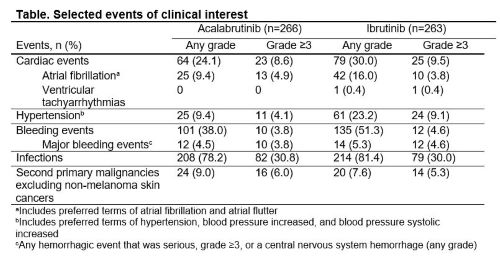 Conclusion
In this first head-to-head trial of BTK inhibitors in patients with previously treated CLL, acalabrutinib demonstrated non-inferior progression-free survival with less cardiotoxicity and fewer discontinuations due to adverse events compared with ibrutinib.
Keyword(s): Chronic lymphocytic leukemia, Ibrutinib, Phase III