All Oral presentations will be made available as of Friday, June 11, 2021 (09:00 CEST) and will be accessible for on-demand viewing until August 15, 2021 on the Virtual Congress platform.
Abstract: S144
Type: Oral Presentation
Session title: New biological and translational insights in CLL
Background

In 2019 we provided initial analyses of the prognostic and predictive value of genomic aberrations, IGHV mutation status and gene mutations in the CLL14 trial comparing obinutuzumab+chlorambucil (GClb) vs. obinutuzumab+venetoclax (VenG) in 432 patients (1:1) with CIRS>6 and/or creatinine clearance < 70 ml/min.
Aims

This update includes a) an extended follow-up at a median of 52 months, b) assessment of the prognostic value of minor mutations with a variant allele fraction (VAF) of 2-10% c) analysis of 113 samples at relapse for acquired gene mutation in candidate genes and specific resistance mutations such as BCL2 G101V.
Methods
Genomic aberrations were assessed by FISH, IGHV by sequencing with a threshold of 98% homology and mutations via amplicon-based targeted NGS for TP53, NOTCH1, SF3B1, ATM, MYD88, FBXW7, POT1, BIRC3, XPO1, NFKBIE, EGR2, RPS15 and BCL2 in 421 of 432 (94%) patients of the full trial cohort at baseline.
Results

The prevalence of genomic aberrations considering the hierarchical model was del(17p) 7%, del(11q) 18%, +(12q) 18% and del(13q) single 35%. IGHV was unmutated in 60% of patients. The prevalence of gene mutations with a VAF>10% was NOTCH1 23% (exon 34, 3'UTR), SF3B1 15%, ATM 13%, TP53 10%, XPO1 6%, RPS15 5%, POT1 5%, BRAF, BIRC3, NFKBIE, EGR2, MYD88 and FBXW7 (all <5%). Minor mutations (VAF 2-10%) occurred in BIRC3 with an incidence of 5%, NOTCH1 5%, SF3B1 5%, ATM 4% and TP53 3%.
At a median follow-up of 52 months, 199 events for PFS and 75 for OS occurred in the ITT population.
VenG was superior to GClb regarding PFS in most genetic subgroups including del(17p) and mutated and unmutated IGHV (p<0.001).
For GClb del(17p) (HR 3.2, p<0.001), del(11q) (HR 1.84, p<0.01) and mutations in ATM (HR 1.8, p=0.01), BIRC3 (HR 3.0, p<0.01), NOTCH1 (HR 1.7, p<0.01) and SF3B1 (HR 1.6, p=0.03) were associated with short PFS, while for VenG del(17p) (HR 3.2, p=0.001) and mutated TP53 (HR 2.4, p<0.01) remained prognostic factors. Minor TP53 mutations did not affect outcome, however, minor mutations in NOTCH1 reduced PFS with GClb significantly (HR 2.1, p=0.02). Unmutated IGHV was prognostic with GClb (HR 3.1, p<0.001) and VenG (HR 2.1, p=0.02) treatment.
Overall survival (OS) was shorter with del(17p) and TP53 mutation in both treatment arms (GClb: HR 5.7 and HR 3.1, VenG: HR 3.5 and HR 3.0, all p<0.01) and with mutated SF3B1 (HR 2.0, p=0.05) and unmutated IGHV (HR 2.8,  p=0.01) in the GClb arm, while none of the other factors were significantly associated with OS. In multivariate analysis, GClb therapy, high risk for tumor lysis (TLS), IGHV mutation status, del(17p), complex karyotype and BIRC3 mutations were independent prognostic factors for PFS, while age, b2MG and del(17p) retained independent significance for OS.
Comparative analysis of 88 paired samples at baseline and relapse after GClb revealed acquisition of high risk variants such as TP53 (n=4), BIRC3 (5), SF3B1 (3) and RPS15 (1). Among 25 paired samples before and after VenG, a single variant was found each in TP53 and BIRC3. Of note, none of the 25 relapse samples from the VenG treatment arm had acquired mutations in BCL2 at a detection limit of 2% VAF.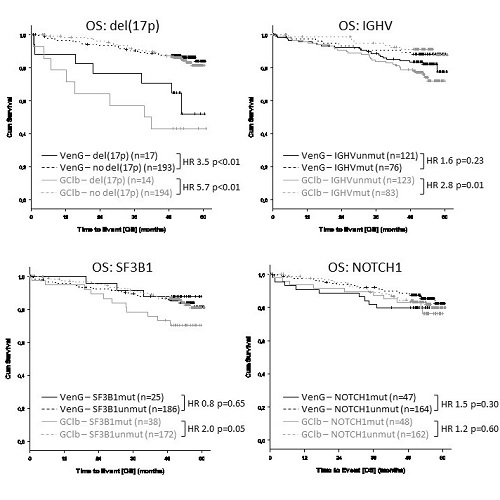 Conclusion
At a median follow up of 52 months, IGHV mutation status and del(17p) proved to be prognostic with VenG and GClb, while none of the other prognostic factors besides TP53 affected outcome with VenG. After time limited VenG no BCL2 resistance mutations were identified at relapse supporting re-treatment concepts.
Keyword(s): BCL2, Clinical trial, Obinutuzumab, Prognostic factor