All Oral presentations will be made available as of Friday, June 11, 2021 (09:00 CEST) and will be accessible for on-demand viewing until August 15, 2021 on the Virtual Congress platform.
Abstract: S143
Type: Oral Presentation
Session title: New biological and translational insights in CLL
Background

The introduction of next-generation sequencing (NGS) rapidly uncovered the genomic landscape of chronic lymphocytic leukemia (CLL). Using whole-genome and/or exome sequencing, a limited number of recurrently mutated genes was observed in more than 10% of patients, while a very long tail comprising hundreds of genes mutated only in a fraction of patients (<5%) has been demonstrated. Several of the more frequent gene mutations have been linked to worse outcomes with shorter time-to-first-treatment (TTFT) and overall survival.
Aims

To assess the prognostic strength of recurrent gene mutations, we collected a large, multi-center cohort including 4,674 well-characterized CLL patients [median age at diagnosis, 64.5 years; male/female, n=2,962 (63%)/n=1,712 (37%); Binet stage A (n=3,369, 74%), B (n=827, 18%), and C (n=387, 8%); IGHV-mutated (n=2,498, 56%) and IGHV-unmutated (n=1,927, 44%); del(13q) only (n=1,868, 41%), trisomy 12 (n=571, 13%), del(11q) (n=503, 11%), and del(17p) (n=249, 5.5%); treated (n=2,745, 59%) and untreated (n=1,929, 41%)].
Methods

We performed NGS and/or Sanger sequencing of 9 genes (BIRC3, EGR2, NFKBIE, MYD88, NOTCH1, POT1, SF3B1, TP53, and XPO1) on pre-treatment samples in order to study their clinical impact in CLL.
Results

Overall, mutations in any of these genes were detected in 1,720 of 4,674 patients (36.8%, using a variant allele frequency cutoff of 5% for NGS), while the remaining patients were wildtype; two mutations were seen in 361 patients (7.7%) and three or more mutations in 58 patients (1.2%). The mutation frequency for the individual genes was TP53 (10.4%, including TP53 mutations and/or del(17p)), NOTCH1 (10.1%), SF3B1 (9.3%), XPO1 (3.9%), POT1 (3.8%), NFKBIE (3.7%), BIRC3 (3.0%), EGR2 (2.5%) and MYD88 (2.5%; Figure 1A). We observed that certain gene mutations appeared almost mutually exclusive, such as BIRC3 and SF3B1 mutations (10 BIRC3mut/433 (2.3%) SF3B1mut  cases), and TP53 aberrations and XPO1 mutations (18 XPO1mut/488 (3.7%) TP53abn cases) or BIRC3 mutations (14 BIRC3mut/488 (2.9%) TP53abn cases). Except for MYD88, mutations in each of the investigated genes were associated with significantly shorter TTFT in univariate analysis. On multivariable analysis (including all genes, unmutated IGHV genes, Binet stage B/C, age > median at diagnosis and male gender), SF3B1 (Hazard Ratio 1.58; p<0.001), EGR2 (HR 1.39; p=0.003), XPO1 (HR 1.26; p=0.006), BIRC3 mutations (HR 1.25; p=0.031) and TP53 aberrations (HR 1.20; p=0.004), along with Binet stage B/C (HR 3.73; p-value <0.001) and unmutated IGHV genes (HR 2.95; p<0.001), remained as independent factors for shorter TTFT. As earlier studies have indicated different prognostic importance of genetic aberrations in IGHV-mutated (M-CLL) and IGHV-unmutated CLL (U-CLL), we next studied the impact of gene mutations in relation to IGHV gene mutation status. While TP53 aberrations, SF3B1 (Figure 1B) and BIRC3 mutations were associated with a worse outcome in both U-CLL and M-CLL, NOTCH1, POT1 and XPO1 mutations were only linked to a worse outcome in M-CLL, whereas EGR2 mutations correlated with a poor outcome only in U-CLL.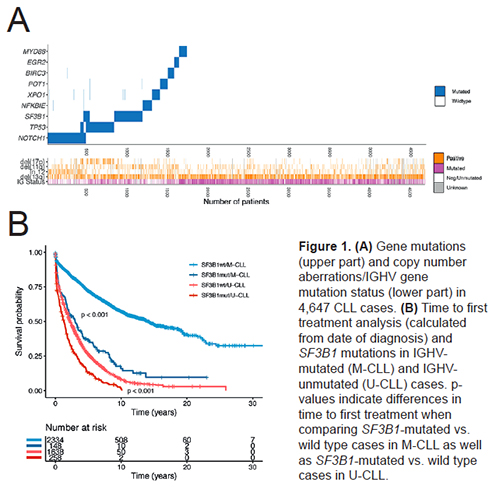 Conclusion

Based on these results, we conclude that SF3B1, EGR2, XPO1 and BIRC3 mutations independently predicted short TTFT and should be considered for extended molecular testing in CLL. However, considering the different impact of gene mutations in M-CLL and U-CLL, the IGHV mutation status must be taken into account when constructing future prognostic models including recurrent gene mutations.
Keyword(s): Chronic lymphocytic leukemia, Mutation