All Oral presentations will be made available as of Friday, June 11, 2021 (09:00 CEST) and will be accessible for on-demand viewing until August 15, 2021 on the Virtual Congress platform.
Abstract: S136
Type: Oral Presentation
Session title: Developments in AML therapy
Background
Isocitrate dehydrogenase-1 (IDH1+) mutations are present in 5-15% of myeloid malignancies, promoting leukemogenesis through production of the oncometabolite 2-hydroxyglutarate resulting in arrested myeloid differentiation. IDH1+ malignancies demonstrate increased reliance on the anti-apoptotic protein BCL-2, enhancing susceptibility to the BCL-2 inhibitor venetoclax (VEN). 
Aims
We report an interim safety and efficacy analysis of the IDH1 inhibitor ivosidenib (IVO; 500 mg PO daily D15-continuous) combined with VEN (D1-14) +/- azacitidine (AZA; 75mg/m2 D1-7 every 28 days).
Methods
Eligible patients age ≥18 with IDH1+ MDS, newly diagnosed (ND: treatment naïve [TN], secondary/treated secondary AML [sAML]), or relapsed/refractory (R/R) AML were enrolled into three dose levels (DL): DL1 (IVO+VEN 400 mg), DL2 (IVO+VEN 800 mg), DL3 (IVO+VEN 400 mg+AZA). Primary objectives included safety and tolerability, and IWG defined overall response (ORR: CR+CRi+CRh+PR+ MLFS). Prior receipt of IVO or VEN was exclusionary.
Results
25 evaluable patients (DL1: 6, DL2: 6, DL3: 13) enrolled with a median follow-up of 16.1 months (DL1: 34 months, DL2: 24 months, DL3: 13 months). Median age was 67 (range: 44-84). 84% (N=21) of patients had AML (ND: N=13 [TN: 8, sAML: 5], R/R: N=8), while 16% (N=4) had MDS. ELN risk was intermediate and adverse in 16% (n=4) and 56% (N=14). Median IDH1 VAF at enrollment was 22.7% (range: 5.1%>47.8%). Two patients had received a prior IDH1 inhibitor. The ORR was 92% (DL1: 67%, DL2:100%, DL3: 100%), with both non-responding patients (N=2) treated within the DL1 cohort. Composite CR (CRc:CR+CRi+CRh) was 84% (DL1: 67%, DL2: 100%, DL3: 85%) including 92% (TN: 100%, sAML: 80%), 63%, and 100% of patients with ND-AML, R/R-AML, or MDS. Median time on study was 5 months (DL1: 9 months DL2: 6 months DL3: 5 months), and the median number of cycles received was 4 (DL1: 8.5, DL2: 6, DL3: 4) with ongoing responses in 62% (DL1: 33%, DL2: 50%, DL3: 82%) at 1-year. 8 patients transitioned to SCT (DL1: 0, DL2: 2, DL3: 6), and 8 patients remain on study (DL1: 2, DL2: 1, DL3: 5). 1-year OS was 68% for the entire study population (DL1: 50%, DL2: 67%, DL3: 78%), 75% in ND-AML (TN: 86%, sAML: 60%), 50% in R/R-AML, and 100% in MDS. Measurable residual disease negative CRc by multiparameter flow cytometry was attained in 60% (ND-AML: 75%, R/R-AML: 60%, MDS: 33%) correlating with improved OS (median OS: NR vs. 8.5 months, p-value: 0.038). Signaling mutations at treatment initiation were enriched in non-responding or relapsing patients with AML (83% vs.27%, p-value: 0.046), and trended with inferior OS (median OS NR vs. 9.7 months, p-value: 0.063). Common grade 3/4 adverse events included febrile neutropenia (28%) and pneumonia (24%). Tumor lysis and differentiation syndrome occurred in two and four patients; all cases resolved with medical management.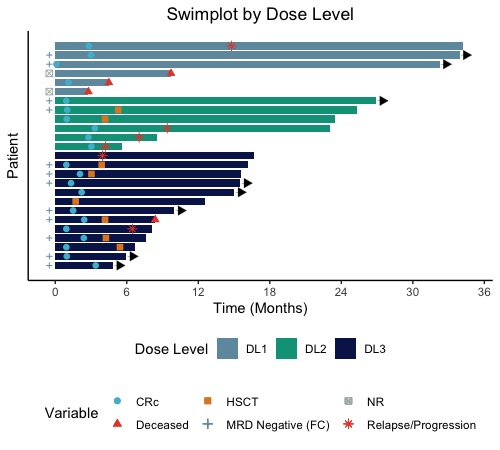 Conclusion
IVO+VEN +/- AZA is an effective treatment regimen in patients with IDH1+ myeloid malignancies. The combination therapy is associated with an acceptable and expected toxicity profile with notable efficacy and high rates of MRD-negative CRc in AML. Enrollment into the study continues.
Keyword(s): Acute myeloid leukemia, Clinical trial, Targeted therapy