All Oral presentations will be made available as of Friday, June 11, 2021 (09:00 CEST) and will be accessible for on-demand viewing until August 15, 2021 on the Virtual Congress platform.
Abstract: S118
Type: Oral Presentation
Session title: ALL - CAR-T: Alternative targets and age groups
Background
While Chimeric Antigen Receptor (CAR)-T cell approach has proved to be effective to treat hematopoietic malignancies, its therapeutic potential, the safety, antigen escape and the duration of remission can be further improved. We developed a TCR complex-based CAR called Synthetic TCR and Antigen Receptor (STAR). STAR consists of two protein modules, each containing an antibody light or heavy chain variable region and the T-Cell Receptor (TCR) a or b chain constant region fused to the OX-40 co-stimulatory domain.
Aims
We report pre-clinical and phase I clinical data on an anti-CD19/CD20 (dual) STAR-T cell therapy (www.clinicaltrials.gov, NCT04260945) in patients with R/R B-ALL.
Methods
We constructed a novel, double-chain chimeric receptor STAR (Fig.1A). Peripheral blood (PB) mononuclear cells were obtained from healthy donors and patients for the pre-clinical and clinical studies, respectively. T-cells were transduced with the dual STAR lentiviral vector and a leukemia xenograft mouse model was used to assess the anti-tumor activity of the dual STAR-T. Ten R/R patients with either CD19+ or CD19/CD20+ B-ALL were enrolled (median age of 23 years [11-55]). Patients received a conditioning regimen of intravenous fludarabine and cyclophosphamide followed by STAR-T infusion. Patients that achieved complete remission (CR) had the option to proceed to allogeneic hematopoietic stem cell transplantation (allo-HSCT) or not.
Results
In preclinical studies, the dual STAR-T had comparable killing ability to both CD19/CD20-BBz (4-1BB) and CD19/CD20-28z (CD28) CAR-T (Fig. 1B) in Raji cell, and comparatively higher IFN-γ production in RajiCD20KO cell(Fig.1C). In a leukemia xenograft mouse model, dual STAR-T resulted in more potent anti-leukemia activity when compared with CD19/CD20 CAR-T in 28z group (Fig.1D and 1E) or to the CD19 CAR-T group (19-BBz Fig. 1F).

The median observation time in the phase I trial was 194 days (14-276). The median pre-treatment bone marrow blast level was 7.0% (0.5%>53%). Except for 1 manufacturing failure, 9/10 patients received a single infusion of dual STAR-T at a median dose of 1×106/kg (6 of 1×106/kg and 3 of 2×106/kg). The median transduction efficacy was 47.7% (32.6%>58.8%). Two weeks post dual STAR-T therapy, 8/9 (88.9%) patients achieved minimal residual disease (MRD)-negative CR. One patient who failed to response had central nervous system leukemia. After CR was achieved, 6/8 patients pursued allo-HSCT. Post allo-HSCT, 1 had MRD-positive relapse at 3 months and 1 died of infection on day 73. The remaining 4 were still in CR after a median observation time of 258 days (179-276) post-transplant. Of the 2 patients who did not undergo allo-HSCT, one patient became MRD-positive on day 30 and another one relapsed 218 days post-STAR-T therapy. Cytokine release syndrome occurred in 7/9 (77.8%) patients, all of which were grade I. Three patients developed neurotoxicity (2 with grade I and 1 with grade III).  We saw a high in vivo proliferation and persistence regardless of the infused STAR-T dose. The median peak level was reached on day 10 (7-14 days) with 6.35×105 copies number/ug PB genomic DNA.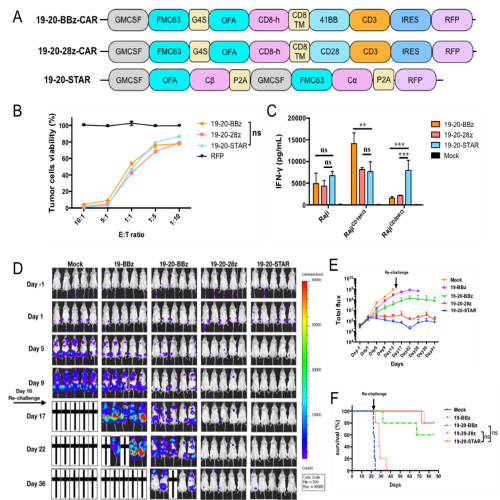 Conclusion
This study demonstrates the superiority of dual STAR-T in its anti-tumor potency compared to conventional CAR-T in an animal model. The CD19/CD20 STAR-T demonstrated technical feasibility and the ability to achieve a high CR with low toxicity in a phase I study of R/R B-ALL. Longer-term observation of these patients and larger patient studies are warranted. Given that is a TCR complex-based CAR, we see a potential for future development for solid tumor.
Keyword(s): Allogeneic stem cell transplant, B cell acute lymphoblastic leukemia, Cellular therapy, Clinical trial