All Oral presentations will be made available as of Friday, June 11, 2021 (09:00 CEST) and will be accessible for on-demand viewing until August 15, 2021 on the Virtual Congress platform.
Abstract: S116
Type: Oral Presentation
Session title: ALL - CAR-T: Alternative targets and age groups
Background
The pivotal ELIANA study defined outcomes for tisagenlecleucel in children and young adults with B-ALL aged 3 to 25 years. However, outcomes in children younger than 3 years, including those with infant ALL have not been fully documented.
Aims
To define outcomes of tisagenlecleucel therapy in children less than three years of age for B-ALL
Methods
Retrospective, standardised data collection was undertaken for all patients assessed for tisagenlecleucel for B-ALL aged under 3 years at the point of screening from centres represented in the I-BFM Resistant Disease Committee. Survival outcomes were assessed using Kaplan-Meier estimates. These included overall survival (OS, interval to death from any cause); event- free survival (EFS) as defined in the ELIANA study (interval to death, morphological disease relapse, or treatment failure by day 30, with censoring of patients receiving further therapy) as well as a stricter composite EFS (events included treatment failure, interval to death, molecular or morphological relapse or further therapy). Median follow up was calculated by a reverse Kaplan-Meier method
Results
30 patients from 15 centres were screened and eligible. 3 patients were not infused due to: manufacturing failure (n=2), disease progression (n=1), giving a 90% feasibility rate. One patient had not reached the 1 month disease assessment, leaving 26 evaluable for disease outcomes and 27 for toxicity. 24 of 30 patients (80%) had MLL rearranged ALL, most had high risk features: 21 (70%) had had a prior stem cell transplant (SCT).  

Two patients failed to respond, giving a CR/CRi rate of 24/26 (92%), all were MRD negative. The median follow-up was 15.5 months. EFS and overall survival OS are shown in Figure 1. OS at 6 and 12 months was 88%. EFS as per ELIANA criteria was 67% and 58% at 6 and 12 months respectively. Using the more stringent composite EFS, the 6 and 12 month EFS were 59%, and 49%.  Of 27 patients infused, 10 (37%) received further therapy including 3 given maintenance therapy for poor CAR T cell persistence, 2 receiving chemotherapy for relapse and 5 (19%) who received allogeneic SCT: for relapse (n=2), B cell recovery (n=2), or as a planned procedure (n=1). For patients relapsing following CR (n=6/27 (22%) infused) there were 2/6 (33%) CD19- relapses. 
Severe (grade ≥3) CRS, neurotoxicity, or cytopenia after day 30 post infusion occurred in 2/22 (10%), 1/22 (5%), and 8/22 (36%) respectively. 17/22 (77)% of the cohort developed hypogammaglobulinaemia. The 6 and 12 month probabilities of ongoing B cell depletion were 82% and 68%.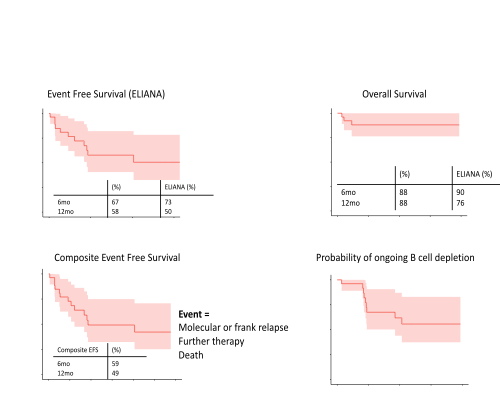 Conclusion
This cohort with predominantly MLL-rearranged leukaemia, represents the largest series of children aged under 3 treated with tisagenlecleucel. Median age at infusion was 17 months.  It was feasible to leucapherese and manufacture a product in 90%. The MRD negative CR/CRi response, 6 and 12 month EFS, and OS rates were equivalent to those of patients on the ELIANA study (median age 11 years). The toxicity profile i.e. rates of severe CRS, neurotoxicity and cytopenias were broadly similar, as were rates of hypogammaglobulinemia and infection. The rates of relapse and CD19- relapses were also similar to real-world data from the US, France and UK. 

This was a cohort of very high-risk patients with predominantly infant ALL, traditionally a disease entity with very poor outcomes. The remarkably good EFS and OS documented strongly support use of tisagenlecleucel in the youngest children, even in the setting of very high-risk infant ALL.
Keyword(s): Adoptive immunotherapy, ALL, Gene therapy