All Oral presentations will be made available as of Friday, June 11, 2021 (09:00 CEST) and will be accessible for on-demand viewing until August 15, 2021 on the Virtual Congress platform.
Abstract: S112
Type: Oral Presentation
Session title: ALL - Novel subgroups and agents
Background

Outcome of Ph+ ALL has dramatically changed since the advent of tyrosine kinase inhibitors (TKIs). To further improve the outcome of this subset of patients, we designed an induction/consolidationchemo-free trial (GIMEMA LAL2116, D-ALBA) based on the administration of dasatinib plussteroids followed by at least two cycles of blinatumomab (maximum 5) and central nervous system (CNS) prophylaxis. Post-consolidation treatment was left at the investigator's choice. The first results at a median follow-up of 18 months have been recently published (Foà et al, NEJM2020): after the 2nd cycle of blinatumomab, a molecular response was achieved in 60% of the cases, which increased further after additional cycles of blinatumomab, translating into an overall survival (OS) and disease-free survival (DFS) of 95% and 88%, respectively.
Aims
To provide an updated follow-up of the study
Methods
After the primary endpoint, patients were followed for 12 months; data on subsequent treatment and survival are being collected in the ancillary study GIMEMA LAL2217.
Results
As reported, 63 patients were enrolled (median age 54 years, 24-82; no age limit); the median follow-up is 27.2 months (0.9-45.2). In line with previous data, molecular responses were recorded in the majority of patients also at the subsequent follow-ups (range 73%>89%). Overall, 3 additional relapses were observed (total: 9): 4 hematologic, 4 at the CNS and 1 nodal; the median time to relapse was 4.4 months (1.9-25.8). Three additional deaths in complete hematologic remission (CHR) were recorded (total: 6). Of the 58 patients who started blinatumomab, 29 were allografted: 9 from a sibling, 13 from an unrelated donor, 6 from a haploidentical donor and 1 from a cord blood (6 transplants were carried out in 2nd CHR). Before transplant, 8 patients received 2 and 3 cycles of blinatumomab, respectively, 5 4 cycles and 6 5 cycles (2 patient were allografted after the 1 cycle). Five deaths occurred, 2 in patients transplanted in 2nd CHR.

29 continued treatment with a TKI: 21 with dasatinib (85% after receiving all the 5 cycles of blinatumomab), 3 switched to imatinib due to intolerance (all after 5 cycles of blinatumomab) and 5 switched to ponatinib for a molecular increase or medical decision (66% received all 5 cycles of blinatumomab).
In the updated follow-up, 24 months OS is 87.8% and DFS is 79.8%. DFS was better in patients achieving a molecular response upon induction/consolidation than in those who did not (100% vs 75.9%, p=0.028, Fig 1A). Furthermore, we confirmed the inferior DFS for patients carrying an IKZF1-plus genotype compared to that of cases with no IKZF1 deletions or with IKZF1 deletions alone (84.5% vs 54.5%, p=0.026, Fig 1B).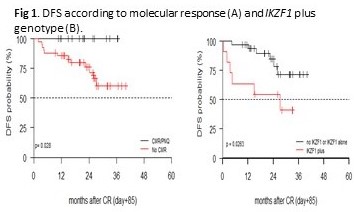 Conclusion
In the updated analysis of the D-ALBA trial, we confirm the very favorable outcome previously reported, as well as the deleterious prognostic impact of the IKZF1-plus genotype and the low transplant-related mortality rate. Among the few relapses, we observed a rather high incidence of CNS involvement. In the upcoming trial for newly diagnosed adult Ph+ ALL, CNS prophylaxis will be increased. 
Keyword(s): B cell acute lymphoblastic leukemia, Ph+ ALL