The Presidential Symposium will be made available on the on-demand Virtual Congress platform as of Friday, June 11, 2021 (16:00 - 17:30 CEST) and will be accessible until October 15, 2021.
Abstract: S104
Type: Presidential Symposium
Session title: Presidential Symposium
Background
Accumulating evidence has begun to reveal that the nervous system can directly modulate the polarization of Th cells. Indeed, the β2-adrenergic receptor (β2-AR) has been described as the primary adrenergic receptor expressed in immune cells. Emerging studies have reinforced the therapeutic effects of β2-AR agonists in autoimmune diseases by modulating Th cell polarization and enhancing Treg cell function. Immune thrombocytopenia (ITP) is an acquired thrombocytopenia and involves complicated upstream immune dysregulation in which T-cell subsets are supposed to take centre stage. Th cells skewed towards Th1 and Th17 subsets are associated with antiplatelet autoantibody production. Conventional ITP therapies, such as high-dose dexamethasone, RTX and eltrombopag, restore the immune imbalance of Th cells to control levels, resulting in clinical improvement. Therefore, we focused on the role of β2-AR signalling in immune cell development and pathways during ITP.
Aims
To explore the regulation of the sympathetic nervous system on T cell polarization of immune thrombocytopenia (ITP) and describe the 3D distribution of sympathetic nerves in the spleen of active ITP model. Furthermore, to explore the treatment mechanisms of beta2-adrenergic receptor (β2-AR) agonists on ITP models, and provide potential new treatment methods for ITP.
Methods
The active ITP mouse model was established as previously reported (Blood 2010; Blood 2015). We determined the 3D distribution of neural innervations in the ITP mouse spleen by iDisco. For the depletion of sympathetic nerves, the mice were intraperitoneally injected with 150 mg/kg of 6-OHDA (Sigma) dissolved in 0.01% ascorbic acid/saline. Peripheral blood mononuclear cells were isolated from ITP patients and healthy control subjects. The expression of β2-AR and Th cell subsets was assessed by flow cytometry.
Results
Sympathectomized ITP (Syx-ITP) mice experienced a significantly longer platelet recovery time and lower overall survival than nonsympathectomized ITP (non Syx-ITP) mice. mRNA-seq results revealed that syx-ITP mouse CD4+ T cells expressed more Th1-related genes, while non-syx-ITP mice expressed more Th2- and Treg-associated genes. As mentioned above, the beta2-adrenergic receptor (β2-AR) has been described as the primary adrenergic receptor expressed in immune cells. Nonsyx and syx ITP mice both received i.p. injections of terbutaline. Both of these groups exhibited improved platelet counts, and the immune imbalance of Th cells in the spleen returned to control levels. The 3D procedure showed panicle-shaped sympathetic architecture in the ITP mouse spleen parenchyma (Figure 1). Next, we analysed the expression of β2-AR by flow cytometry. The density of β2-AR on CD4 T cells was significantly reduced in patients with ITP. To evaluate whether a β2-AR agonist affects CD4 T-cell polarization, we detected the proportions of T-cell subsets by flow cytometry in ITP patients and healthy controls with or without terbutaline treatment. Terbutaline inhibited the differentiation of Th1 cells but induced the differentiation of Th2 and T regulatory (Treg) cells in ITP patients. However, the percentage of Th17 cells was not affected by terbutaline treatment.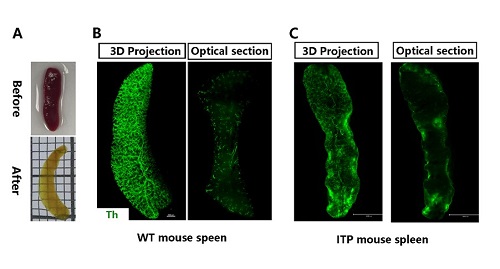 Conclusion
Impaired sympathetic innervation of the spleen and bone marrow plays a role in the pathogenesis of ITP. Terbutaline treatment corrects the dysregulated polarization of T helper cells during T-cell differentiation, suggesting a potential novel therapeutic approach for patients with ITP.
Keyword(s): Immune thrombocytopenia (ITP)