The Presidential Symposium will be held on Friday, June 11, 2021 (16:00 - 17:30 CEST) and will be accessible for on-demand viewing until August 15, 2021 on the Virtual Congress platform.
Abstract: S103
Type: Presidential Symposium
Session title: Presidential Symposium
Background
Hereditary hemorrhagic telangiectasia (HHT) is a rare angiogenic and bleeding disorder causing chronic gastrointestinal bleeding, epistaxis, and severe anemia. Pazopanib is an oral multi-kinase angiogenesis inhibitor with promise to treat bleeding in HHT. There are currently no FDA-approved agents to treat bleeding in HHT.
Aims
To evaluate the safety and effectiveness of low-dose oral pazopanib for severe HHT-associated bleeding.
Methods
We analyzed outcomes of HHT patients with severe bleeding and RBC transfusion dependence (per Gale criteria, ≥2 units pRBCs/month for ≥3 months) treated on a predefined institutional pazopanib treatment pathway for ≥12 months. This predefined institutional pathway outlined the eligibility, dosing, visit schedule, laboratory and adverse event monitoring, and endpoints of treatment and their assessment prior to initiation of pazopanib treatment. The primary endpoint was achievement of transfusion independence per Gale criteria (≥3 months RBC transfusion-free). Secondary endpoints included hemoglobin, epistaxis severity score, RBC transfusion and iron infusion requirements, number of local hemostatic procedures, ferritin and transferrin saturation, compared using paired and repeated measures means tests. 
Results
Patients and Treatment.13 transfusion-dependent HHT patients with severe epistaxis and/or gastrointestinal bleeding received pazopanib [median (range) dose 100 (25-300) mg daily)] for a median of 22 months. Patient median (range) age was 66 (53-78) years and 6 (46%) were female. 12 patients (92%) were on medical disability due to severe chronic bleeding and anemia and 5 (38%) had been recommended to pursue palliative care as all available therapeutic options had been exhausted. 8 patients (62%) had previously failed systemic bevacizumab (either primary non-response or secondary loss of response). No patient had a complicating additional etiology of anemia or had received hormonal, antifibrinolytic, or erythropoiesis-stimulating agents in the 6 months prior to or at any point during pazopanib treatment.
Effectiveness. All patients achieved RBC transfusion independence. Compared with pretreatment, pazopanib increased mean hemoglobin by 4.8 (95% CI, 3.6-5.9) g/dL (7.8 vs. 12.7 g/dL, P<0.0001) and decreased mean epistaxis severity score by 4.77 (3.11-6.44) points (7.20 vs. 2.43 points, P<0.0001) after 12 months of treatment. Freedom from anemia (Hgb>11) was observed in 92% of patients at 12 months. Compared with 3 months pretreatment, RBC transfusions decreased by 93% (median of 16.0 vs. 0.0 units, P<0.0001) and elemental iron infused decreased by 92% (median of 4500 vs. 0 milligrams, P=0.005) during the first 3 months of treatment; improvements were maintained over time (FIGURE). Median ferritin increased 91 ng/mL (31 vs. 122 ng/mL, P=0.0007) and median transferrin saturation increased 14% (9% vs. 23%, P=0.0002). The number of required hemostatic procedures decreased 90% (median of 4 vs. 0, P=0.0002).
Safety. Pazopanib was well-tolerated: hypertension (31%), lymphocytopenia (23%), and fatigue (23%) were the most common adverse events (none were serious). No patient developed LFT abnormalities, venous or arterial thromboembolism, proteinuria or QTc prolongation during treatment. There were no fatal adverse events.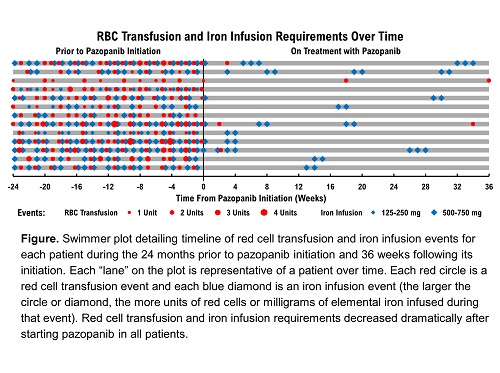 Conclusion
Pazopanib was safe and effective to manage severe bleeding in HHT, durably liberating all patients from transfusion dependence and normalizing hematologic parameters at doses much lower (median 100 mg daily) than the dose used to treat malignancies (800 mg daily). 
Keyword(s): Angiogenesis, Bleeding disorder, Hemostasis, Iron deficiency anemia