Abstract: PB1579
Type: Publication Only
Session title: Indolent and mantle-cell non-Hodgkin lymphoma - Clinical
Background
Waldenstromsöm Macroglobulinemia (WSM) is an indolent mature B-cell neoplasm which accounts for 1 to 2% of all hematological malignancies. WSM is characterized by lymphoplasmacytic cells proliferation associated with a monoclonal immunoglobulin M (IgM). More than 90% of patients with WSM carry point mutation L265P in the MYD88 gene which is shown to be significant for diagnostic and risk stratification purposes.
Aims
This is a retrospective study to evaluate the treatment outcome of WSM patients treated at our institution between 2001 and 2021. Baseline demographic characteristics, clinical features, laboratory findings, including IgM levels and bone marrow findings at diagnosis, International Prognostic Score (IPSS-WM), treatment regimens, response to treatment were analysed. Survival outcomes according to MYD88 mutational status were assessed.
Methods
Patients were identified through our pathology database and data collected using patient's medical records and laboratory results and patient informed consent obtained. All diagnostic BM aspirates were screened for evidence of MYD88 mutation and results correlated to patient's treatment outcome and survival.
Results
Thirty patients were included in this study, twenty (67%) male and ten (33%) female, with median age of 67years (range 50 – 86). At presentation 80% of patients had anaemia (20% at least grade 3), 60% had lymphadenopathy,30% had splenomegaly, and 30% of patients had IPSS-WM score 3 or greater. Four (13%) cases with bi-clonal B cell disorders (2 Multiple Myeloma, 1 Follicular lymphoma, and 1 Chronic lymphocytic Leukemia) and four patients with immune cytopenia (2 AIHA & 2 ITP). Twenty six patients (87%) received first line treatment (Figure 1). While the remainder four (13%) managed with watch & wait approach due to low disease burden or were not eligible for any treatment due to extreme frailty. Most of treated patients (92%) achieved either a good or very good partial response after first line therapy and only one patient achieved complete response (CR). Six patients (20%) had relapsed and received a second line therapy (1 FCR, 1 Chlorambucil, 1 Ibrutinib, 1 no further therapy due to extreme age, 1 patient with bi-clonal disease with CLL treated with Idelalisib and Rituximab and 1 moved to another institution). One patient underwent autologous stem cell transplant consolidation for relapsed disease after 4 lines of therapy. Twenty (67%) patients' diagnostic samples provide sufficient DNA materials suitable for MYD88 mutation screen. The majority (90%) of analysed samples were positive of MYD88 mutation and only two samples revealed wild-type MYD88 status. The median overall survival (OS) for the entire cohort was ~ 8.5 years (Figure 2). The OS at 36 months was 65%. At the time of the analysis, eighteen patients (60%) are still alive and either on treatment or on active surveillance. Twelve patient (40%) have died, the majority of deaths (67%) were unrelated to WSM but due to comorbidities, 17% related to treatment complications (sepsis) and two (17%) related to disease progression (both MYD88 mutated).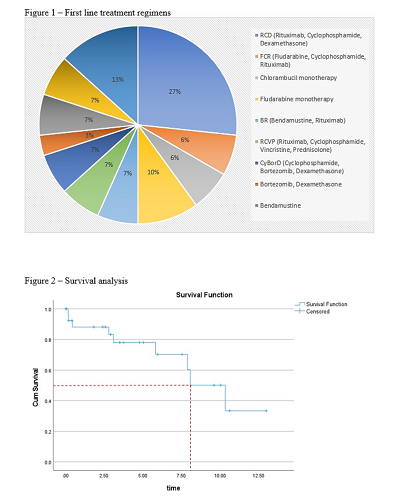 Conclusion
The frequency of MYD88 mutation in our study cohort is comparable with the reported literature. The overall survival in this study was 65% at 36 months and evaluating the MYD88 mutational status impact was limited due the small sample size and retrospective nature of this study. CXCR4 mutation screening for this study cohort is in progress and longer follow up will continue prospectively.
Keyword(s): Mutation status, Prognosis, Waldenstrom's macroglobulinemia