Abstract: LB2605
Type: Oral Presentation
Presentation during EHA25: All oral abstract presentations will be made available on the on-demand Virtual Congress platform as of Friday, June 12 at 08:30 CEST and will be accessible until October 15, 2020.
Session title: Late-breaking Oral Session
Background
A striking feature of SARS-CoV-2 pathogenesis is COVID-19 associated coagulopathy (CAC), characterized by increased thrombotic and microvascular complications. To better understand the pathophysiology of CAC, we measured markers of endothelial cell (EC) and platelet activation, PAI1 and coagulation factors in stable and critically ill patients hospitalized with COVID-19. 
Aims
 
1. Evaluate for evidence of endotheliopathy in CAC
2. Evaluate for evidence of platelet activation in CAC
3. Evaluate the involvement of the secondary hemostatic and fibrinolytic system in CAC
4. Identify biomarkers of critical illness and/or mortality in CAC
Methods
Adult patients (≥18 years of age) with COVID-19 treated according to our hospital system's COVID-19 treatment algorithm were included in this study. EC and platelet activation, PAI-1 and hemostatic studies, were measured with the first morning draw. 
Results
Forty-eight patients in a medical Intensive Care Unit (ICU) and 20 non-ICU patients were included in the study. Soluble P-selectin (sP-sel) was significantly elevated in ICU patients over non-ICU patients or healthy controls. Soluble CD40 ligand (sCD40L) was greater in ICU patients than in controls. Soluble thrombomodulin (sTM) was significantly correlated with mortality, and sTM levels above 3.26 ng/mL segregated with mortality in survival analyses of the entire patient cohort and of ICU patients. Von Willebrand factor (vWF) levels were elevated in both ICU and non-ICU patients albeit at much higher levels in ICU patients. Plasminogen activator inhibitor-1 (PAI-1) was elevated in the vast majority of patients.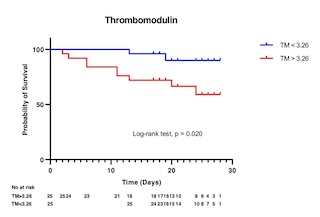 Conclusion
As measured by sTM, sP-sel, sCD40L, PAI-1, and vWF, CAC is a prothrombotic state driven by endotheliopathy and platelet activation. These processes occur early in the pathogenesis of COVID-19 infection and becomes more pronounced with worsening severity of disease. sTM levels in particular are significantly associated with mortality in ICU patients.
Session topic: 34. Thrombosis and vascular biology - Biology & Translational Research
Keyword(s): COVID-19, Endothelial dysfunction, Thrombomodulin, Thrombosis