Abstract: LB2602
Type: Oral Presentation
Presentation during EHA25: All oral abstract presentations will be made available on the on-demand Virtual Congress platform as of Friday, June 12 at 08:30 CEST and will be accessible until October 15, 2020.
Session title: Late-breaking Oral Session
Background
Phlebotomy represents the only cytoreductive procedure in low-risk patients with polycythemia vera (PV) (age <60 years and no history of thrombosis) to avoid the detrimental effect of blood hyperviscosity, thereby reducing the risk of cardiovascular complications. However, whether in low-risk patients, phlebotomies alone are adequate to keep haematocrit (HCT) on target level of 45% or less, or cytoreductive drugs should be added to reduce the still elevated risk of thrombosis, remains unexplored.
Aims
To report the results of a pre-planned interim analysis of Low-PV, a phase II investigator driven randomized trial (NCT030030025) conducted to assess the benefit/risk profile of Ropeginterferon alfa-2b versus phlebotomy alone (standard therapy) in low-risk patients with PV.
Methods
The present interim analysis was performed in 100 patients (two thirds of the pre-planned 150) followed-up for 1 year. Ropeginterferon administered subcutaneously (100 micrograms) every 2 weeks was compared with a stringent monthly phlebotomy program. The composite primary endpoint was defined by the percentage of patients maintaining the median HCT values ≤ 45% during 12 months, in the absence of progressive disease (i.e. thrombosis, bleeding, progressive leukocytosis, symptomatic or extreme thrombocytosis, symptomatic splenomegaly or other uncontrolled symptoms). Secondary end-points were number of phlebotomies, reduction of splenomegaly, leukocyte and platelet counts, iron deficiency, JAK2V617F allele burden and symptoms. Safety assessments were done at each monthly visit and included clinically relevant adverse events (AEs) as defined according to Common Terminology Criteria.
Results

The primary composite endpoint was reached in 84% of cases on Ropeginterferon vs. 60% in the standard arm (Odds Ratio=3.5, 95% CI: 1.3-10.4, p=0.008) and included patients who maintained the HCT target (84% vs. control 66%, p=0.038) and those without disease progression, which occurred in standard arm only (8%) (Figure 1). This result allowed to stop the trial early for overwhelming efficacy, preserving the overall two-sided type I error rate for effectiveness at the 0.05 level. Thus, the steering committee and the DSMB decided to stop the enrolment of new patients yet continuing the 2-years follow-up, as for protocol.
Albeit secondary endpoints will be evaluated at the end of the trial, preliminary results showed that the total number of phlebotomies after 1 year was higher in the standard arm (57%) than in the Ropeginterferon arm (43%) and the difference was most evident starting 6 months after the drug exposure (p=0.024). Improvements in symptoms, as assessed by using the MPN symptom-assessment form, were seen in 7 out of 10 items (mean change -21%) in the Ropeginterferon arm whereas a worsening in half of items was noted in the standard arm (mean change +10%) (p=0.033). Among the other valuable secondary end-points, Ropeginterferon was associated with significant reduction of splenomegaly and leukocyte and platelet counts.
In regard to safety, there was no difference in grade >3 AEs, which accounted for 6% and 8% of patients treated with Ropeginterferon or standard therapy, respectively.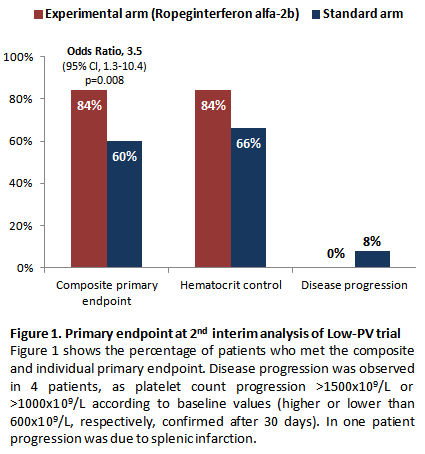 Conclusion
This interim analysis of Low-PV trial convincingly demonstrated that Ropeginterferon is safe and more efficacious in keeping HCT on target in low-risk PV patients. This result has been achieved with a reduction in the number of phlebotomies and with an improvement in the quality of life.
Session topic: 16. Myeloproliferative neoplasms - Clinical
Keyword(s): Clinical trial, Interferon alpha, Phase II, Polycythemia vera