This abstract is embargoed until Saturday, June 13, 08:30 CEST.
Abstract: LB2601
Type: Oral Presentation
Presentation during EHA25: All oral abstract presentations will be made available on the on-demand Virtual Congress platform as of Friday, June 12 at 08:30 CEST and will be accessible until October 15, 2020.
Session title: Late-breaking Oral Session
Background
Current available therapies for patients (pts) with acute myeloid leukemia (AML) who are ineligible for intensive therapy yield limited responses with poor survival. Venetoclax (VEN) is a selective small-molecular inhibitor of BCL-2. Clinical data from a prior phase 1b study (NCT02203773) showed that VEN and Azacitidine (AZA) combination had promising efficacy with an acceptable safety profile.
Aims
We evaluated efficacy of AZA+VEN combination regimen compared to AZA + Placebo (PBO) in treatment-naïve pts with AML ineligible for intensive therapy.
Methods
This phase 3, randomized, double-blinded, multicenter, placebo-controlled study (NCT02993523) included pts with confirmed AML who were ineligible for intensive induction therapy due to medical comorbidities and/or age > 75 years. Prior treatment with a hypomethylating agent for an antecedent hematologic disorder was excluded. Pts were randomized to 2:1 AZA+VEN or AZA+PBO. Pts on AZA+VEN received AZA 75 mg/m2 subcutaneous or intravenous on days 1-7 per 28-day cycle and once daily 400 mg VEN orally on days 1–28 with a 3-day ramp up in cycle 1. Pts on AZA+PBO received AZA 75 mg/m2 on days 1-7 per 28-day cycle and once daily PBO orally on days 1–28. The primary endpoint was to compare overall survival (OS). Secondary endpoints were rates of: composite complete remission [complete remission (CR) + CR with incomplete count recovery (CRi)], CR+CRi by initiation of cycle 2, CR, transfusion independence [TI; red blood cells (RBC) or platelets], CR+CRi and OS by molecular subgroups, and event-free survival (EFS). A sample size of 400 was estimated to detect a hazard ratio (HR) of 0.7 in OS with 2-sided alpha of 4% and power of 87%.
OS and EFS were analyzed by the Kaplan-Meier method and compared between arms using the log-rank test stratified by age (18 to <75 vs ≥75) and cytogenetic risk (intermediate vs poor).
Results
As of 04 Jan 2020, 431 patients (median age 76 years, range 49-91) were randomized to AZA+VEN (n=286) or AZA+PBO (n=145). With median follow-up of 20.5 months (mos), the median OS was 14.7 mos in AZA+VEN and 9.6 mos in AZA+PBO (HR: 0.66, 95% CI: 0.52–0.85, p<0.001) respectively, representing a 34% reduction in risk of death (Figure). Pts received a median number of 7.0 (range: 1-30) and 4.5 (1-26) cycles of study drug in AZA+VEN and AZA+PBO. CR+CRi rates in AZA+VEN/AZA+PBO were 66%/28% (p< 0.001) respectively. Median time (95% CI) to first CR or CRi response was 1.3 (0.6-9.9)/2.8 (0.8-13.2) mos and duration of CR+CRi was 17.5/13.4 mos respectively. Response rates in pts with poor and intermediate cytogenetic risk was 53%/23% and 74%/32% respectively. Response rates in pts with DeNovo and secondary AML were 66%/30% and 67%/23% respectively. Other secondary endpoints are summarized in the Table.Grade ≥3 hematological adverse events (AEs) included (AZA+VEN/AZA+PBO) thrombocytopenia (45%/38%), neutropenia (42%/29%), febrile neutropenia (42%/19%), anemia (26%/20%), and leukopenia (21%/12%). All grade gastrointestinal AEs were common with nausea (44%/35%), constipation (43%/39%), diarrhea (41%/33%), and vomiting (30%/23%). Notable serious AEs (grade ≥3) were febrile neutropenia (30%/10%) and pneumonia (16%/22%). Laboratory tumor lysis syndrome was rare at 1% in AZA+VEN. The 30-day mortality rates were 7% (n=21)/6% (n=9) respectively.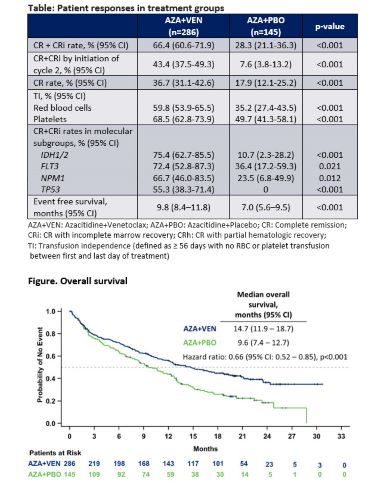 Conclusion
Among treatment-naïve predominantly elderly pts with AML ineligible for intensive therapy, the combination regimen of AZA+VEN led to statistically significant and clinically meaningful improvement in response rates and OS as compared to AZA, with a manageable safety profile.
Session topic: 04. Acute myeloid leukemia - Clinical
Keyword(s): AML, BCL2, Clinical trial, Elderly