Abstract: PB2285
Type: Publication Only
Background
CD19 and CD20 are B-cell lineage-specific antigens expressed on the cell surface of most B-cell lymphomas. CD20-targeting agents have been broadly integrated into the therapeutic armamentarium for B-cell lymphomas, while CD19-targeting agents have emerged as promising alternatives with demonstrated therapeutic value. An understanding of the differential expression of these antigens on B-cell lymphomas should contribute to therapy selection and combinational approaches.
Aims
To study the surface expression of CD19 and CD20 at the single cell level on lymphoma cells from biopsy specimens.
Methods
Flow cytometric analysis (7-color) was performed on biopsy specimens from 103 patients with newly diagnosed B-cell lymphomas, including diffuse large B-cell lymphoma (29), follicular lymphoma (30), marginal zone lymphoma (25), mantle cell lymphoma (8), other low-grade B-cell lymphomas (8) and Burkitt lymphoma (3). Biopsies from 8 additional patients with persistent/recurrent B-cell lymphomas after anti-CD20 therapy (greater than 6 months after last dose) were also evaluated. Thresholds for antigen positivity were defined for each case, based on the 95th percentile fluorescence intensity of tumor infiltrating T-cells (internal negative control). In addition, fluorescence intensities of tumor cells were normalized to benign B-cells (internal positive control) using the median fluorescence ratio (MFR). For further analysis cases were categorized in antigen positive cases (above upper threshold), cases having a substantial proportion of antigen negative tumor cells (below upper threshold) and antigen negative cases (below lower threshold) (Figure).  
Results
As seen in the figure, both CD19 and CD20 were consistently expressed on tumor cells, with a median percentage of antigen positive tumor cells of 99% for CD20 (range: 2% to 100%) and 100% for CD19 (range: 48% to 100%). Three DLBCL cases were lacking CD20 expression, but showed positivity for CD19 with 100%, 98% and 46% of CD19-positive tumor cells, respectively. When compared to benign B-cells, CD20 was frequently overexpressed on tumor cells (median MFR=1.58), while CD19 expression was in a similar range as benign B-cells (median MFR=0.75). However, CD20 expression within individual patient samples and across patients was more heterogeneous as seen by the higher number of patients (21/103 cases) with a substantial percentage of CD20-negative tumor cells compared to only 9 of 103 cases with CD19-negative tumor cells. Within the CD20-negative tumor subsets expression of CD19 was largely preserved (median %CD19-positive cells=97%, range=11% to 100%). Interestingly, the antigen combination showed the lowest number of cases (3/103) with a substantial percentage of CD19 CD20 double-negative tumor cells (range=11% to 50%). On 8 additional cases studied post anti-CD20 immunotherapy (6 to 84 months after last dose), the percentage of antigen positive cells by tumor cells was largely preserved for both CD19 (median=100%, range=94 to 100%) and CD20 (median=96%, range=57 to 100%), similar to the pre-therapy cohort.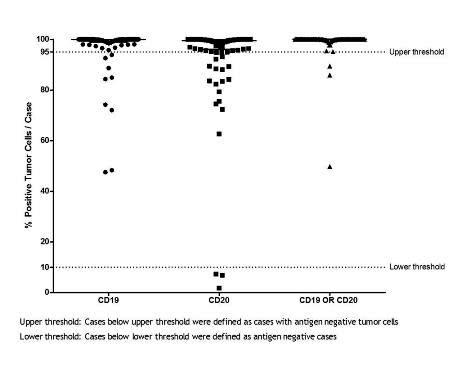 Conclusion
CD19 and CD20 are both highly and consistently expressed in B-cell lymphomas. While CD20 has a higher average density of surface molecules per tumor cell, CD19 expression is more homogenous and is preserved in small CD20-negative tumor subsets and after anti-CD20 targeted therapy. Cases negative for both antigens were less frequent than those for either antigen alone. These findings support the clinical evaluation of anti-CD19 immunotherapies and combinational therapies targeting both surface antigens.
Session topic: 20. Lymphoma Biology & Translational Research
Keyword(s): CD19, CD20