Abstract: PB2125
Type: Publication Only
Background
Most patients (pts.) with essential thrombocythemia (ET) harbor a driver mutation in either JAK2, MPL or CALR. Nevertheless, in roughly 10% of ET pts. none of these mutations can be identified, so called "triple-negative" (3neg) ET. These pts. are assumed to be at lower risk, however, the specific risk category is still not conclusively determined.
Aims
In this single-center experience, we describe the special clinical and demographic features, molecular patterns and clinical courses with a special focus on arterial and venous thromboembolism in patients with 3neg ET.
Methods

Within our database of 765 pts. MPN pts. we identified 180 ET pts. with WHO confirmed diagnosis, up-to-date follow-up information (between July 1st 2018 and December 31st 2019) and sufficient data for retrospective analyses. Differences in patient characteristics, complications, molecular profile, symptom burden using the MPN-10 form, frequency of disease transformation and need for stem cell transplantation were compared between 3neg ET pts. and ET pts. with driver mutations. In 127 ET pts. (70.5%) additional molecular studies were performed using a 22-gene amplicon based myeloid NGS panel.
Results
180 eligible ET pts. (median follow-up of 6.4 years) were identified, 22 3neg and 158 pts. with driver mutations (JAK2 109 pts., CALR 41pts., MPL 8 pts.). 77.2% were female (3neg ET pts. 90.9%, not significant). Mean age was 42.9 years (3neg 38.8 years, JAK2 45.7 years, CALR 40.4 years, not significant). There were no differences in leucocyte count, frequency of microcirculatory disturbances, symtom burden (MPN10 score) or cytoreductive drug treatment for 3neg ET pts., ET pts. with any driver mutation, JAK2 or CALR mutated ET, respectively (see table). Platelet count in the 3neg ET group was significantly higher (1001 G/l) than pts. with driver mutations (809 G/l, p=0.04). In NGS analyses 33.1% of all ET pts. harbored passenger mutations with TET2 (15.7%) and DNMT3A (9.4%) being the most common without statistical differences in subgroups. In mutated ET pts. we observed 25 transformations (14.4 % of pts) compared to only one transformation (4.6%) to myelofibrosis in the 3neg ET pts. (this patient received stem cell transplantation and is still alive). Rates of thromboembolic events (arterial or venous) were 5.6- 4.6- 6.1- 1.6 events per 100 patient years for 3neg pts., pts. with any driver mutation, JAK2 or CALR mutated ET, respectively. The frequency was significantly lower in CALR compared to JAK2 pts., p=0.006.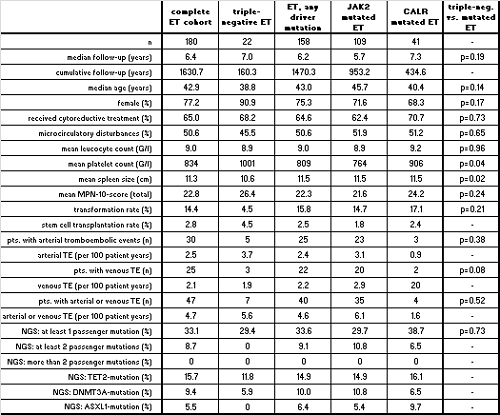 Conclusion
In this series of 22 3neg ET pts. rates of thromboembolic events (arterial or venous), microcirculatory disturbances, symptom burden or the use of cytoreduction were similar to ET pts. with driver mutations. Only CALR mutated ET pts. had a lower thromboembolic event rate suggesting that 3neg ET is not the lowest risk group within the molecular subtypes of ET.
Session topic: 16. Myeloproliferative neoplasms - Clinical