Abstract: PB2105
Type: Publication Only
Background
Monoclonal gammopathy of undetermined significance (MGUS) is a premalignant plasma cell disorder which consistently precedes multiple myeloma (MM). The rate of MGUS progression to MM and related lymphoproliferative disorders is usually reported at around 1% per year in the literature, with variance depending on the study population. To our knowledge, a systematic review investigating the rate of MGUS progression to haematological malignancy has not yet been published.
Aims
To undertake a systematic review of the published literature to investigate the rate of malignant progression of MGUS to MM and other haematological malignancies.
Methods
Four electronic databases, namely Medline, Embase, Pubmed and Web of Science were systematically searched from database inception through to 11 December 2019 to identify relevant studies. Search criteria included medical subject headings and key words for MGUS (for example, MGUS and benign paraproteinaemia), haematological malignancies (multiple myeloma, waldenström macroglobulinaemia, lymphoma and myeloproliferative disorders) and progression (progression, transformation and prognosis). Studies were restricted to humans with no language restriction applied.
Titles and abstracts were screened in duplicate against the pre-determined eligibility criteria with conflicts resolved by a third reviewer. Due to the large number of studies meeting the eligibility criteria, a second screening of these studies is currently underway using more strict criteria. Future steps will include full text review of included studies, data extraction and quality assessment. If appropriate, meta-analyses will be conducted to produce pooled estimates of the rate of MGUS progression to myeloma and other haematological malignancies. Alternatively a narrative synthesis of the published studies will be performed.
Results
This review is ongoing and preliminary results are not yet available. Results will be available to share at the time of conference.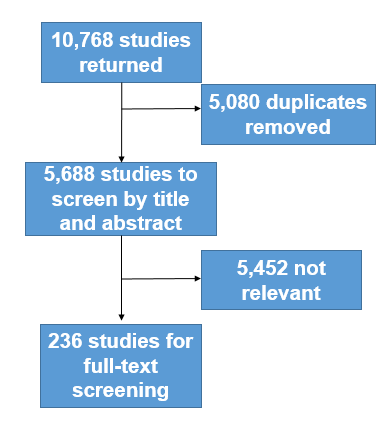 Conclusion
The authors present their progress on an ongoing systematic review of MGUS progression to haematological malignancy. Upon completion, this review will provide a global insight into the rate of progression from MGUS to haematological malignancy which will be of interest to patients, clinicians, and researchers alike. 
Session topic: 14. Myeloma and other monoclonal gammopathies - Clinical
Keyword(s): Epidemiology, Monoclonal gammopathy, Myeloma